Actions and Detail Panel
Fathers, Sons, Brothers
Thu, Jun 8, 2017, 12:00 PM – Sun, Jun 11, 2017, 12:00 PM CDT
Description
Fathers, Sons and Brothers
June 8-11, 2017, Fall Lake, Minnesota, at the Edge of the BWCA
With Snake Bloomstrand and Joe Laur
Who do you rely upon?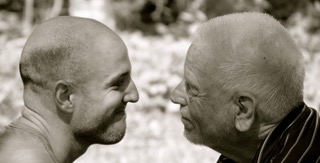 Intimate friendship or blood ties? The men we seek understand the importance of placing your trust and confidence in a man who has a stake in your well-being.
Join us at Fall Lake in June for 4 days to strengthen the bonds that unite men. Bring your Father-Son-Brother or that male friend who's consistently showed up.
Joe and Snake enjoy a 30-year relationship providing opportunities for men to gather.
We are looking to serve 12-16 men who have benefitted from the gift of brotherhood. Men who can acknowledge, strengthen and deepen the critical nature of the masculine bond.
In a hectic world where time is a precious commodity and connection a rarity, carve out a few beautiful June days in northern Minnesota with the Father-Son-Brother of your choice.
You could resist…..or you could soak your sore feet in a clear lake and bathe your heart in brotherhood.
When: June 8-11 2017
Where: Fall Lake, Minnesota, 8 miles east of Ely on the edge of the Boundary Waters Wilderness.
How Much: $495 US per man. $445 before April 31st. Includes all food, lodging and materials.
Facebook Page: https://www.facebook.com/falllakerendezvous
To join us: Register here at EventBrite (extra fee involved)
or send name, address, email and phone along with full payment or $200 nonrefundable deposit to SEED Systems, 313 Farley Rd, Wendell MA 01379,
or for more information, contact Joe Laur at 978-544-0001 or joe.laur@godsdog.net
See you in the wild,
Snake and Joe
Can't make this one or want a double hit of men in the wild? Check out the Rendezvous 2017 at https://www.facebook.com/falllakerendezvous
Date and Time
Location
Fall Lake, Minnesota
Fall Lake, Across the lake by boat from the Fall lake Campground
Fall Lake Township, MN