Fathers Eve ® - please join us for 2020 as we go ONLINE with our event: we connect, share and celebrate fatherhood across the USA & beyond!
About this event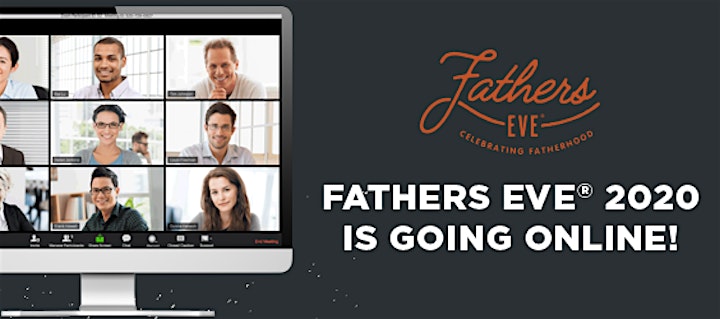 https://www.facebook.com/fatherseve/live/
Due to the Coronavirus shutdown and limitations on in-person gatherings, Fathers Eve will be adding an online virtual event to help keep the momentum and mission for us to connect, share and celebrate fatherhood.
We will be using ZOOM and FACEBOOK LIVE engagement platforms, and livestreaming on our website and social media.
SIGN UP NOW and we'll send you a reminder with the link.
Here's the plan:
FREE Program is 30 minutes in length from 7:40 pm to 8:10 pm in each of the 4 USA time zones.
LIVE countdown toast at 8 pm in each time zone.
Program will include participation and engagement with our charity partner, sponsors, and fatherhood related groups.
We also have TWO contests for you - win APPLE AIRPODS!! (see website)
From the founding of Fathers Eve eight years ago as a simple get-together of friends in a single garage, Fathers Eve has grown to events in 60 cities in 2019. For 2020 we're going ONLINE and aiming for 5,000 participants, and significantly reaching millions more with our sponsors (Sport Clips), charity fundraising (Children's Miracle Network) and dad-group partners (City Dads, National At Home Dads, Fathering Together, Dads Married to Doctors) with all kinds of promotion and engagement on social media. PLEASE JOIN US!!