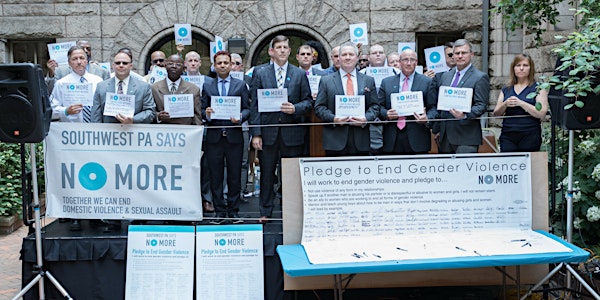 Father's Day Pledge Signing Ceremony
When and where
Location
US Steel Tower 600 Grant Street Pittsburgh, PA 15219
Description
The Fourth Annual Father's Day Pledge Signing Ceremony will showcase the region's leaders who are standing up and speaking out against gender violence. Sexual assault and domestic violence are preventable crimes, but change requires leadership. Part of a statewide campaign by the Pennsylvania Coalition Against Domestic Violence (PCADV), this event invites men and women to be part of the solution. The Signing Ceremony is an opportunity for community leaders and the public to sign their name to the Pledge, publically vowing to take action to end domestic and sexual assault.
AGENDA:
12:00 p.m. Welcome by emcee Sally Wiggin
12:05 p.m. Opening remarks
Bob Nelkin, United Way of Southwestern PA
Kristy Trautmann, FISA Foundation
The Honorable William Peduto, Mayor, City of Pittsburgh
12:15 p.m. Supporting survivors
Mike McClaine, Aspirant
12:20 p.m. Engaging young people in conversations about prevention
George Fleming, Allegheny Family Network
Rhonda Fleming, Women's Center and Shelter of Greater Pittsburgh
12:30 p.m. Speaking out against abusive behaviors
Paul Mulbah and an athlete from Robert Morris University
12:35 p.m. Public Recitation of the pledge
12:40 p.m. Signing Ceremony with VIP signers, including:
Leroy Ball, Koppers
Stephen Christian-Michaels, Wesley Family Services
Sean Coleman, Chatham University
Elliot Dinkin, Cowden Associates
Jason Flowers, East End Cooperative Ministry
José Garth, Planned Parenthood of Western Pennsylvania
Richard Harshman, Allegheny Technologies Inc.
Leon Hoffman, Ernst & Young
Chaz R. Kellem, YWCA
Bruce A. Kraus, Pittsburgh City Council
Frederick A. Massey, Jr., Family Links
Robert McCutcheon, PricewaterhouseCoopers
David Meadows, Carlow University
Greg Peaslee, UPMC
John R. Pischke, Allegheny County Jail
Robert Scherrer, North Allegheny School District
Brian Schreiber, JCC of Greater Pittsburgh
Paul Siefken, Fred Rogers Productions
Elio Wade, Domestic Violence/Human Trafficking Division,
Temple Hills Maryland
12:50 p.m. Public signing of the pledge continues