Father's Day Family Tailgate

Sunday, June 16, 2013 from 1:00 PM to 6:00 PM (EDT)
Event Details
Come out and celebrate the wonderful men in our community!
Bring your coolers and the family as we spend Father's Day with the men in our lives who have always deserved the spotlight!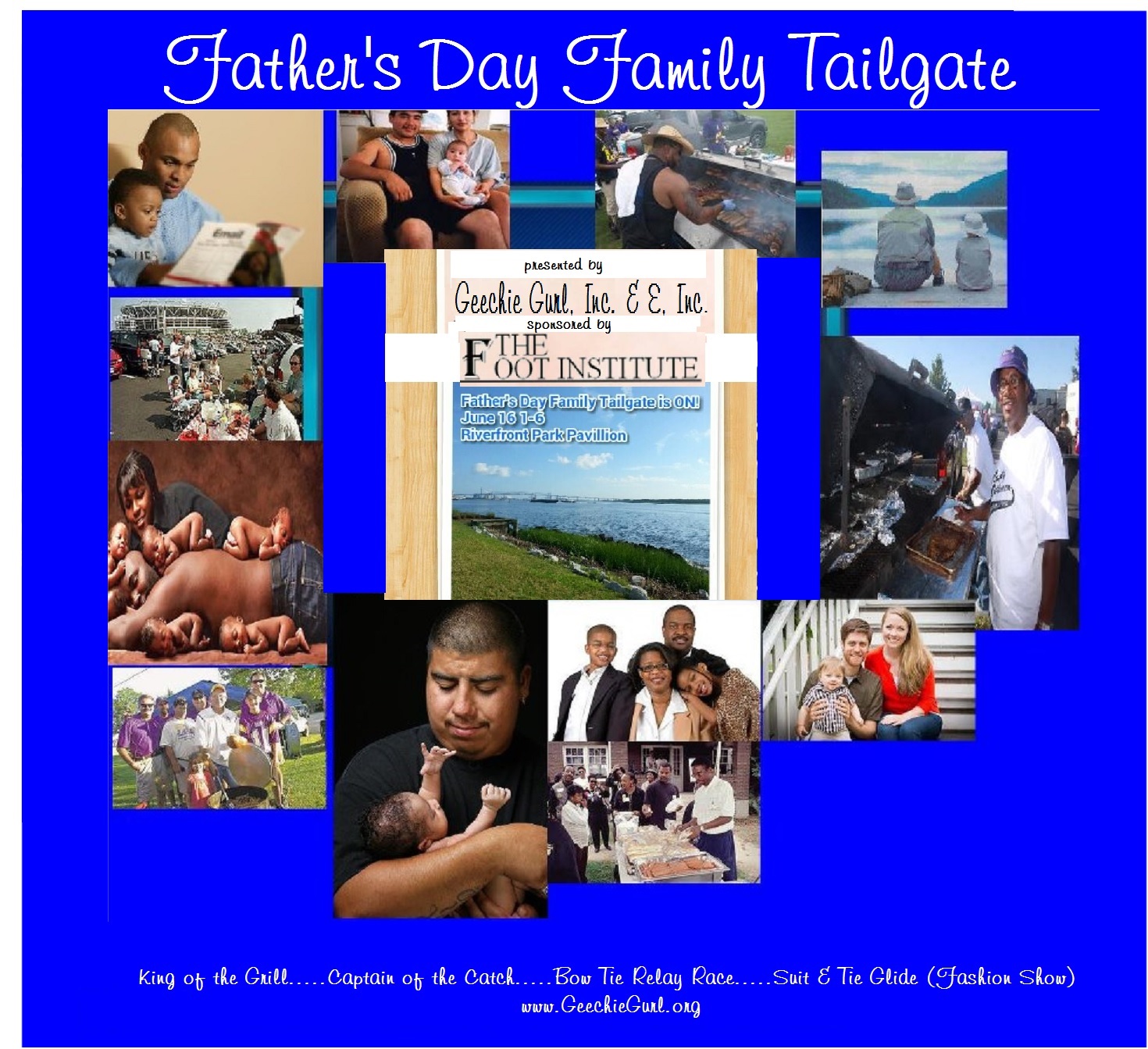 Sign him up for the King of the Grill cook off (2 spots left) or the Captain of the Catch fishing competition. There will be a Bow Tie Relay Race and a Suit and Tie Glide (fashion show) for the Distinguished Gentlemen.
Let the royal treatment for our Kings BEGIN!
We hope to see you there! 
Rules for King of the Grill Competition
A $50 donation is required to enter. Please arrive no EARLIER than 12 noon to set up. Please use competition ticket for access through the back gate. Participants are allowed to have 1 assistant and whole team must present to check in for inspection at 12:30 to receive wristband and supplies. The quick fire meat and chicken will be issued to all teams promptly at 1:00.  Participants compete in 3 separate categories: Ribs (beef), Chicken, and a mystery meat for the quick fire round to be revealed the day of competition. Mystery meat and chicken will be provided for you as part of your entry fee. Beef ribs are the responsibility of the participant to allow for marinating and quality preference purposes. Turn in times will be posted and team clocks should be synchronized with event coordinator's clock.
Meats are blind judged on taste, texture & appearance and issued a score of 1 to 5 in each category with 5 being the highest. Each round will be totaled to determine the winner. In the event of a tie, the winner will be determined by the fan favorite. Fans vote by purchasing links  (25 cents for small blue, $1 for medium black, $5 for large gold) that create a chain of support. Longest chain of support wins fan favorite. Links can be bought online by out of town supporters making a donation on www.geechiegurl.org. Be sure they put your team name in the comments or the vote is void!
With that being the case, it is highly suggested small samples are prepared for event goers to taste your product. There will be a prize for the fan favorite. The Grand prize winner will receive a trophy and a gift bag as well as be featured on Geechie Gurl, Inc. website and Facebook fanpage and most importantly a year's worth of bragging rights!
All containers with meat and spices will be inspected and must be approved in order to proceed in competition.
All competition foods must be presented for inspection during a site visit at the beginning of the
event before food preparation work can commence.All on-site team containers will be inspected.
• At their discretion the Head Judge or designee can return to your cooksite at any time during a contest.
• The Head Judge shall make the final decision as to whether any competitive food product is to be
allowed.
These items will be reviewed during inspection:
CompetitionMeats May not be pre-cooked prior to the food inspection, unless the event coordinator has stipulated otherwise. Meats may be pre-trimmed
Cooler Temperature Ensure all coolers contain enough ice to maintain safe food temperatures.
Fire extinguisher Required at each cook site; receipt or certificate; needle in green.
Dish wash station 3 basins, dish soap, bottle of bleach
Gloves must be used while handling meat. Separate gloves will be given for raw and cooked/ready to eat food.
Bleach bucket Bucket with sanitizing solution, cloth cleaning rag will be provided
Disposal of sanitation water will be handled by FDFT committee.
• Teams with Incomplete/unsatisfactory inspections will not be issued turn-in boxes at
cooks meeting until requirements have been met.
FOOD
PREPARATION
• Following inspection, all storage, preparation, seasoning, cooking, finishing and boxing of competition foods (excluding garnish) shall be done within a team's cooking site. All equipment related to the preparation and cooking of the competition foods shall be contained within the boundaries of the team's assigned cooking site, as defined for that event by the coordinator.Other than pre-trimming of competition meats, food preparation away from the space is not allowed.
All meats must be held at safe temperatures – before cooking,meatmust be on ice or refrigerated
so that themeatmaintains a temperature of 40°F or less; after cooking,meat must be maintained
at a minimum temperature of 141°F.
Gloves and a sanitation bucket is mandatory and must be clearly marked 
Any tents you bring must be weighted (sand bags, cinder blocks, etc) as ground stakes are prohibited at Riverfront Park.
Rules for Captain of the Catch Fishing Competition

Donate $5 for your wristband and you're entered. Show up with your fishing rod, your bait, your tackle box and an empty bucket/cooler by 3:00. You can start fishing as early as you would like as long as you have your wristband. Enter online or the day of. The biggest fish caught by 5 pm wins a goody bag!
When & Where

Riverfront Park
Everglades Ave
North Charleston, SC 29405


Sunday, June 16, 2013 from 1:00 PM to 6:00 PM (EDT)
Add to my calendar
Organizer
Geechie Gurl, Inc.
It's not just an accent...it's an Attitude!
Father's Day Family Tailgate