Description
Are you excited to Join us for a Family Friendly Fun Dumping Party for Father's Day Celebration? - BEST FATHER'S DAY GIFT!!!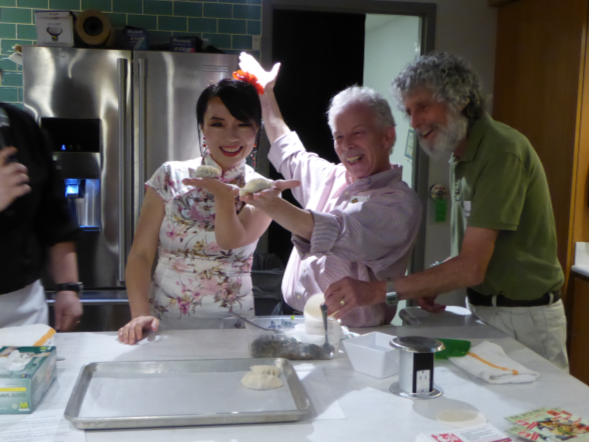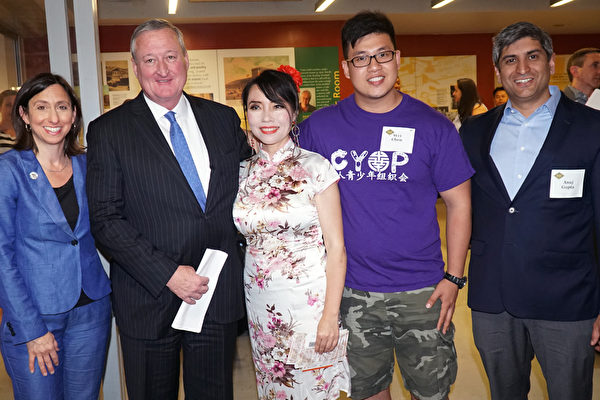 ****************************************************************************************************************************
Yin did a dumpling demo at Reading Terminal Market on June 5th. Photo taken with Mayor Kenney and GM of Reading Terimanal Market on the same day.
Yin/Five-Spice Philly was invited by Reading Terminal Market to participate in an important community project the Reading Terminal is leading right now. The Breaking Bread, Breaking Barriers dinner project, brings together individuals from different cultures to sample each other's cuisines and learn more about each other, essentially breaking barriers by sharing a meal and getting to know each other and see what they might have in common. The project partners include HIAS-PA, the City's Human Relations Commission and the UPENN Project for Civic Engagement.
Yin, operates the "Five Spice Tour of Philly's Chinatown" - cultural walking tour with dumpling tastings. Yin is a dumpling expert, she hosts classes & competitions based on the iconic food. She has worked in City Kitchen previously, as our guest for Chinese New Year." - Introduction from Reading Terminal Market
"You did such a wonderful job during our Chinese New Year celebration and were so engaging" "After your fun and engaging dumpling demo for Chinese New Year, we all thought you would be a great person to have back for this event." - From Reading Terminal Market
We also sucessfully hosted Mother's Day Celebration - Dumpling Making party on May 14, 2017. For the press release, please click:
http://www.fivespicephilly.com/mother-s-day-celebration---dumpling-making-party.html
*****************************************************************************************************************************
We cordially invite your family to attend a fun DIY Dumpling Afternoon/Evening for Father's Day Celebration right in the heart of Philly's Chinatown. While tasting other Chinese appetizers, everyone in the families, no matter young or old, will acquire a new cooking skill – learn to make your own dumplings from Yin!

Yin's story - Growing up, my grandmother's visits to our home meant one thing: All of the dumplings. She would drop by on a Sunday morning, bags in with ground pork, tofu, vegetables, and packages of dumpling wrappers. My family would devote the entire afternoon to filling and pleating our way through hundreds of dumplings, as my mother would boil and pan-fry batches for us to eat as we worked. We'd freeze what we couldn't eat, to be pulled out on busy weeknights when none of us felt like cooking. That experience has shaped who I am today. Many years have passed, I still love making dumplings and experimenting on different fillings.

In the family friendly dumplings making party, your family will enjoy a hands-on adventure - make-your-own dumplings. You'll be guided, taught by Yin who is a dumping making expert and learn how to fill and shape your own pot stickers, wontons, and more in an authentic way.
We will prepare dumping sauces in advance. We may either use pre-made wrappers or make wraps on our own right in the party. We will also prepare at least two types of recipes for fillings (meat, e.g. kale and ground pork, and vegetables): each person will make at least five of each dumpling. Participants will be placed to teams on a family basis and we will compete among the teams to see which team will produce the best looking dumplings! We will either cook one recipe at a time and pause to eat between batches, or we'd rather cook them all at the end. Either way, dinner will be delicious!

Dumplings are the singular best food to make for (and with) a crowd: They're easy, fun, beginner, and cook up super quickly. The more hands you we on deck, the quicker the dumplings come together and the faster we can get eating.

So we will need more of You! Come to Join us for a Dumping Father's Day Celebration! It will be a totally fun experience for your entire family!
It was fabulous to hear people's experiences with making dumplings, how they didn't think they could do it and how they practiced and persisted. As someone at our past dumping making party said, "Dumplings are instant smiles."
Bonus – your family will also learn how to use chopsticks in a correct way. A small game will be held to find out who the best chopstick user is. Note: Native Chinese are not eligible for the game.

PLACE: 928 Race St, Philadelphia, PA 19107

CONTACT: info@FiveSpicePhilly.com Tel: 215-352-4324

TIME: Father's Day, June 18, 2017, from 4pm to 7pm

WHAT TO BRING: We will provide all dumpling making experience and fun, and Chinese appetizers. You will just need to bring a container to bring left over dumplings home.

WHO AND WHAT ARE THE AGE RANGES: The event will open to public, all families, all ages.

COST: $35/person prepaid, $40/person pay at door (the price includes dumplings, and Chinese appetizers)

CANCELLATION POLICY: You will receive a full refund if:
- The event is canceled
- The event is rescheduled

IMPORTANT NOTE: If you or your child has allergy situation, please inform me. Also you must sign a waiver form before attending the event.

HOW TO SIGN UP:
https://www.eventbrite.com/e/fathers-day-celebration-dumpling-making-partychinatown-tickets-34456350873