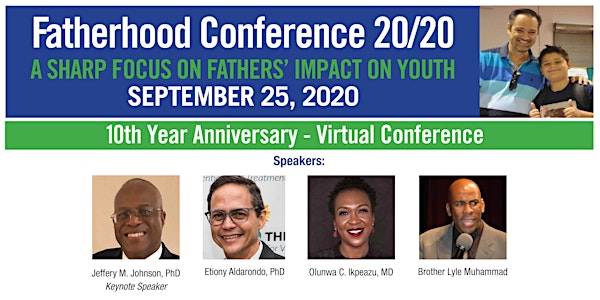 Fatherhood Conference 20/20: A Sharp Focus on Father's Impact on Youth.
Join us on September 25th where we will collaborate on innovative and systemic changes to engage fathers in children's lives.
About this event
The Fatherhood Task Force of South Florida hosts an instrumental, educational, and resourceful virtual conference to engage clinicians, health providers, educators, policy makers, legal, political and governmental leaders, community organizations, and fathers & families to positively impact the life experiences of fathers and children.
Topics
Overcoming Systemic Barriers Affecting Fathers' Involvement in Children's Lives, Keynote Speaker: Jeffery M. Johnson, PhD., President & Chief Executive Officer, National Partnership for Community Leadership
Fathers' Health Impacts Prenatal Care, Birth Outcomes and Children's Health: Olunwa C. Ikpeazu, MD Pediatrics Specialist
Fathers' Role in Developing Children's Genius: Education, Generational Healing, and Nurturing: Brother Lyle Muhammad, CEO, Circle of Brotherhood
Fathers' Advocate for Social Justice Reform and Healthier & Safer Communities: Etiony Aldarondo, PhD., Executive Director, Melissa Institute for Violence Prevention and Treatment