Description
Man In The Mirror Youth Counseling Inc. and The Kappa Leaguers in conjunction with Wyandanch High School Parent Teacher Student Association Present:
Father & Son Conference & Basketball Game 2019!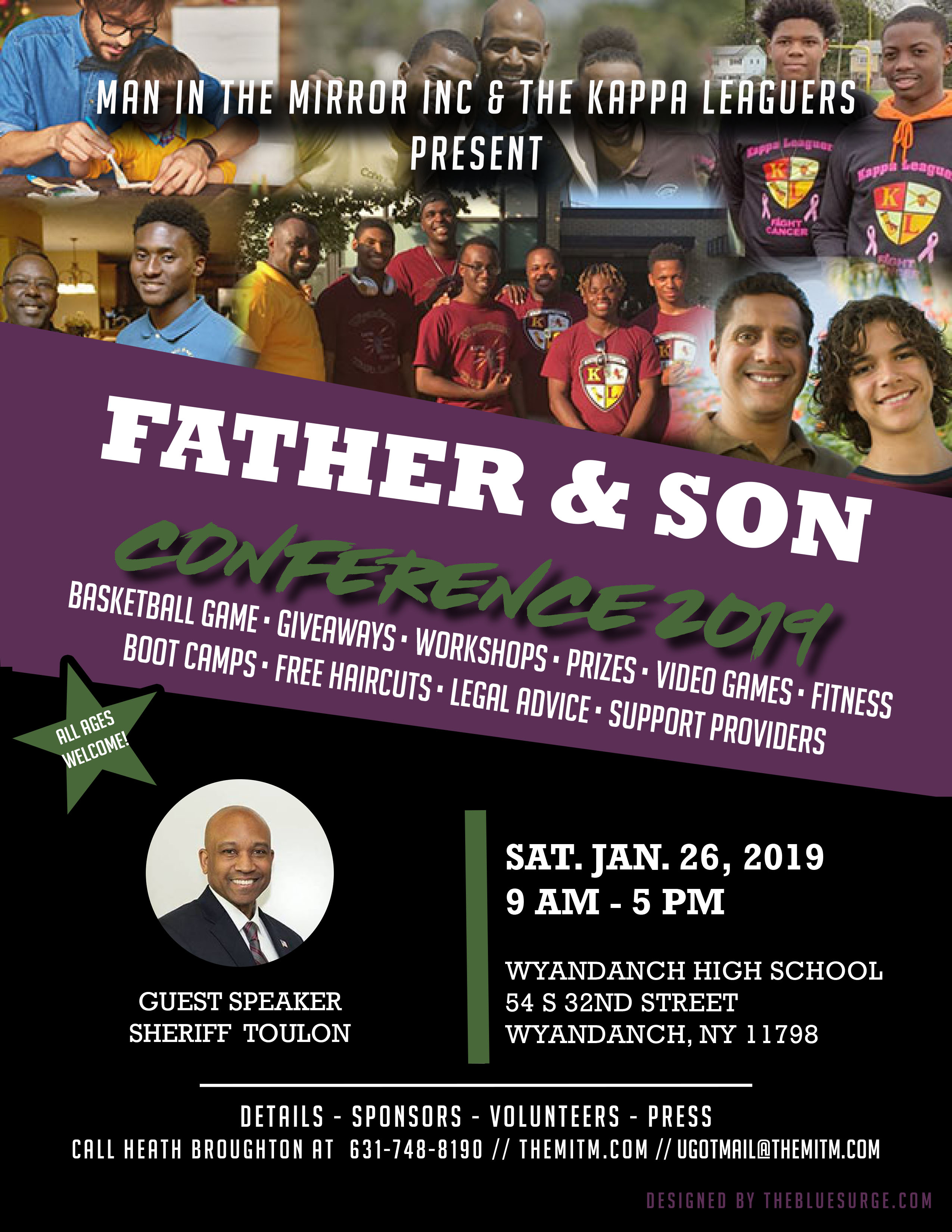 Join us on Saturday, January 26th, 2019 from 9 AM to 5 PM at the Wyandanch Memorial High School.
This is a huge community event geared towards brings fathers and their children together in a safe, positive and empowering environment.
We are proud to announce our keynote guest speaker will be Sherriff Errol D. Toulon of Suffolk County.
WHAT TO EXPECT:
A Basketball Game
Video Games
A Fitness Boot Camp
Prizes & Giveaways
Workshops
Support Providers
Legal Advice
Free Haircuts
Keynote Speaker
DONATIONS
Man In The Mirror Youth Counseling Inc. is proud to organize grassroots community events like this geared towards fostering positive relationships between our local communities and our residents while providing support initiatives and programs to children of all backgrounds. Your contributions help us continue to fund our mission and help families in need of most. All contributions to MITM Inc. are tax deductible. We appreciate your support. Please make donations here or through PayPal or Cash App.
CONTACT US
For those interested in contributing to this event by volunteering, donating, sponsoring or more, please contact Heath A. Broughton at 631-748-8190.
Visit our 501(c)3 nonprofit organization website, here.
Send emails to ugotmail@themitm.com.
Flyer designed by: Blue Surge Marketing Agency.