Father Hunger and Father Wounds: Clinical Interventions with Clients Who Ar...
Description
Fatherlesssness and being harmed by one's father are leading public health crises of the 21st Century. The absence of fathers in daughters' lives increases premature entry into adulthood, the risk of toxic relationships, addictive relationship styles, addiction, sexual abuse, and teen pregnancy. The absence of fathers in sons' lives increases the risk of street gangs and other destructive peer group affiliations, toxic masculinity, the absence of rituals to define manhood, male depression, violence, and incarceration. Father wounds occur when the child was injured by his or her father—emotionally, verbally, physically, sexually, etc. This workshop will describe the impact of father hunger and father wounds throughout the life span—from childhood to adulthood. In this workshop you will learn strategies to clinically address the impact of father hunger and father wounds across the lifespan, from birth to the elder years.

Objectives
By the end of this workshop participants will:
Be aware of the impact of father hunger/father wounds from girlhood to womanhood.

Be aware of the impact of father hunger/father wounds from boyhood

to manhood.

Be aware of clinical intervention strategies to address father hunger/father

wounds across the life span.
This free event is sponsored by Maine Township's MaineStay Youth & Family Services and Chicago Behavioral Hospital. It is appropriate for social service professionals and includes 2.0 free CEUs for social workers, professional counselors, marriage and family therapists, psychologists, and nurses. Continental breakfast will be available from 8:30-9:00 AM. Advance registration is requested as seating for this event is limited.

About the Presenter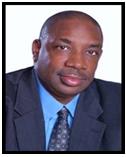 Mark Sanders, MSW, LCSW, CADC is an international speaker in the behavioral health field whose presentations have reached thousands throughout the United States, Europe, Canada, and the Caribbean Islands. He is co-author of Recovery Management and author of Relationship Detox: How to Have Healthy Relationships in Recovery. He has had two stories published in the New York Times best-selling book series, Chicken Soup for the Soul. His most recent book is entitled, Slipping through the Cracks: Intervention Strategies for Clients with Multiple Addictions and Disorders. He is a lecturer at the University of Chicago.