Fate/Grand Order U.S.A. Tour 2019 in Los Angeles

Saturday, February 23, 2019 at 6:00 PM

-

Sunday, February 24, 2019 at 6:00 PM (PST)
Event Details
Welcome to Fate/Grand Order U.S.A. Tour 2019 in Los Angeles!!

Masters of Chaldea,
Join us for a Fate/Grand Order celebration of epic proportions! The Fate/Grand Order U.S.A. Tour 2019 kicks off with an exclusive event in Los Angeles, California featuring special stage events, merchandise, booths, and displays! The special kickoff event begins Saturday evening on February 23rd with festivities continuing Sunday morning on February 24th. Tickets are limited! Set Rayshift coordinates to California, because the party is just getting started!


- Fate/Grand Order U.S.A. Tour 2019 in LA Show Schedule -
Saturday, February 23rd, 2019 6PM-9PM (PST) (Pre-show Night)
*Exhibit & Merchandise Store 6pm-8pm / Theater 8pm-9pm
(Check-in counter opens at 4pm)
Sunday, February 24th, 2019 10AM-6PM (PST)
(Check-in counter opens at 8am)
REGISTRATION POLICIES
By registering for the Fate/Grand Order U.S.A. Tour 2019 in Los Angeles (FGO USAT), which is owned, organized and produced by Aniplex of America, Inc. (AOA), you agree to accept and be bound by all the Policies. AOA reserves the right to change the Policies at any time without notification.
In addition to this registration page, the FGO USAT website provides information regarding the event, which may include the event description, dates, location, schedules, news, and exhibitors.
Eligibility & Age Restriction
This event is for everyone who loves Fate/Grand Order and anime and games in general. Children 13 years and younger must be accompanied by an adult chaperon 18 years or older. Admission for ONE (1) child aged 13 or younger is complementary with purchase of ONE (1) adult ticket. Registration is required for any additional child and guests 14 years and over. 
There are age-restricted programming/exhibits designated to a certain age group that may require attendees to show a valid government photo ID to gain admittance. Please see our Stage Events policies for more information.
Registration
You must register an individual's name(s) who is actually attending to the event. If there are multiple registrations under your name for the same day(s), AOA has the right to cancel your duplicate registration(s), and you are responsible for the loss of your paid registration plus the processing fee.
If you are complete the registration on behalf of anyone other than yourself, you represent that you are authorized to complete this registration, accept all the Terms and Conditions and Policies on behalf of each person that you register, and that the information you provide is accurate. You agree to be solely liable for damages as a result of any information you provide, including opting-in to receiving communications at another's email address.
On-Site Check-In Policy
Each registrant must check-in and obtain their own wristband. Upon arrival, bring your registration confirmation email to the check-in counter on site. Your registration confirmation is also available on the Eventbrite mobile app. 
Cancellation, Refund & Transfer Policy
All sales are final. This event will not be cancelled in case of inclement weather. There will be NO REFUNDS, exchanges or transfers of purchased admission wristbands. 
Wristbands obtained from unauthorized sources are void – NO EXCEPTIONS. Registration Confirmations that have been sold or provided by anyone other than AOA will not be honored.
Wristband Policy 
This wristband is only valid for the Fate/Grand Order U.S.A. Tour 2019 in Los Angeles to be held in February 2019 and must be worn at all times. Please be prepared to show proof of age and identification when entering the Event or any program at the Event. We will only accept the following forms of identification: government-issued driver's licenses or identification cards, passports, or military identification.
Please wear your Event wristband at all times during the Event. Anybody not wearing a wristband inside the venue will be asked to leave the site. 
All wristbands are the property of AOA and must be relinquished to AOA upon request. AOA team reserves the right, without refund of any portion of the registration/wristband price, to refuse admission or eject any person whose actions are deemed disorderly or fails to comply with the terms and conditions contained herein. In addition, AOA team is not responsible for lost, stolen or damaged property.
Do not lose your wristband, as it will NOT be replaced if it is misplaced, stolen or destroyed under any circumstances. Lost wristbands are subject to re-purchase of a new wristband at the registration counter at the regular price based on availability. 
Wristband sharing, splitting or duplicating made outside of the official event registration system is strictly prohibited. Any registrants/attendees found in violation of this policy will have their wristband confiscated, and they will be removed from the event immediately and forfeit attendance eligibility.
Reasonable Accommodation for Attendees with Disabilities
Aniplex of America, Inc. (AOA) reserves the right to modify and/or update this policy at any time.
AOA is dedicated to accommodating all attendees, volunteers, and staff who may have disabilities that are protected by federal, state, and local public accommodations and accessibility laws. Although Event Facilities such as, but not limited to the California Market Center and The City of Los Angeles are solely responsible for accessibility of and non-discrimination in their physical buildings, restrooms, and facilities, AOA is ready and prepared to offer a hand to visitors with special needs or whom may require some sort of a reasonable accommodation. AOA America offers, for example:
Limited special seating for programming events; and

Event Registration service and support for attendees with mobility issues

If you are an attendee who needs reasonable accommodation, AOA wants to make your experience as fun and entertaining as possible. There are a few limitations, however, on what AOA reasonably can provide. Please note:
Programming rooms fill up quickly, and all seating is on a first-come, first- served basis, so special seating may not be available if you wait until the last minute to get to the room. Please read the program guide, and plan your day accordingly, keeping in mind the popularity of most events.
Elevators can be crowded and slow. Please plan in advance and allow plenty of time to change floors.
AOA understands that things can change at the last minute and will nonetheless attempt to accommodate you as best as possible irrespective of such last minute notice.
Service animals must be obedient and behave in a manner that is safe and non-threatening for other attendees and other service animals at all times. Only service animals will be permitted into the event. If service animals are behaving in ways that fundamentally alters the services offered by AOA, such as behaving aggressively toward other service animals (barking, lunging, growling, snarling, scratching, biting) or toward other attendees, or howling in concerts, or is otherwise disruptive, AOA may impose restrictions or ask that you remove the service animal from the premises, and you agree to and will cooperate with AOA's request. You may continue to participate while your service animal remains outside. No poisonous or illegal exotic service animals are permitted.
Each disabled attendee is allowed one (1) helper for events and panels that have special seating. Each disabled attendee and helper must purchase an entry wristband through event registration online.
How to apply for Disabled Services
In order to receive disabled services at FGO USAT, a disabled attendee must apply for and receive a disabled credential, and his or her helper must also have a disabled helper credential.
Before you apply for the disabled credential and a disabled credential for your helper, you must first make sure that you (the attendee) and helper have registered and paid for a wristband on Eventbrite.
To apply, you and the helper must visit the Information Services Booth.
At Information Services or Event Operations, please make sure you let the counter person know that you are requesting a disabled credential for your badge. 
The counter person may ask you and your helper for a valid photo identification. Acceptable forms of identification must have a photo and may be Driver's License, School ID, Passport, Military ID, or any government-issued ID.
We CANNOT ask for proof of disability under any circumstances. If anyone asks you, doing so was a mistake, and you may simply decline to provide it. However, we ask you to be honest and not apply for Disabled Accommodations just to get special access if you don't really need it.
At registration, we will write down the attendee's and helper's name, date of birth, and contact information. Please provide yours and your helper's most up to date contact information. You and your helper will then be asked to sign and date the request form.
You will receive a disabled credential for Disabled attendee and a disabled credential for your FGO USAT helper as appropriate to your application.
The registration person will attach the disabled credential directly to the disabled attendee's wristband and the attendee's helper wristband.
Disabled Helper may accompany the Disabled attendee when such attendee is using such access accommodations, but in NO event will such access accommodations be made available to a Helper unaccompanied by a Disabled attendee.
For additional questions or special requests, please contact us at contact@aniplexusa.com with FGO USAT in the subject line.
CODE OF CONDUCT
Use good judgement and treat everyone courteously. Please watch out for each other, take care of one another, help those who need help, and be careful. Play it clean, sober, and safe! Please don't leave the Event with strangers, and make sure that your friends know when you leave or if you are going home early.
Please report all suspicious activity to security or any staff member.
Minors should not go to hotel rooms with unknown adults.
To participate The Fate/Grand Order USA Tour in Los Angeles Event (referred to below as the "Event"), you must comply with this Code of Conduct. AOA reserves the right to modify and/or update any policy at any time without prior notice. Violation of this Code of Conduct may result in forfeiture of your Event wristband, your expulsion from the Event. Where the Code of Conduct refers to "AOA's written consent", such written consent may be in the form of a separate written exhibitor/sponsorship agreement, vendor agreement, facility rental agreement, or other form of written agreement or permit. The California Market Center, Los Angeles Street between 9th and Olympic, and all other places where any Event programming is scheduled are "Event Facilities".
PROHIBITED ACTIONS AND ACTIVITIES
The following, as such violations are determined in AOA's sole discretion, are not permitted at the Event or its surrounding areas, including the parking lots, hotels, plazas, and structures:
Failure to be appropriately clothed, as determined by the sole discretion of AOA. Please follow local laws, rules, and regulations when selecting your costume.

Assaulting, threatening, behaving inappropriately to another person, discriminating conduct of any nature whatsoever, making racial, religious, ethnic, national origin, sexual orientation, gender, or other slurs, bullying, and/or expressing any act of hatred towards another.

Lewd or offensive behavior, such as profanity, obscene language or conduct, exposing nipples or genitals, making recordings in bathrooms, bedrooms, or of nipples, genitals or up skirts.

Conducting commercial or business transactions without AOA's prior written consent, including without limitation, selling food or beverages from unauthorized carts, stands, or ice chests inside or outside Event venues or hotels; solicitation of money, contributions, or donations; distribution of commercial advertising or promotional material of any kind, such as signs, flyers, cards, or offers of discounts on rides, or other products or services; or offering samples of items which are sold, available for sale, or available in exchange for a donation or contribution.

Unlawful conduct or failure to comply with the policies, rules, or instructions of AOA Event staff, the Event facility, or law enforcement officers.

Any action that impedes the flow of traffic, creates a potential or actual hazardous condition, or is deemed to interfere with FGO USAT. Individuals may be asked to move or discontinue their actions. By way of example, an individual may be asked to relocate or terminate an activity in order to disperse a crowd which impedes traffic flow.

Any noise or music that is disruptive to other attendees or the operation of FGO USAT.

No Soliciting

Riding Hoverboards / Skateboards / Non-ADA Scooters / Segways: keep it inside your bag within the Event Facilities, otherwise, please leave it at home.

Using Roller Skates / Roller Blades

Smoking / Vaping:

Never Inside:

No smoking or vaping is permitted inside any of the Event Facilities, unless there is a place specifically designated by the Event Facility that permits either. Possessing any open can, bottle or other receptacle containing alcoholic beverages, except in areas specifically designated for the consumption of alcohol. AOA does not tolerate illegal substances in or around Events.

Limited Outside:

Smoking or vaping must be at least 20 feet away from all entrances per California Government Code Sections 7596-7598; no smoking is permitted in outdoor dining areas LAMC 41.50 B 18 b.
PROHIBITED ITEMS
Stilts

Weapons (Please see our "WEAPONS/FIRE ARM POLICY" for more info)

Drones / UAV's

Alcohol and Illegal Substances

Stickers / Adhesive Graphics (Keep them in your bags/pockets and off the walls/floors of the Event Facilities)

All signs, whether for a costume prop or not, are prohibited unless approved in writing for use by Event staff.

Non-Service Live Animals

Helium and Mylar Balloons

Lasers or Similar Items

Coolers

Oversized Backpacks / Bags: No bags

larger than 12" x 17" x 6" are permitted

.

Rolling bags of any size are not permitted on the show floor, including luggage.

All bags, regardless of size, are subject to inspection at any time.

Motorized Vehicles (i.e. go-karts or kids' battery-operated vehicles.)

Wheeled Carts / Wagons

Confetti / Loose Glitter (Glitter used on your costumes is OK)

Flammable Liquids

Open-Flame Use
Any activity prohibited by law and/or prohibited by any Event Facilities.
STAGE EVENT POLICY
AOA reserves the right to modify and/or update this policy at any time.
Stage Event Tickets
All panels/stage events listed on the FGO USAT website are currently confirmed for the event, and we reserve the right to cancel, change or reschedule any and all contents and venues.
"Stage Events" are events held at the Fashion Theater on the first floor of California Market Center. The stage events required a timed ticket that can be acquired upon registration/wristband pick-up. Stage event tickets to the time of your choice are not guaranteed and are distributed on a first come first served basis. Event ticket is limited to ONE (1) per attendee regardless of the type of registration. 
Please abide by those rules as stated below.
BAG POLICY
Attendees may only bring two bags, each smaller than 12" x 17" x 6" onto official show premises. Rolling bags of any size are not permitted on the show floor, including luggage. All bags are subject to search, and attendees will be subject to metal detection screening upon entry. You are encouraged to leave bags at home/hotel as there will be no bag check available.
WEAPONS/FIRE ARM POLICY

No firearms, or weapons of any kind are permitted at the event. You as an attendee of the event, must comply and understand for your own safety and the safety of all other attendees, AOA has the absolute and immediate discretion and right to inspect your costumes, prop weapons, and any other item you bring to the event. We may temporarily or permanently remove any attendee in our sole and absolute discretion at any time for violating this Weapons Policy.
The prohibited items include firearms, knives, curio, relic, antique firearms, any form of ammunition, any item designed or manufactured with the intent to cause death or serious bodily injury, whether carried openly or concealed, even if any such weapons are inoperable or unusable, and irrespective of whether you are licensed to possess such weapon. Items that may otherwise be legal for you to own or carry are not welcome at any Event if they violate this Weapons policy. The following are examples of weapons that you CANNOT bring to an Event:
FIREARMS, AMMUNITION, RIFLES, SHOTGUNS, HANDGUNS, BLOWGUNS, TAZERS, LASER POINTERS, LASER-AIMING DEVICES OR SIMILAR LASER DEVICES, EXPLOSIVES OR OTHER INCENDIARY DEVICES, KNIVES, LIVE BLADES/SWORDS (INCLUDING KATANA AND OTHER MARTIAL ARTS STYLE SWORDS), DAGGERS, SWORD CANES, SWITCHBLADES, BALI-SONG (BUTTERFLY) KNIVES, AXES, HATCHETS, METAL POLE-ARMS, CLUBS, WOODEN/METAL BATS AND PADDLES, HUNTING BOWS, ARROWS, NUNCHUCKS, BRASS KNUCKLES, WHIPS, PEPPERSPRAY/MACE, POWER TOOLS, STILTS, VUVUZELAS, ANY ITEM DESIGNED OR MANUFACTURED WITH THE INTENT TO CAUSE DEATH OR SERIOUS BODILY INJURY TO ANY PERSON OR PROPERTY, ANY ITEM THAT IS ILLEGAL IN THE STATE OF CALIFORNIA, OR ANY ITEM THAT APPEARS, IN AOA'S SOLE DISCRETION, TO BE DANGEROUS OR WHICH WOULD POSE OR PLACE OTHERS AT RISK OF HARM, IMMEDIATE OR OTHERWISE.
PRIVACY POLICY
Aniplex of America, Inc. (AOA), which owns and organizes Fate/Grand Order U.S.A. Tour 2019 in Los Angeles is committed to ensuring that your privacy is protected. This policy explains how we use the information we collect about you. By submitting your information, using our services and engaging in the activities on our webpages as well as our partner's platform, you consent to the use of that information as set out in this policy.
INFORMATION WE MAY COLLECT FROM YOU

When you visit the Website and interact with us through the services, we collect information that can be used to identify you as an individual (personal information), which you provide voluntarily, and information about your usage of our Website (non-personal or usage information), which we collect using cookies and other technologies as you browse the Website.
PERSONAL INFORMATION

Registration Information
If you want to purchase Registrations to Fate/Grand Order U.S.A. Tour 2019 in Los Angeles or engage in other activities on ticketing partner's platform, you will need to provide certain personal information to our ticketing partners. AOA does not have its own box office to sell registrations and uses Eventbrite (a third-party ticketing platform).
At the time of registration all users must confirm that they accept the Eventbrite terms and conditions and Privacy Policy as we do not accept any responsibility or liability for the policies. Additionally, they must agree to their details being shared with the Event Organizer (AOA). Customers who do not agree to the terms are advised not to proceed with their registration. When you purchase registrations, you will need to provide certain personal information including your name, email address, postal address, phone number, credit card number, birth date, gender.
How We Use Your Personal Data
This information is used to issue the event passes for which you are registering to, to process your payment for those registrations, and to manage the event or activity for which you have bought registrations, e.g. to produce an attendance list, to email to give you important information about the events you have booked or to tell you about any changes. The list of attendees who purchase registrations remains in ticketing partner's possession and are not downloaded to or stored in our systems.
We may also use the Personal Data as follows: 

Specific Reason - If you provide Personal Data for a certain purpose, we may use the Personal Data in connection with the purpose for which it was provided. For instance, if you contact us by e-mail, we will use the Personal Data you provide to answer your question or resolve your problem and will respond to the email address from which the contact came. 

Internal Business Purposes - We may use your Personal Data for internal business purposes, including without limitation, to help us improve the content and functionality of the Services, to better understand our Users, to improve the Services, to protect against, identify or address wrongdoing, to you with customer service, and to generally manage the Services and our business. 

Agents, Consultants and Service Providers - We may share your Personal Data with our contractors and service providers who process Personal Data on behalf of us to perform certain business-related functions. These companies include our marketing agencies, database service providers, email service providers and others. When we engage another company to perform such functions, we may provide them with information, including Personal Data, in connection with their performance of such functions. 

Legal Requirements - We may disclose your Personal Data if required to do so by law in order to (for example) respond to a subpoena or request from law enforcement, a court or a government agency (including in response to public authorities to meet national security or law enforcement requirements), or in the good faith belief that such action is necessary to (a) comply with a legal obligation, (b) protect or defend our rights, interests or property or that of third parties, (c) prevent or investigate possible wrongdoing in connection with the Services, (d) act in urgent circumstances to protect the personal safety of Users of the Services or the public, or (e) protect against legal liability. 
Limit the Personal Data You Provide

You can browse the websites without providing any Personal Data (other than Automatic Data to the extent it is considered Personal Data under applicable laws) or with limiting the Personal Data you provide. If you choose not to provide any Personal Data or limit the Personal Data you provide, you may not be able to use certain functionality of the Services. For instance, in order to buy registrations to attend Fate/Grand Order U.S.A. Tour 2019.
How We Store Your Personal Data

We may store Personal Data itself or such information may be stored by third parties to whom we have transferred it in accordance with this Privacy Policy. We keep your personal information for as long as we need to for the purposes for which it was collected or (if longer) for any period for which we are required to keep personal information to comply with our legal and regulatory requirements or until you ask us to delete your personal data, in accordance with your rights below. We will regularly assess the personal data that we hold to determine its relevance and destroy your personal data if we no longer require it or no longer provide any services to you.
Updating or Accessing Your Personal Information
With some limited exceptions, you have rights to access and update personal information held about you. If you want to inquire about any personal information we may have about you, you can do so by sending us a written request by letter or email to the addresses set out below. Please be sure to include your full name, address and telephone number and a copy of a document evidencing your identity (such as an ID card or passport) so we can ascertain your identity and whether we have any personal information regarding you, or in case we need to contact you to obtain any additional information we may require to make that determination. We will respond to reasonable requests for access or revision and will provide access to the extent required or allowed by law. However, we may decide not to grant access or make revisions where the burden or expense of providing access would be disproportionate to the risks to the individual's privacy in any given case, or when the rights of others would be violated by granting the access.
To obtain a list of the Personal Information that we hold about you, or for residents of California (as required by California law) any Personal Information the Company has disclosed about you to third parties for direct marketing purposes during the preceding calendar year, please send a written, signed request to: Aniplex of America, Inc. 2120 Colorado Ave., #220, Santa Monica, CA 90404.
NON-PERSONALLY IDENTIFIABLE INFORMATION
We also collect non-personally identifiable information that cannot be associated with your personal identity, but gives us or our third-party service providers data about your location, your computer and how you use the Website. This information may include:
Browser and device information, including operating system;
IP address;
date and time you access the Website;
geographic location information;
information about how you use the Website; and
the site that referred you to the Website.
IP Addresses and Cookies

We may collect information about your computer, including where available your IP address, operating system and browser type, for system administration and to report aggregate information to our advertisers. This is statistical data about our users' browsing actions and patterns, and does not identify any individual.

For the same reason, we may obtain information about your general internet usage by using a cookie file which is stored on the hard drive of your computer. Cookies contain information that is transferred to your computer's hard drive. They help us to improve Website and to deliver a better and more personalized service. They enable us:

To estimate our audience size and usage pattern.
To store information about your preferences, and so allow us to customize Website according to your individual interests.
To speed up your searches.
To recognize you when you return to the Website.
You may refuse to accept cookies by activating the setting on your browser which allows you to refuse the setting of cookies. However, if you select this setting you may be unable to access certain parts of the Website. Unless you have adjusted your browser setting so that it will refuse cookies, our system will issue cookies when you log on to the Website.
CHILDREN - CHILDREN'S ONLINE PRIVACY PROTECTION ACT 

The Website is not directed to children under 13 years of age. We do not knowingly collect Personal Data from children under the age of thirteen (13). If you are under the age of thirteen (13), please do not submit any Personal Data through the Services. We encourage parents and legal guardians to monitor their children's Internet usage and to help enforce our Privacy Policy by instructing their children never to provide Personal Data through the Services without their permission. If you have reason to believe that a child under the age of 13 has provided Personal Data to us through the Services, please contact us and we will endeavor to delete that information from our databases.
CHANGES TO THIS PRIVACY POLICY

This Privacy Policy was updated on the date indicated above and we make revisions and adjustments to this Privacy Policy when necessary. Please review this policy periodically, and especially before you provide any Personal Data. Please check regularly for any updates as your continued use of this site and/or the services indicates your agreement with any changes we make. If any modification to this Privacy Policy is not acceptable to you, you should cease accessing, browsing and otherwise using the Services.
RECORDING POLICY
AOA reserve the right to modify and/or update this policy at any time in their sole discretion and without prior notice.
Recordings of You:  You are advised and given notice that AOA permits people and companies to take photographs and make recordings at AOA Events, and post them on social media and use them for many lawful purposes.  By attending the Event, you agree to be photographed or recorded during the Event (in still photographs, audio recordings, video recordings and any other media, now known or hereafter discovered, hereafter "Recordings"), by attendees, vendors, AOA, and others without compensation.  By attending the Event, you grant to AOA the rights, but not the obligation, to reproduce, display, distribute, perform, create derivative works from, and otherwise use any AOA Recordings of you in any media and in any manner throughout the world in perpetuity, including on the internet, broadcast, live simulcast, satellite and other transmissions.
Your Recordings of Others:  You are generally allowed to make Recordings in all common areas of the Event, with the exception of backstage, restricted areas and stage events.  Specific rules and restrictions regarding Recordings apply to specific venues and Events, such as when a Guest of Honor prohibits photographs of their performance. If you are unsure, please check for signage, and if you do not see any, be respectful and do not make Recordings.
As a courtesy, and without changing this policy in any way, please obtain permission first to make Recordings of any individuals or costumes.  If someone asks or otherwise indicates that they do not wish to be recorded, do not record them.  The AOA will make reasonable efforts to enforce this policy, but given the proliferation of recording devices and the ease with which Event attendees may conceal their recording devices, it is understood and agreed that AOA shall not be liable for violations.
Recordings of the Event or its employees, staff, or attendees for the purpose of sale to anyone, or for distribution or publication to the press is expressly forbidden unless advance written permission has been obtained from the AOA, and is permitted under the policy of any venue in which you desire to make a Recording.  Except as prohibited above, individuals may make Recordings for private listening/viewing, provided that such Recordings clearly identify the Event, date, and location at which they were Recorded.

GENERAL LIABILITY RELEASE AND WAIVER
In consideration of being permitted to participate in this convention, event, or meeting organized by the AOA (referred to as the "Event"), I hereby acknowledge and agree to the following terms and conditions of participation (this "Waiver"):
I have read, understand, and agree to abide by the Code of Conduct and Weapons Policy for this Event, which are incorporated into this Waiver as though set forth herein. I understand and agree that this Waiver, together with any other policies or instructions posted on the web site or communicated by employees, officials, officers, volunteers, or other persons affiliated with or acting for or on behalf of the AOA the City, or any Official Hotel, are effective and apply to me at all times when I am present on and around the Venue and Official Hotels in connection with the Event. The "Venue" refers to the location at which the Event is held.



I understand that my participation in any activity at the Event is voluntary. I FURTHER UNDERSTAND THAT SOME ACTIVITIES AT THE EVENT, SUCH AS BUT NOT LIMITED TO DANCING, ROLE PLAYING, VR, etc. HAVE INHERENT RISKS AND DANGERS, INCLUDING BUT NOT LIMITED TO LOSS OR INJURY TO MY PERSON OR PROPERTY, AND THAT AS A CONDITION OF BEING PERMITTED TO PARTICIPATE IN THE ANY ACTIVITY AT THE EVENT, I MUST ASSUME AND ACCEPT ALL RISKS OF HARM, LOSS, OR INJURY THAT MAY ARISE FROM OR BE RELATED TO PARTICIPATION IN THAT ACTIVITY. I HEREBY WAIVE AND RELEASE, indemnify, and hold harmless the AOA, the City, the Venue, and their respective officers, directors, employees, agents, affiliates, contractors, volunteers, managers, sponsors, funders, attendees, public officials, successors and assigns ("Released Parties"), from any and all demands, damages, losses, liabilities, causes of action, lawsuits, attorneys' fees, and/or claims of every kind and nature, whether known or unknown, in law or equity, that I ever had or may have, arising from or in any way related to my participation in the Event, including acts or omissions by third parties such as medical providers and vendors of food or drink, arising from or in any way connected with my participation in the Event. I understand the nature of the Event activities in which I participate and represent that I am qualified to participate in such activities. I further acknowledge that I am aware that the Event will be conducted in facilities open to the public. I agree and warrant that if at any time I believe conditions of an Event activity to be unsafe, I will immediately discontinue further participation in the activity. I intend and desire for this Waiver to be interpreted as broadly as permitted under California law. This Waiver does NOT apply to any acts of gross negligence or intentional, willful, or wanton misconduct on the part of any Released Party.

 


In the Event of any injury or illness to me during my participation, I authorize the staff of the Event, the AOA the Venue to seek and obtain such emergency or medical services as may be deemed necessary at the time, but understand and agree that they shall not be obligated to do so.


I understand and acknowledge that if I break, deface, harm, or damage any real or personal property in connection with my participation in the Event, including but not limited to property of the Venue, or the City, I shall be solely and personally responsible for paying any and all costs and incidental or consequential damages relating to the replacement or repair of the damaged item or facility.


General Terms. This Waiver shall be construed using the laws of the State of California, except as they apply to conflicts of law. The language in all parts of this Waiver shall be construed as a whole in accordance with its fair meaning, not for or against any party, and without regard to any statutes that provide for the language of an agreement to be construed against the drafter. If any provision herein is determined to be unenforceable, that provision shall be severed and all other provisions shall remain in effect. I consent to the jurisdiction of any federal or state court within Los Angeles, California. This Waiver shall bind and be for the benefit of myself, AOA and our respective heirs, fiduciaries, successors, and assigns. I have not relied upon any promise, representation, or warranty in signing this Waiver. This Waiver will continue in full force and effect even after the conclusion of the Event. You understand and agree that your electronic submission of agreement to this Waiver constitutes an electronic signature that is just as legally binding as your signature on a hard copy of the Waiver. Further, you agree that no certification authority or other third-party verification is required to validate this electronic signature, and that the lack of such certification or third-party verification shall not in any way effect the enforceability of this Waiver.



I SUBMIT THIS WAIVER VOLUNTARILY, OF MY OWN FREE WILL AND FREE OF PRESSURE, DURESS, OR THREAT OF DURESS. I HAVE READ THIS ENTIRE FORM CAREFULLY. I UNDERSTAND AND AGREE THAT BY ACCEPTING THIS WAIVER, I HAVE GIVEN UP CONSIDERABLE FUTURE LEGAL RIGHTS. MY SIGNATURE IS PROOF OF MY INTENTION TO EXECUTE A COMPLETE AND UNCONDITIONAL WAIVER AND RELEASE AOA OF ALL LIABILITY TO THE FULLEST EXTENT OF THE LAW. I AM OVER 18 YEARS OLD AND I AM MENTALLY COMPETENT.
Parent or Guardian's Additional Release for Minors 
In consideration of the minor attendee (the "Minor") being permitted by the AOA to participate in the Event, I the undersigned represent and affirm that I am the parent or legal guardian of the Minor whose name appears above and that I have the authority to enter into this agreement on the Minor's behalf. I understand and agree that the above terms and conditions apply to the Minor and to me. I further agree to indemnify and hold harmless the AOA from any and all claims that are brought by, or on behalf of, the Minor, and which are in any way connected with the Minor's participation in the Event. I represent and warrant that I am over 18 years old and I am mentally competent. 
I represent and warrant that (a) I am the parent or legal guardian of the minor named above, (b) no court has issued any order, judgment, or decree granting custody of the minor to anyone else or otherwise affecting my rights as parent or legal guardian, (c) the minor has not been emancipated, (d) I have the legal right, power, and authority to consent to this Agreement on behalf of the minor and myself, and (e) I am at least 18 years of age. I have read, and I understand, this entire Agreement. By signing below, I hereby consent to and approve in all respects the terms and conditions of this Agreement and agree that both the minor and I shall be bound by all of its terms and conditions. I understand that this consent and approval is not revocable. I agree to defend, indemnify, and hold harmless Aniplex of America, Inc. and all of their officers, directors, employees, agents, representatives and their respective successors and assigns from and against all Claims by third parties resulting from my or the minor's breach or alleged breach of this Agreement or any of the representations and warranties contained herein.
Electronic Signatures
Each party agrees that the electronic signatures (checking the box), whether digital or encrypted, of the parties included in this Agreement are intended to authenticate this writing and to have the same force and effect as manual signatures. Electronic Signature means any electronic sound, symbol, or process attached to or logically associated with a record and executed and adopted by a party with the intent to sign such record, including facsimile or email electronic signatures pursuant to the California Uniform Electronic Transactions Act (Cal. Civ. Code §§ 1633.1 to 1633.17) as amended from time to time.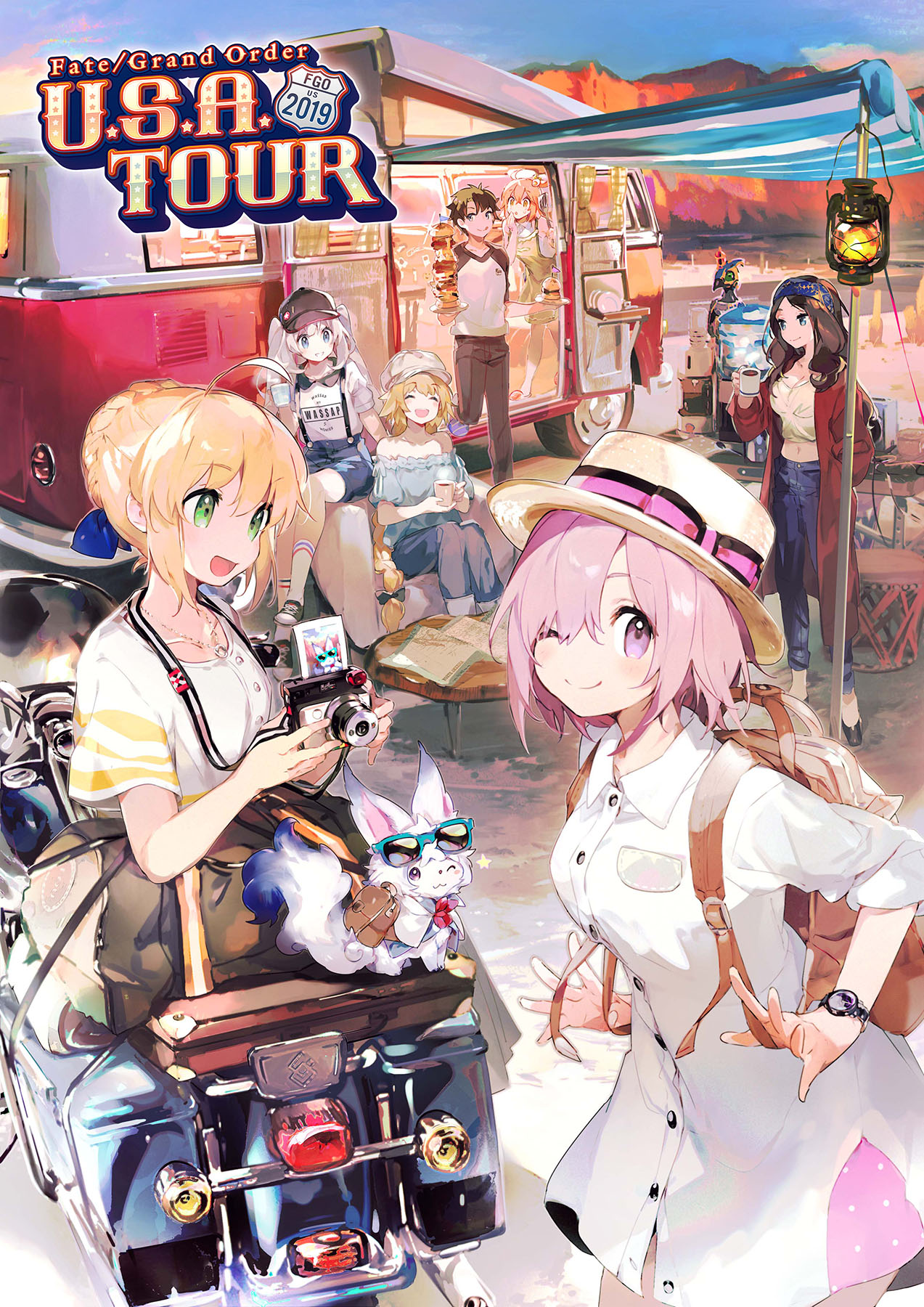 When & Where

California Market Center
110 East 9th Street
Los Angeles, CA 90079


Saturday, February 23, 2019 at 6:00 PM

-

Sunday, February 24, 2019 at 6:00 PM (PST)
Add to my calendar
Organizer
Aniplex of America Inc. (Santa Monica, California) is a subsidiary of Aniplex Inc. (headquartered in Tokyo, Japan), a group of Sony Music Entertainment (Japan) Inc. and a leading provider of anime content and music production and distribution in Japan.