About this Event
Punk in Drublic Tickets go on sale Friday, June 28th at 10AM ET! Punk in Drublic Festival features NOFX with special guests Me First and the Gimme Gimmes, The Vandals, Anti-Flag, Leftover Crack, Teenage Bottlerocket, The Bombpops, & more!
Presented with Brewhaha Productions, Kevin Lyman, & Drusky Entertainment
Created from the mind and liver of NOFX's frontman Fat Mike, the Punk In Drublic Craft Beer & Music Festival will debut in the Western U.S. this fall with five special events featuring the best in punk rock music and regional craft beer. Performances by NOFX, ME FIRST AND THE GIMMIE GIMMIES, THE VANDALS, ANTI-FLAG, TEENAGE BOTTLEROCKET, & MORE! Lineup varies by market, check your city for specific details.
Each festival date will feature up to four hours of craft beer tastings showcasing over 100 craft beers, including some of the regions best and local favorites.
Make sure to check out the Wheel of Misfortune where you can win a spanking, a boot licking, verbal abuse, a warm flat beer, or many other things that two magnificent Dommes will happily give to you. We also have a rock throwing tent where you get to break china and win an alcoholic beverage. There's also Badminton. General Admission & VIP tickets are available.
VIP Tickets:
VIP attendees will enjoy access to a VIP Lounge & upgraded restrooms. PID also features Badminton against band members, The Band Bar, and Bondage Massage by Athena Fatale. All tickets include a commemorative cup and 10 tasting tickets (3 oz pours). Punk In Drublic will feature a robust offering from some of the best local and regional breweries. The tasting portion of the event will be available from 3:00 PM - 7PM and the music festival will conclude at 10PM
ULTRA VIP MEET & GREET TICKETS:
ULTRA VIP attendees will enjoy access to the VIP Lounge, upgraded restrooms, special beer selections only available to VIP + VIP viewing area of the stage. PID also features Badminton with Members of NOFX, The Band Bar, and Free Bondage Massage by Athena Fatale. All VIP tickets include a commemorative cup and 15 tasting tickets (3 oz pours). Punk In Drublic will feature a robust offering from some of the best local and regional breweries. The tasting portion of the event will be available from 3:00 PM - 7PM and the music festival will conclude at 10PM. VIP Meet & Greet tickets include a commemorative collector's edition festival poster & signing from select* festival band members. VIP Festival hours will be 3:00 PM - 10:00 PM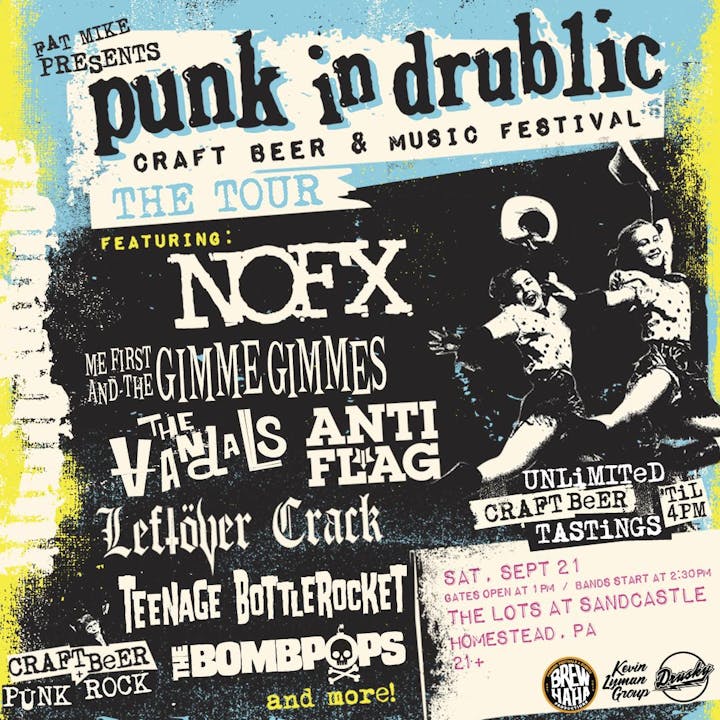 Performers
Date and Time
Location
Refund Policy