Description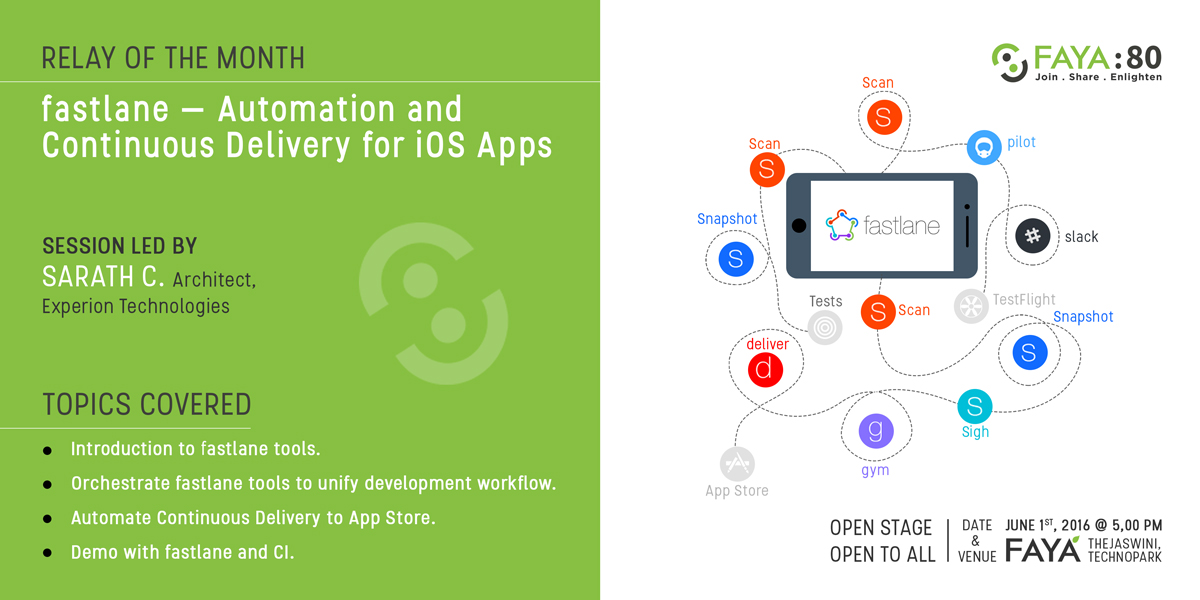 fastlane provides the easiest way to automate building and releasing iOS apps. It is a set of tools that helps to unify and automate the app deployment or release process within a single streamlined workflow. With fastlane, one can establish Continuous Delivery (CD), a design practice used in software development to automate and improve the process of software delivery.
Sessions:
Techbites (Speaker:Jafar Khan)

fastlane — Automation and Continuous Delivery for iOS Apps (Speaker: Sarath C.)
Introduction to fastlane tools.
How to orchestrate fastlane tools to unify development workflow.
Automate Continuous Delivery to TestFlight, Crashlytics Beta and App Store using fastlane.
Accelerate development using fastlane tools and Continuous Integration.
Use fastlane tools for launch activities like generate screenshots, on board beta test users etc.
Demo with fastlane and CI
Question Time

: Discussion on the top question raised by the community.
Submit your questions on the following form.
http://goo.gl/forms/daE4bCyVDl
Date & Place
1st June 2016 - 5pm at Floor of madness, FAYA.
About Speaker
The session will be led by Mr. Sarath C. He works as an Architect at Experion Technologies, Technopark, Trivandrum. At Experion, he focuses on Product Engineering, Technical Consultation and administers mobile development practices focusing on iOS and Android Platforms. He has more than a decade of industry experience and has successfully delivered products across various technologies and domains.
About FAYA:80 (Read as FAYA PORT 80)
In this era, technological advances have created a niche for themselves in the IT stratosphere. Newer technologies and related developments are happening at a sky-rocketing pace. Nurturing the power of being empowered in the right technology at the right time is the need of the hour. FAYA:80 provides a platform for the technocrats to keep at par with the latest tools and technologies in the IT industry. It inculcates a culture of community of practise for the technologists whereby they ignite the art of knowledge gaining and knowledge-sharing.
Come on… Push your Limits & Broaden the Horizons of your Knowledge!!!