Description
How do we prepare for an unknown future?
Sounds like a question in a sci-fi book?
We live in a rapidly changing world. The only way to stay relevant and keep up with the times is to figure what the unknown future holds. FastFwd festival will help you race ahead to get a closer look at tomorrow.
The festival hosted by NewCampus a lifelong learning school, will provide a platform to discuss different possible futures. It'll connect you to global experts who will share their wisdom on three pertinent topics.
The festival will begin with three keynote speeches on the topics: Future of Work, Technology & Humans and Future of Creativity. Then, we have three breakout talks followed by discussions to dive deeper. The festival will conclude with a unique and intimate speed networking session where participants can learn from eight eminent mentors disrupting the future of our world.
If change excites you and you want to remain relevant in the future, we welcome you to join us for an evening of learning, discovery and networking with pioneers and changemakers.
FastFwd Festival by NewCampus x Wework Labs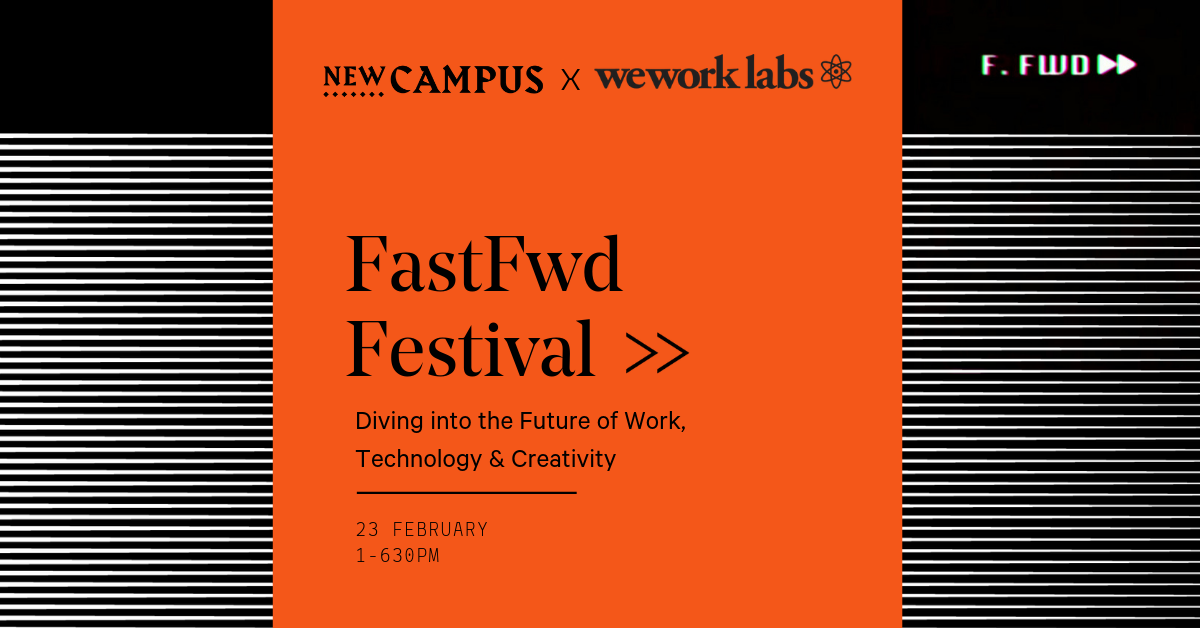 Event Agenda
Venue: WeWork Suntec Tower 5
Date: Saturday 23rd of February
Time: 13:00 - 18:30

Opening
12:30 - Start registrations

13:20 - Festival Introduction (10 mins) - Lily Wu, Country Manager at NewCampus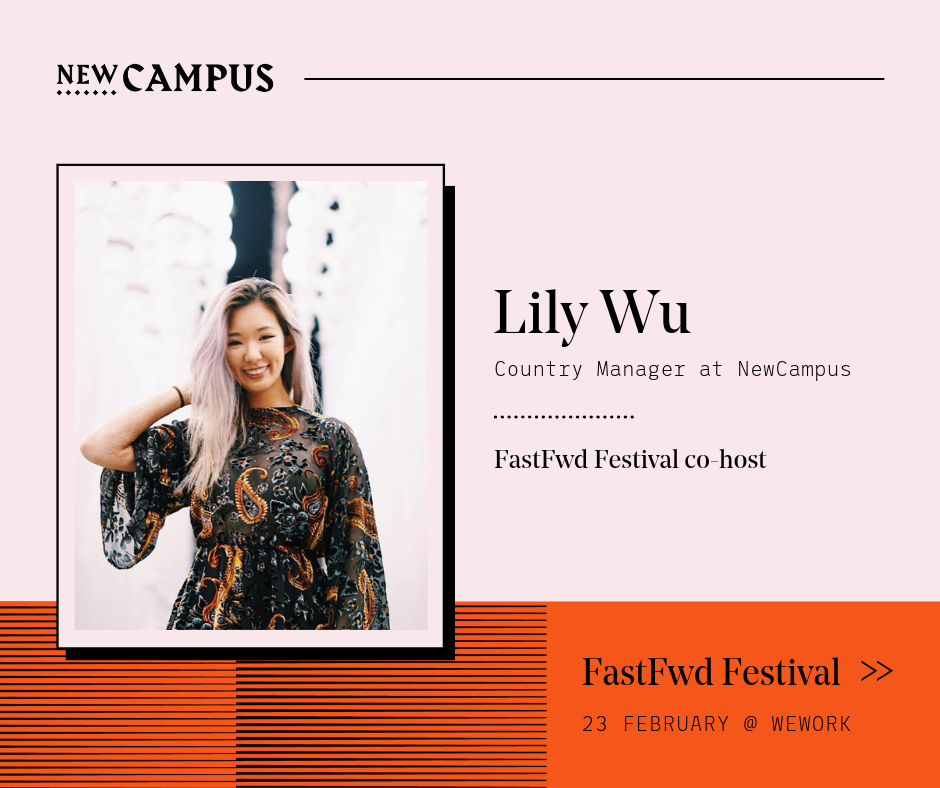 13:30 - Wework Introduction (10 mins) - Adrian Tan, Head of Labs at Wework Southeast Asia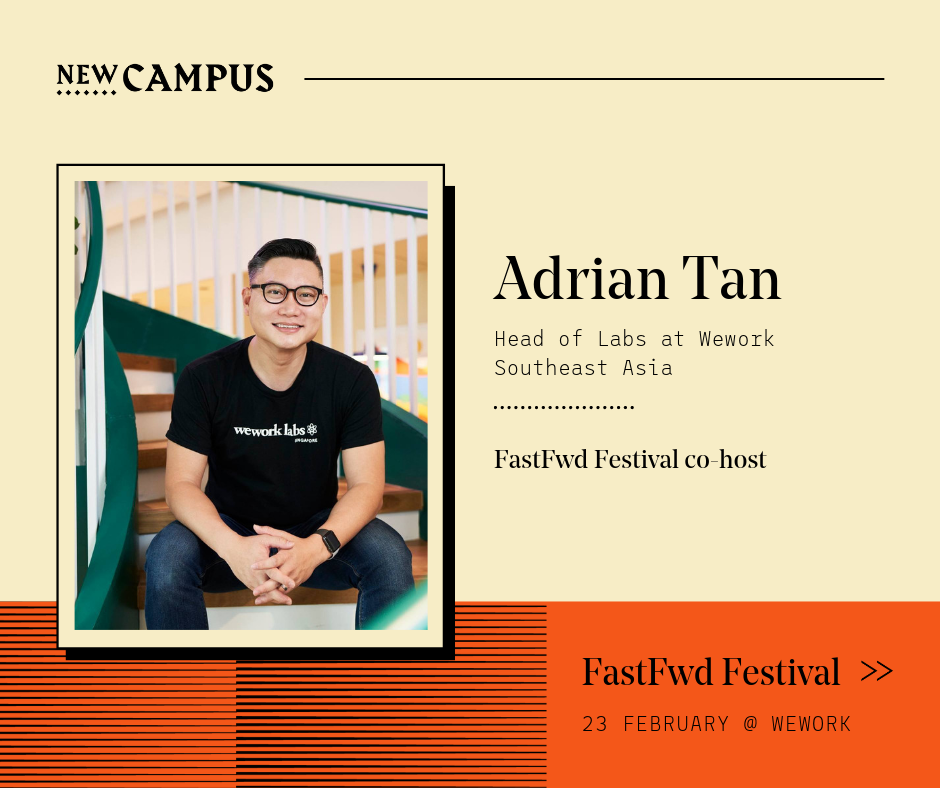 Section 1: Keynote Speeches (13:30 - 15:00)
13:45 - Eric Sim, former MD of UBS, founder of Institute of Life, 2M+ Linkedin followers on "The Future of Work". With "Future of Work", we will dive into the importance of learning to stay relevant. We explore how automation will impact our jobs, skills and wages in the coming times.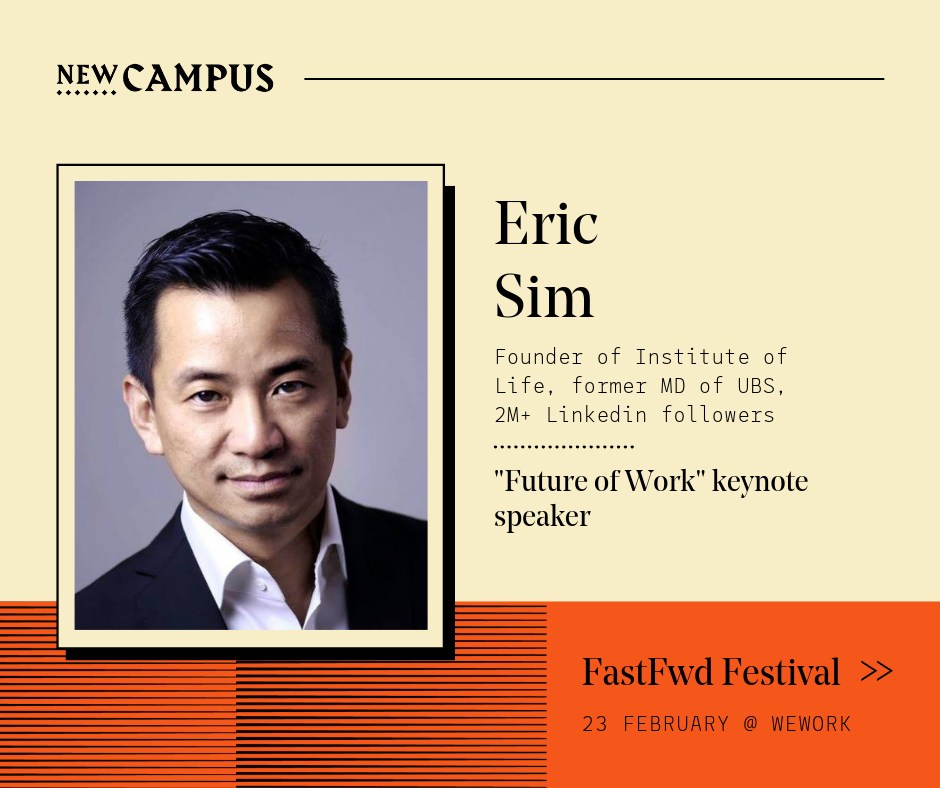 14:10 - Leesa Soulodre, Chief Innovation Officer at Inspirit IOT on "Technology & Humans: Masters vs Robots in a Smart Nation". In "Technology and Humans", we will discuss how technological innovations will transform how we communicate, live and work. We'll get a grasp on the tech trends shaping our futures.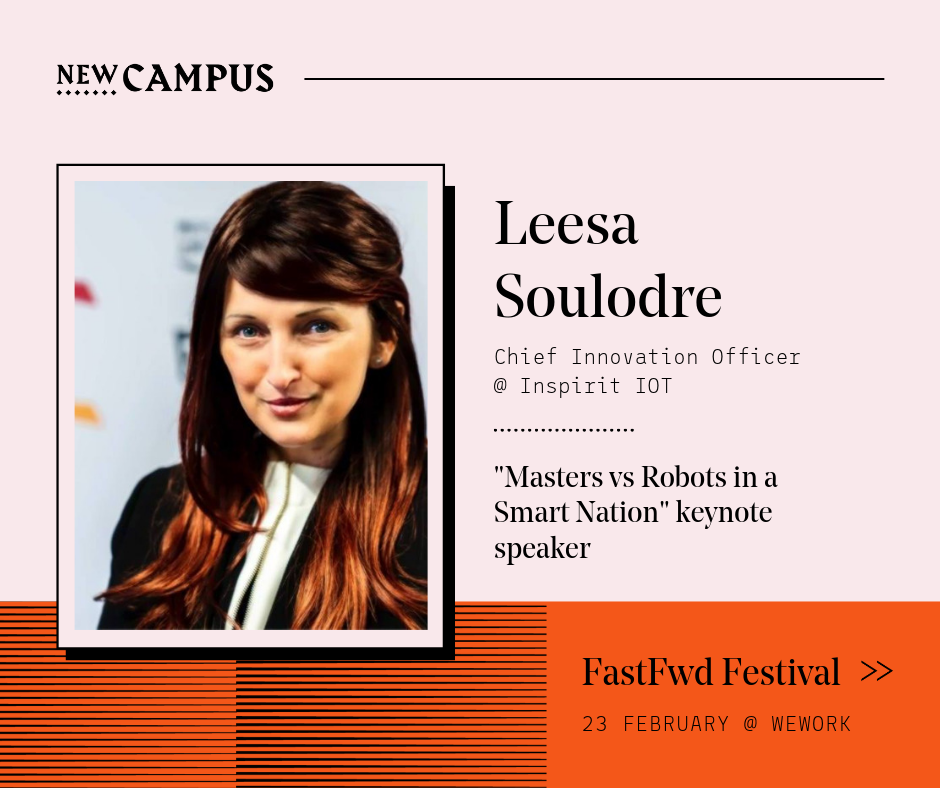 14:40 - Tiziana Tan, Founder of Brain Juice Collective and award-winning film producer on "The Future of Creativity". Through "Future of Creativity", we will delve into the importance of human creativity and empathy. We will brainstorm on how we can elevate our creative human skills in the face of automation.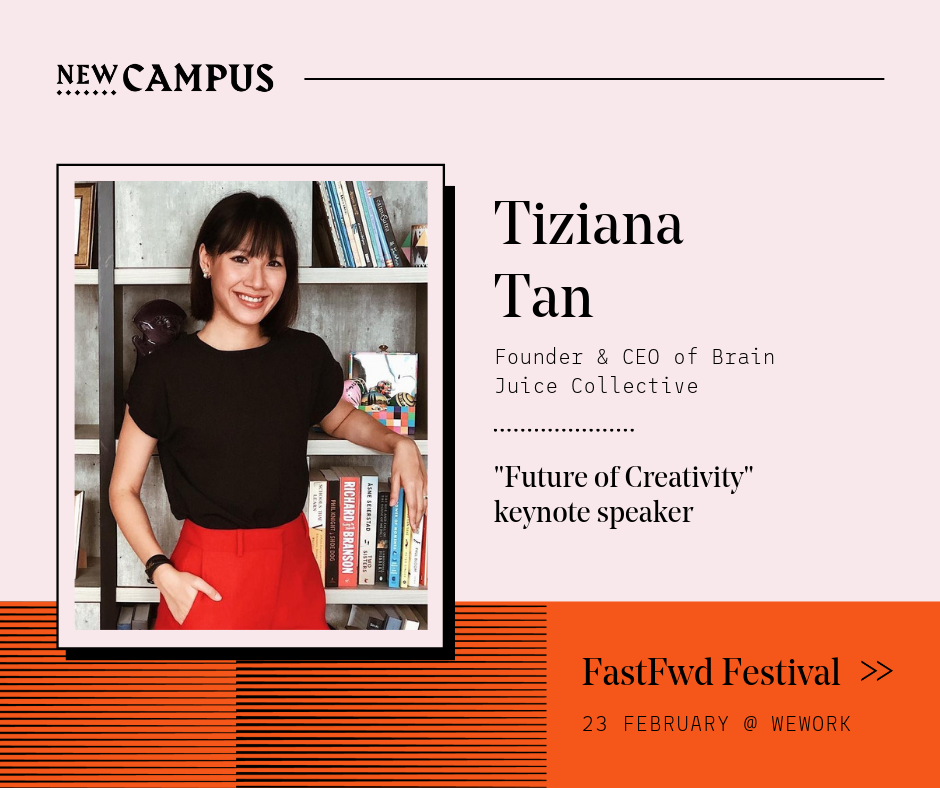 Section 2: Breakout Sessions + Discussions (15:00 - 16:00)
Room 1: Cynthia Salim, Founder & CEO at Citizen's Mark, Forbes 30U30 on "Women on the rise - Overcoming barriers to be represented in the future of work"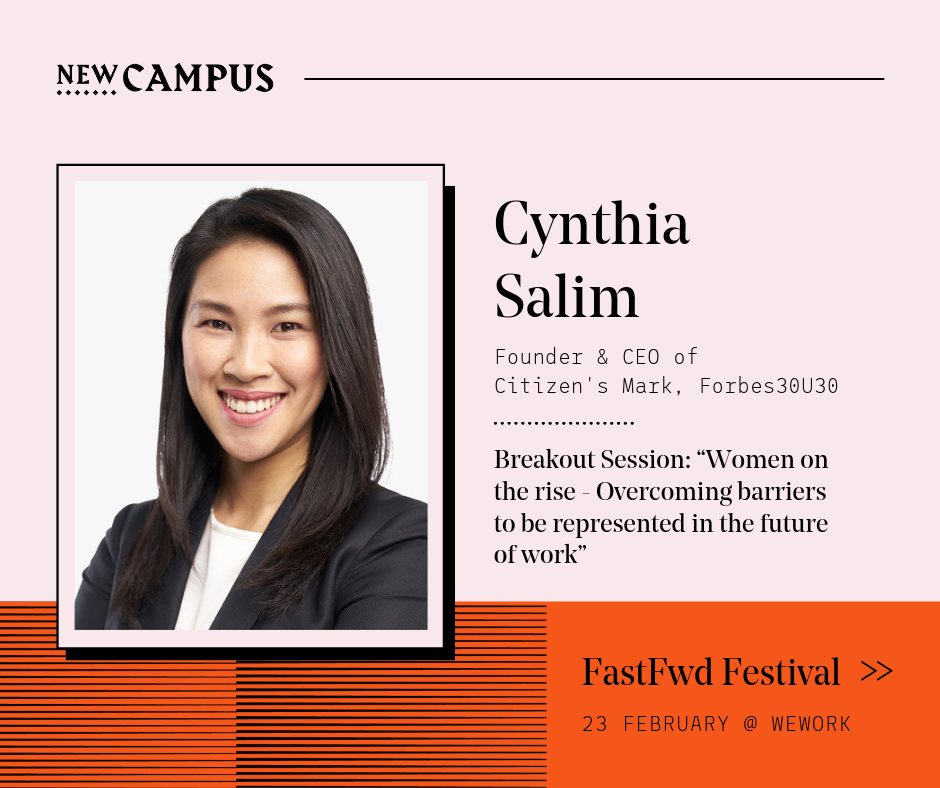 Room 2: Chandra Kumar, former CTO at Dell, CEO at Wisely Wise on "AI beyond the hype - Demystifying AI and understanding how AI is powering humans at work"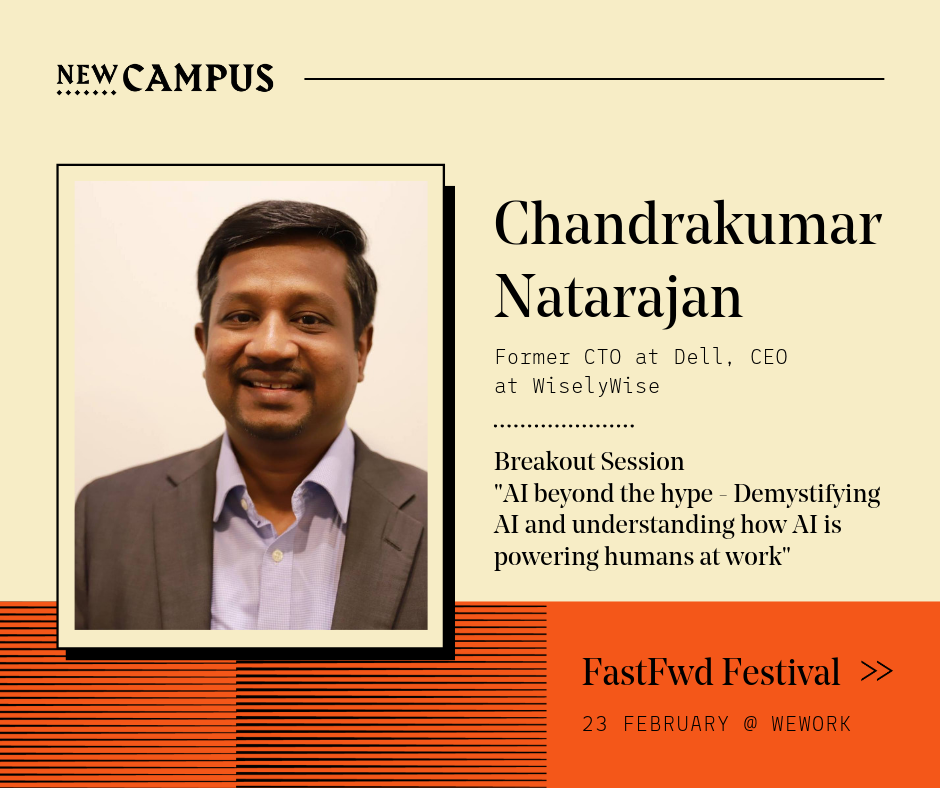 Room 3: Siqi Chung, Director of Legal & Strategy for Zouk, art and music enthusiast on "Harnessing the power of creativity in your life"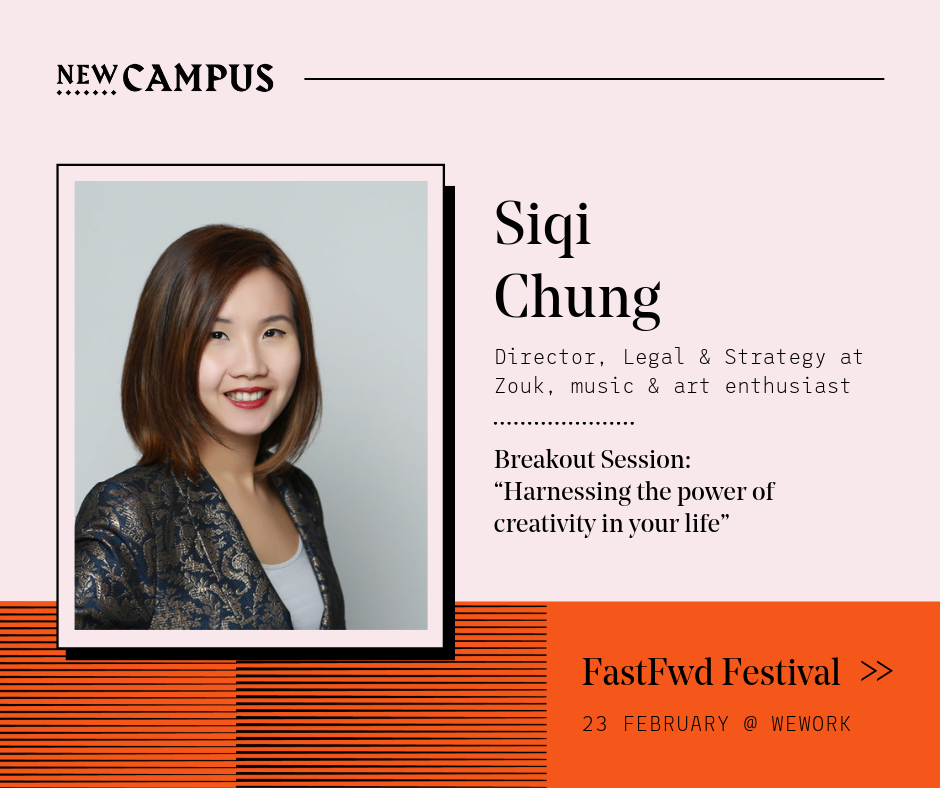 Section 3: Speed Networking (16:20 - 18:30)
Don't worry if you don't like mass networking. Neither do we! That's why we've specifically designed this networking to foster real conversation, discussion, and quality connections.
Everyone will be broken up into small, intimate groups of a ~10 people per group with 8 groups. Each of our 8 thought leaders will be allocated to a group each.

This is run as speed networking, round-robin style where each session is 15 minutes before the mentor moves onto the next group. By the end of the 2 hours, you will have had a chance to network with each of the mentors and get to know your group really well.

16:20 - 1st rapid round-robin style networking session

17:20 - break

17:30 - open networking
Mentors:
Vikram Bharati: Founder of Tribe Theory, ex-Head of VC Investments for REAPRA & Coent Venture partners, was the former Vice President of JP Morgan and backpacked 50+ countries in 2 years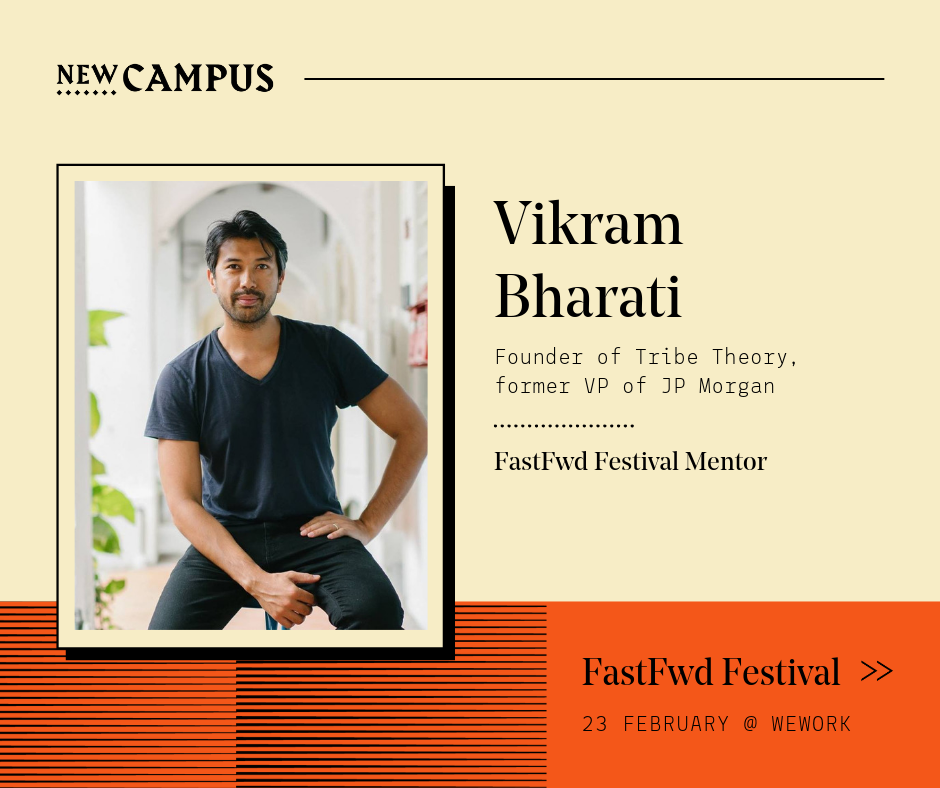 David Ding: Regional Fintech, Ecosystems & Innovation at DBS Innovation group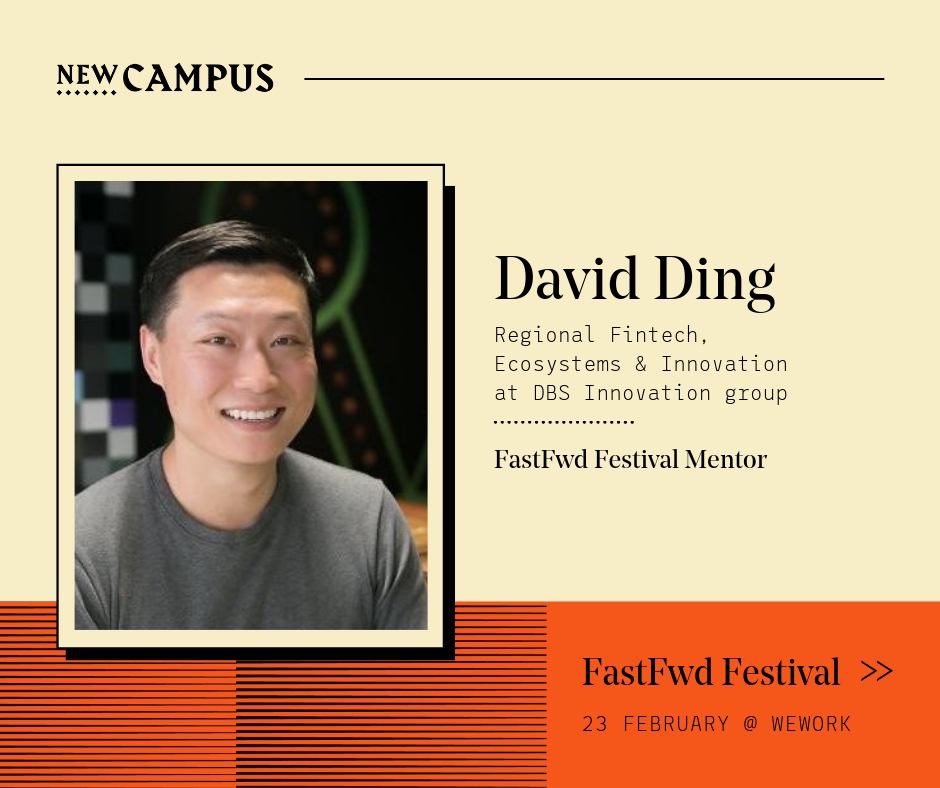 Joyce Tay: Director of Programme & Partnerships, StartupX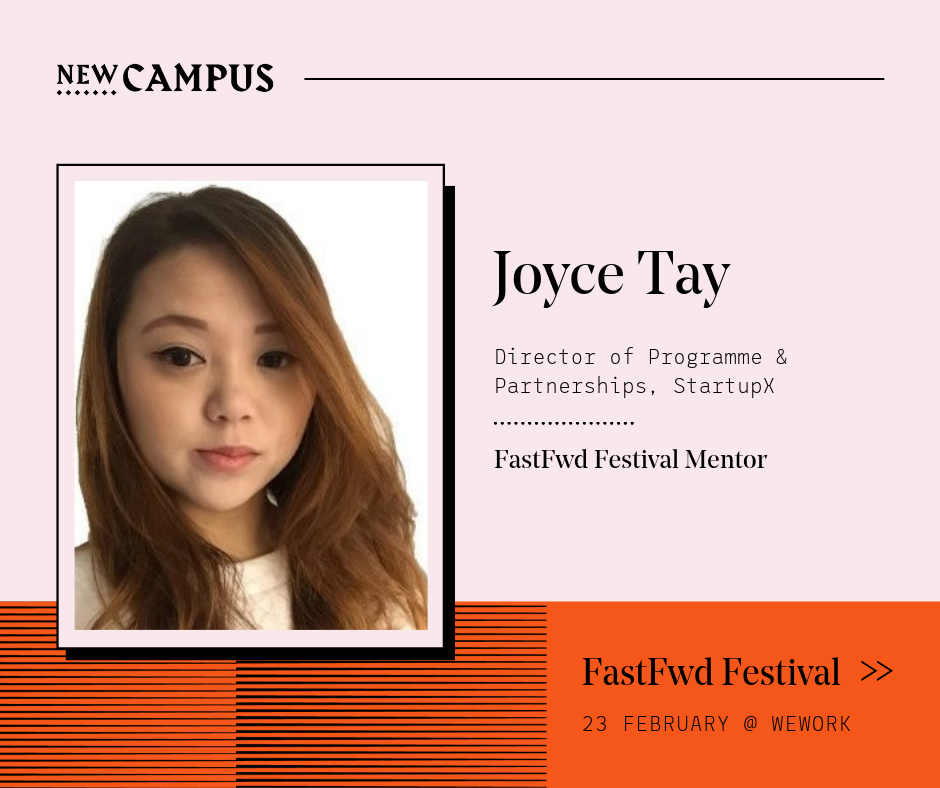 Hayk Hakobyan: Partner at Vision Capital, Partner at Prysm Group, Advisor at SOSV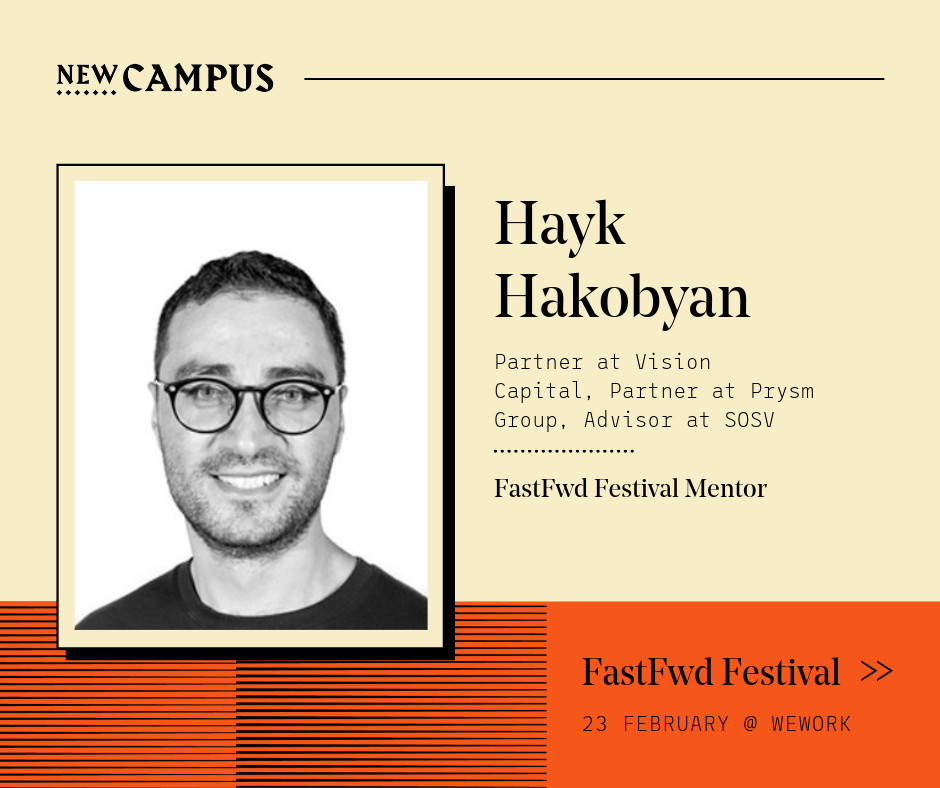 Jamie Lee: Senior Growth Marketing Manager at Carousell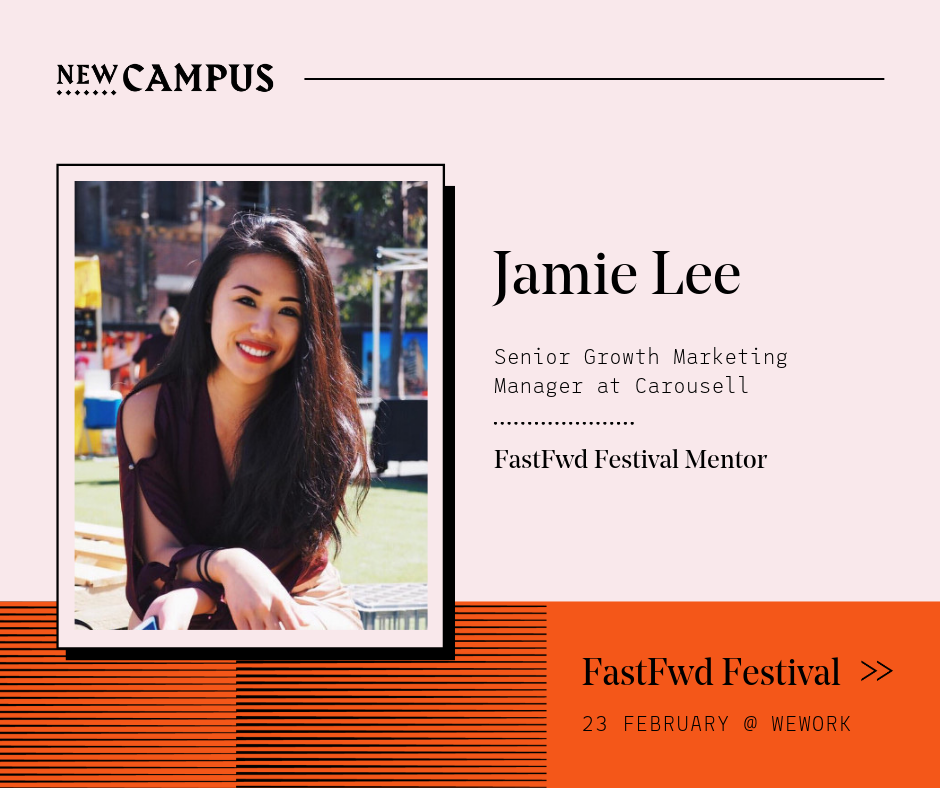 Will Fan: Co-founder of NewCampus, Forbes30U30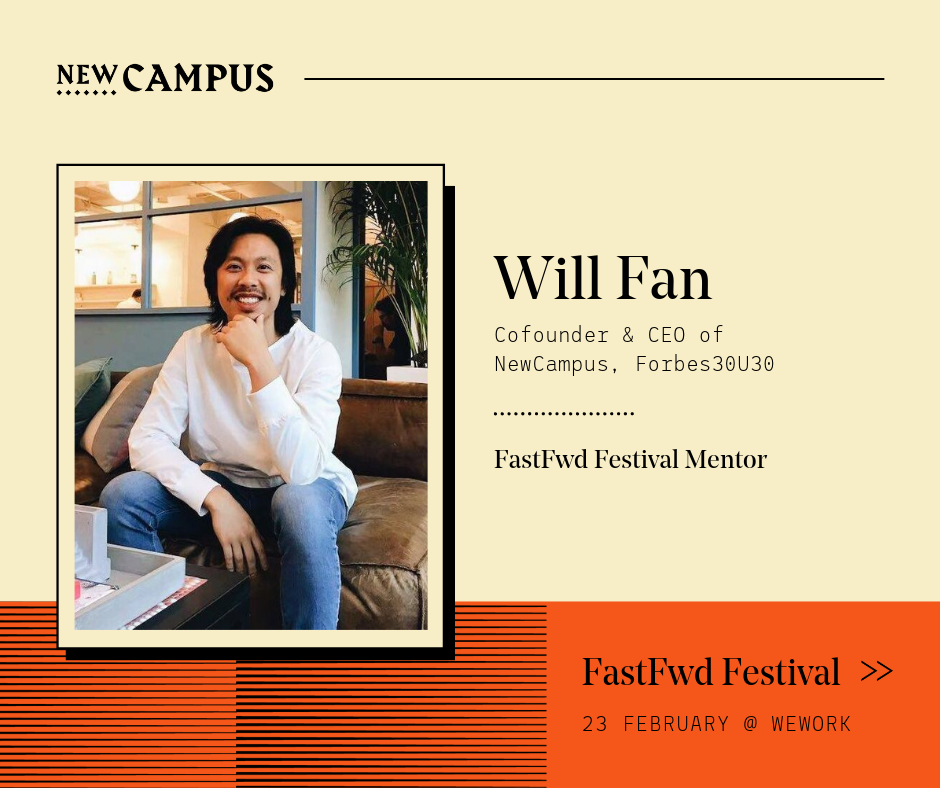 Amanda Charlene Chia: Head of Business Development, Asia Pacific & Europe at Audacy (spacetech)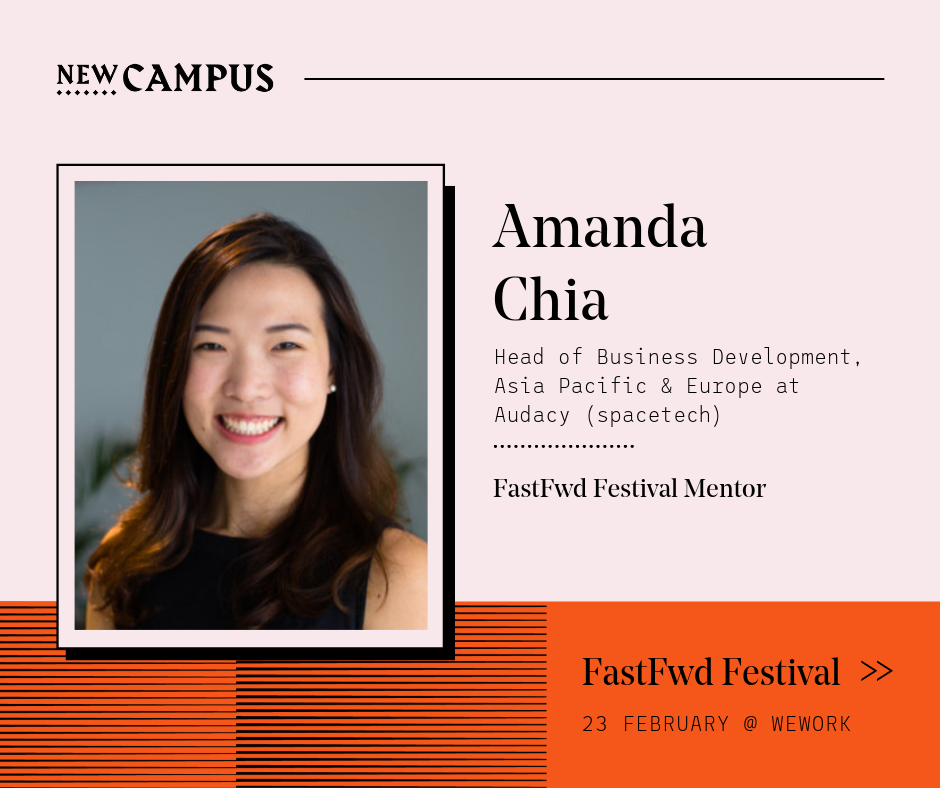 Jori Messer: Workplace Solutions Director at Lendlease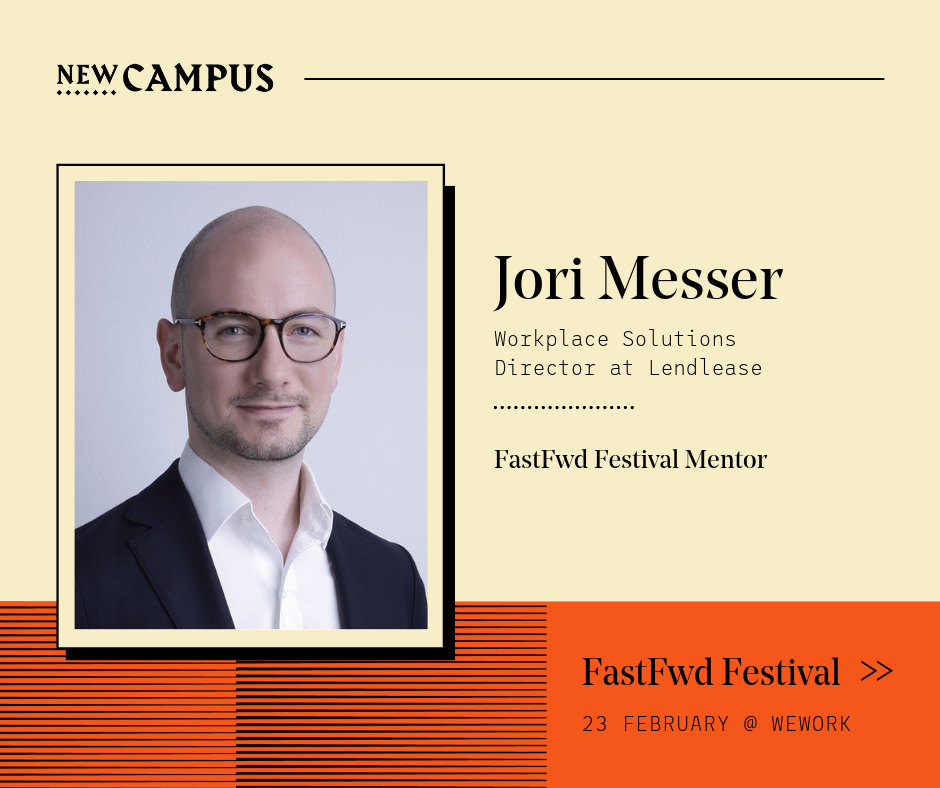 18:30 - Closing Note: Lily Wu, Country Launcher at NewCampus & Will Fan, CEO of NewCampus
Option to continue the conversations at Tribe Theory afterwards for drinks.