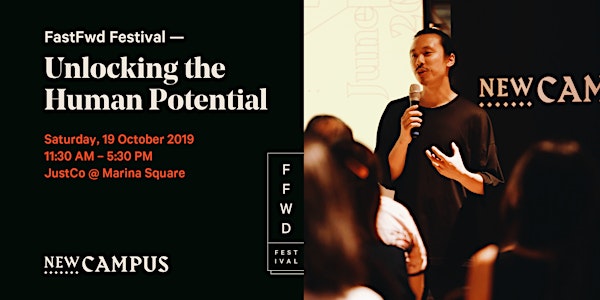 FastFwd Festival: Unlocking the Human Potential
When and where
Location
JustCo Marina Square #03-308 6 Raffles Boulevard Singapore, 039594 Singapore
Refund Policy
Contact the organizer to request a refund.
Eventbrite's fee is nonrefundable.
Description
Welcome back to NewCampus's FastFwd Festival, Singapore's largest life-long learning conference. This October, we'll be exploring the fascinating theme around Unlocking the Human Potential.

We have enormous potential, much of it is unrealised and unknown. This conference will explore how our physical, psychological and spiritual capacities continue to develop and unfold as we extend our frontiers of knowledge and possibility.
How can we help to stimulate that growth in our world and ourselves? Join us for a day of learning, hearing from 4 incredible keynote speakers, attending 1 of 4 breakout sessions to delve deeper, as well as immersive roundtable discussions with thought leaders around how they have unlocked their mind, heart, and will.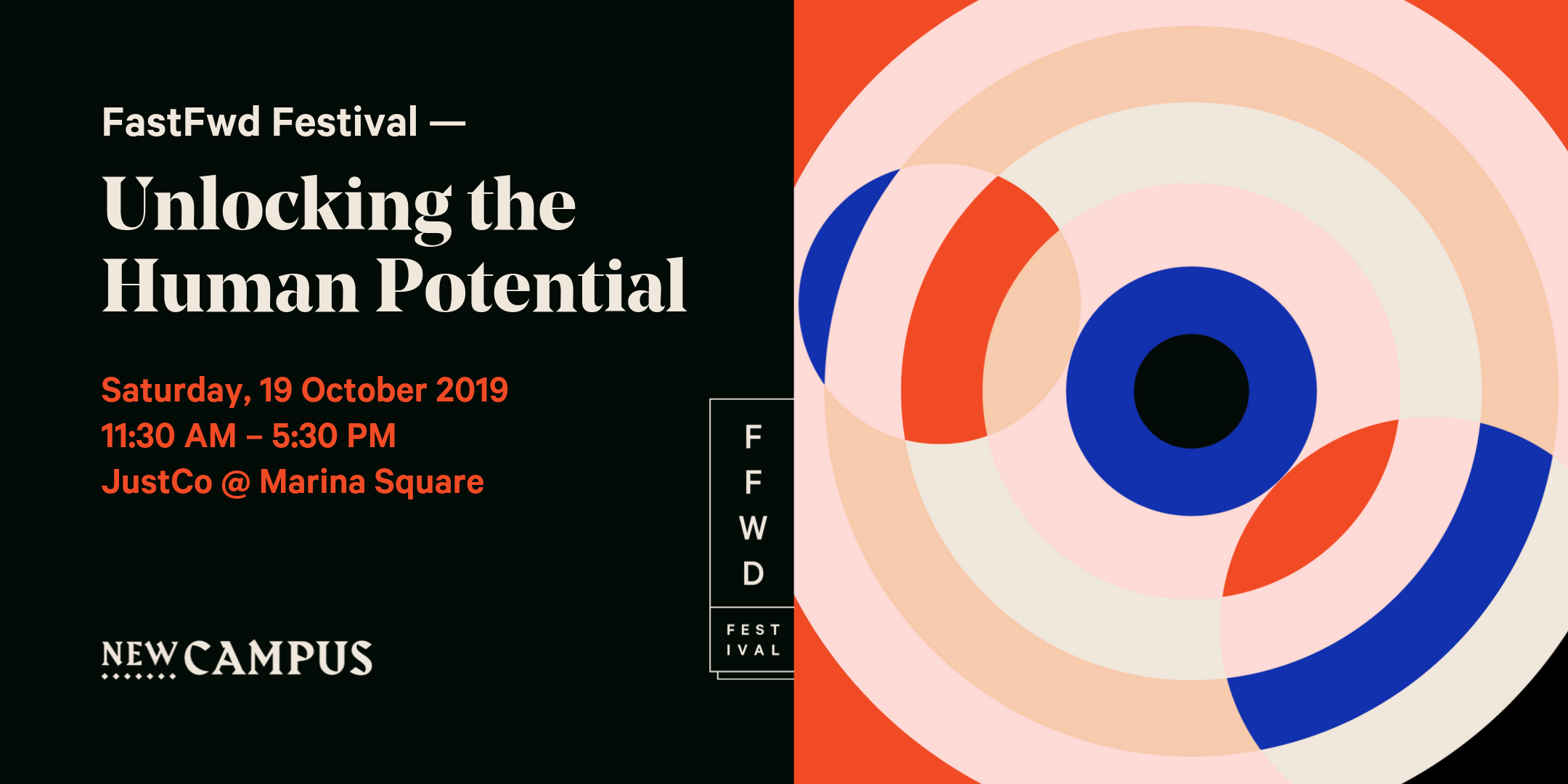 Registrations start: (11:30am - 12:30pm)
Opening: Welcome introductions from NewCampus & JustCo (12:30 - 13:00)
Section 1: 2 x Opening Keynote Speeches (13:00 - 13:40)

1st Keynote:
Manisha Seewal, Group CMO of Carro & former Head of Marketing at Tokio Marine on "Good girls finish last: Female leadership in a male-dominated industry"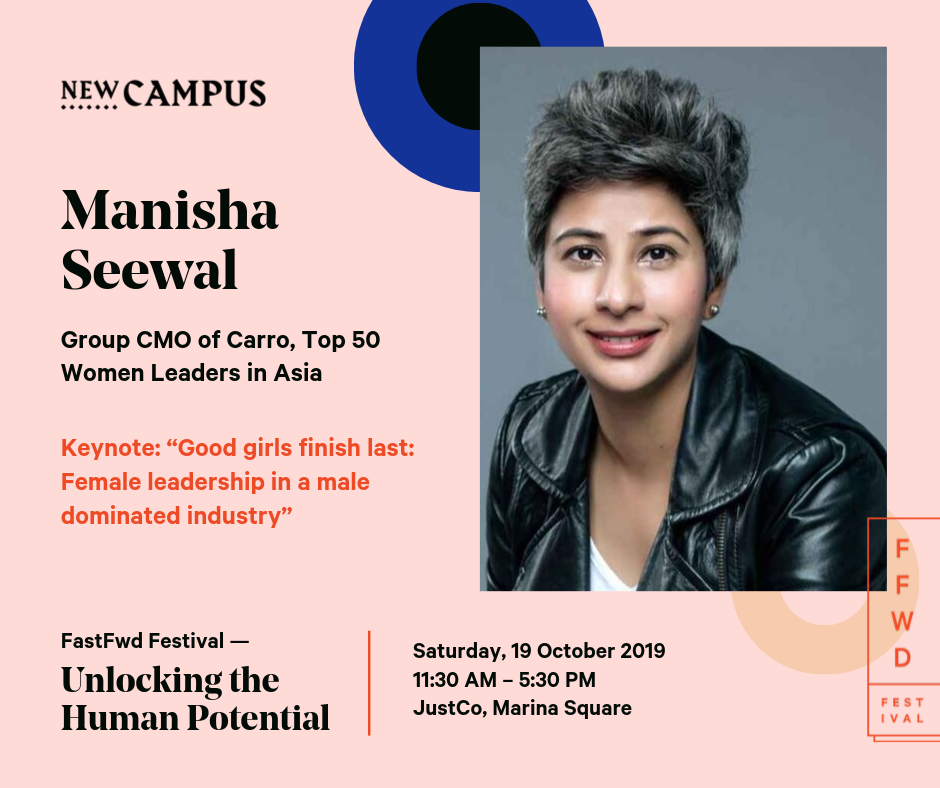 2nd Keynote:
Desmond Koh, 3x Olympian, MD in private banking of an international banking group, Compassion Capitalist on "Consciousness, mindfulness and living life with purpose"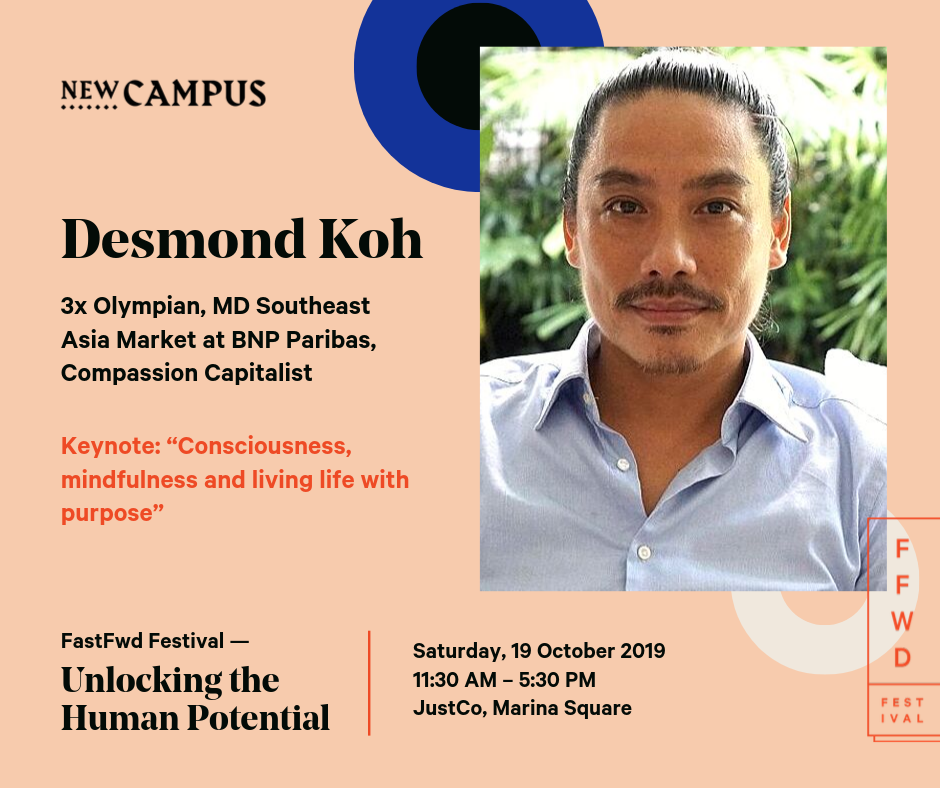 -----
Section 2: 4 x Breakout Sessions + Discussions & Activities (14:00 - 15:00)
The breakout sessions will be held simultaneously within this 1 hour period where you can pick which room to attend. Each individual will be sharing their story followed by 30 minutes of discussion where you will be able to participate and delve deeper into each of the topics.
You will be able to choose which breakout session you'd like to attend when you fill out your Eventbrite registration.
Breakout Session A:
Dave Lim: Founding Partner at Ideas Worth Doing, Founder Director Innovation X by Coca-Cola, ex-Head of Global Partnerships at WWF on "The road less taken: Designing your career path in an unpredictable, non-linear future"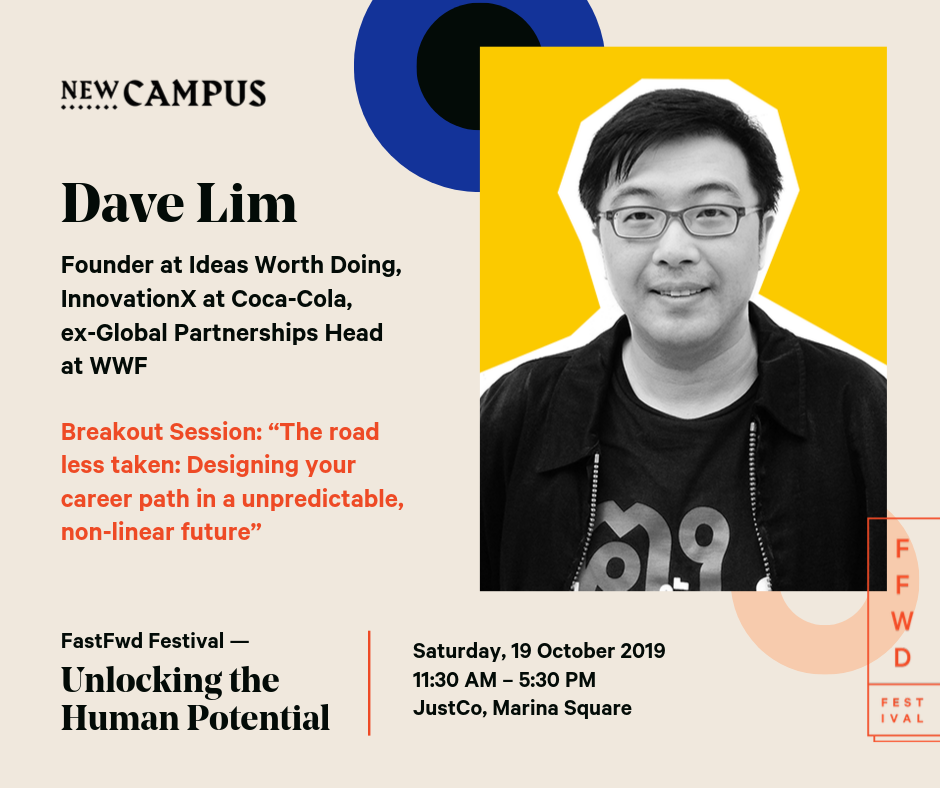 Breakout Session B:
Tiziana Tan: Founder & CEO of Brain Juice Collective, Cannes and Sundance-selected Film Producer of "Juicer Lab: Unlocking your creative potential"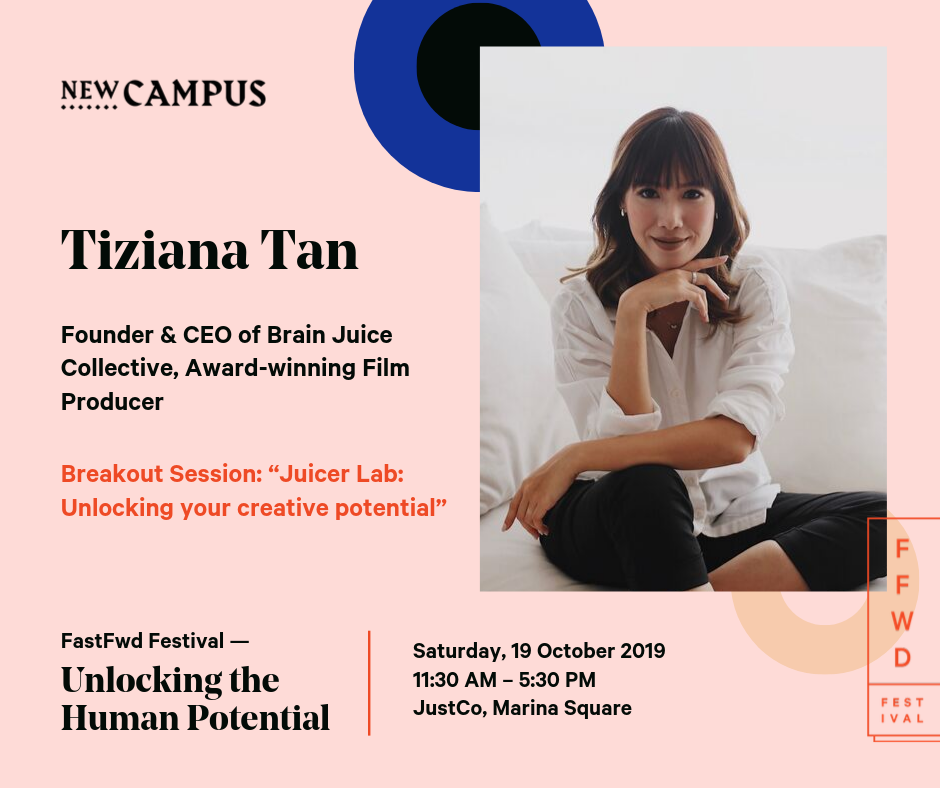 Breakout Session C:
Ajay Prakash: Forbes 30 under 30, Co-founder & Head of Product at Perlin, Technologist on "Humans of 2050: The next 30 years of technological innovation"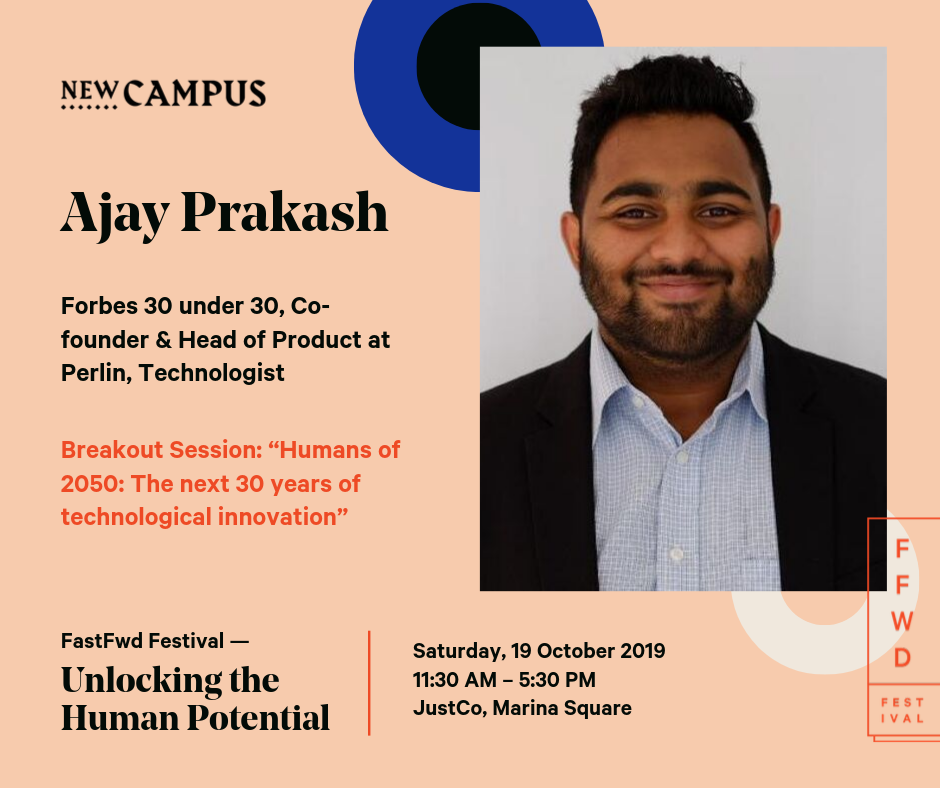 Breakout Session D:
Laura Francois: Co-founder & Social Impact Designer at ANEWKIND, Global Keynote & Facilitator on "The circular economy: Breaking boundaries for a sustainable future"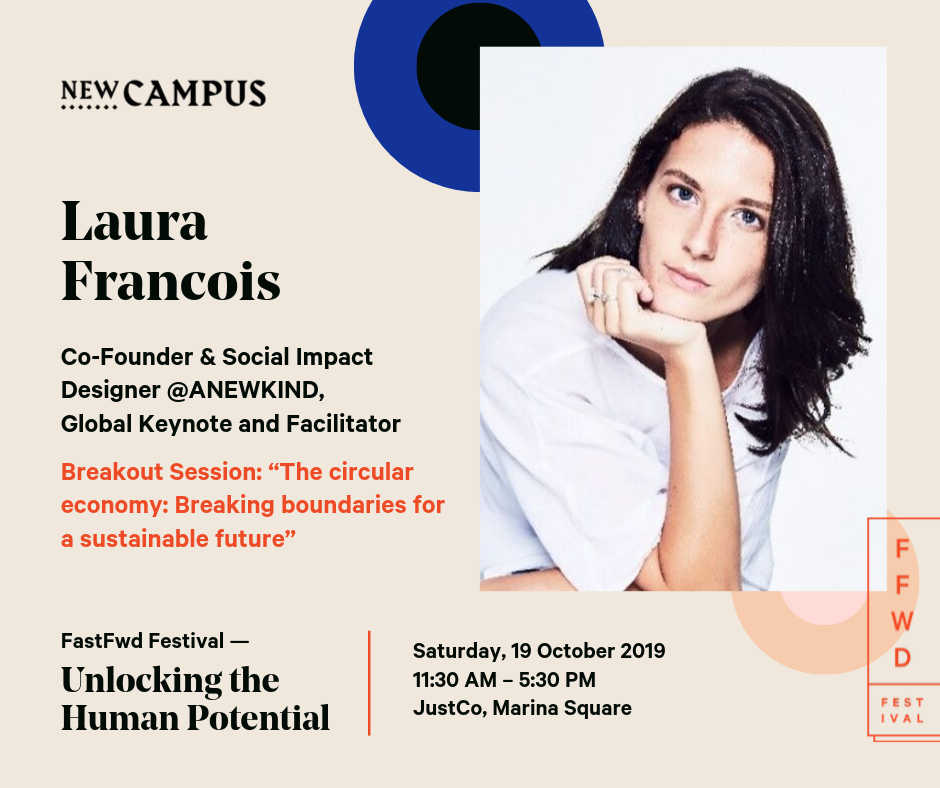 -----
Section 3: 5 x Roundtable discussions (15:20 - 16:35)

There are 5 thought leaders as hosts for the roundtable discussions focused on a human potential topic. This is a sharing session where you can in-depth into a topic and bring your own thoughts to the topic. Each session is 15 minutes before moving to the next group for 4 rounds.
Mohan Belani: Co-founder & CEO of e27, Asia's leading tech and startup ecosystem platform on "First-hand dive into developing an entrepreneurial and innovation mindset"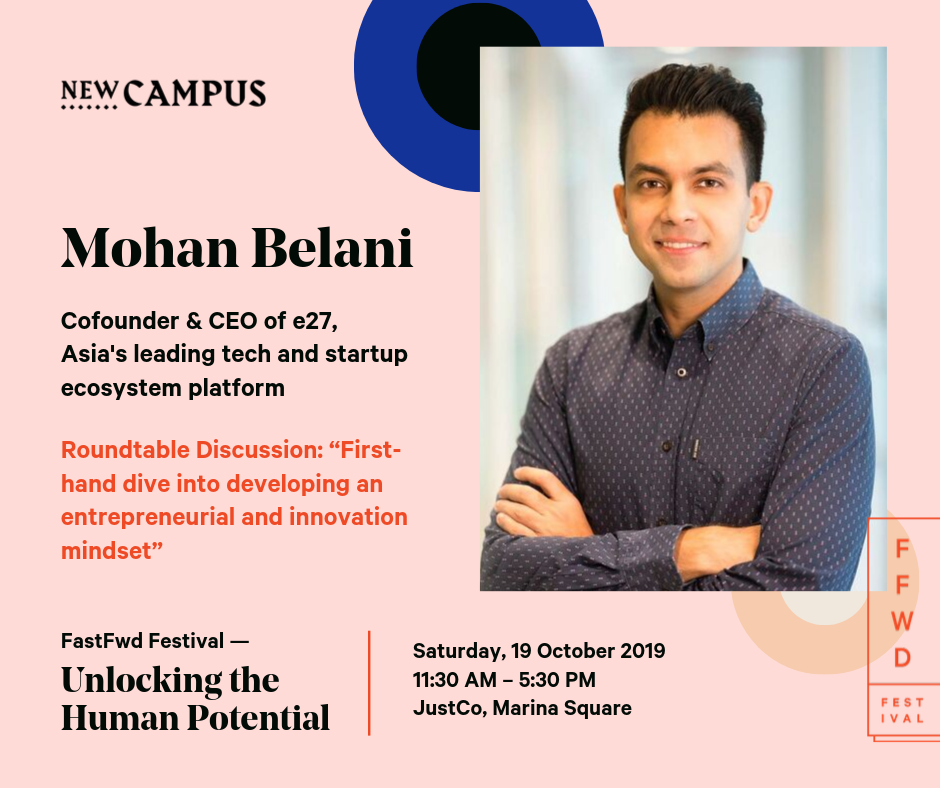 Chloe Neo: Managing Director of OMD, President of 4As (The Association of Accredited Advertising Agents Singapore) on "Crafting a sustainable career"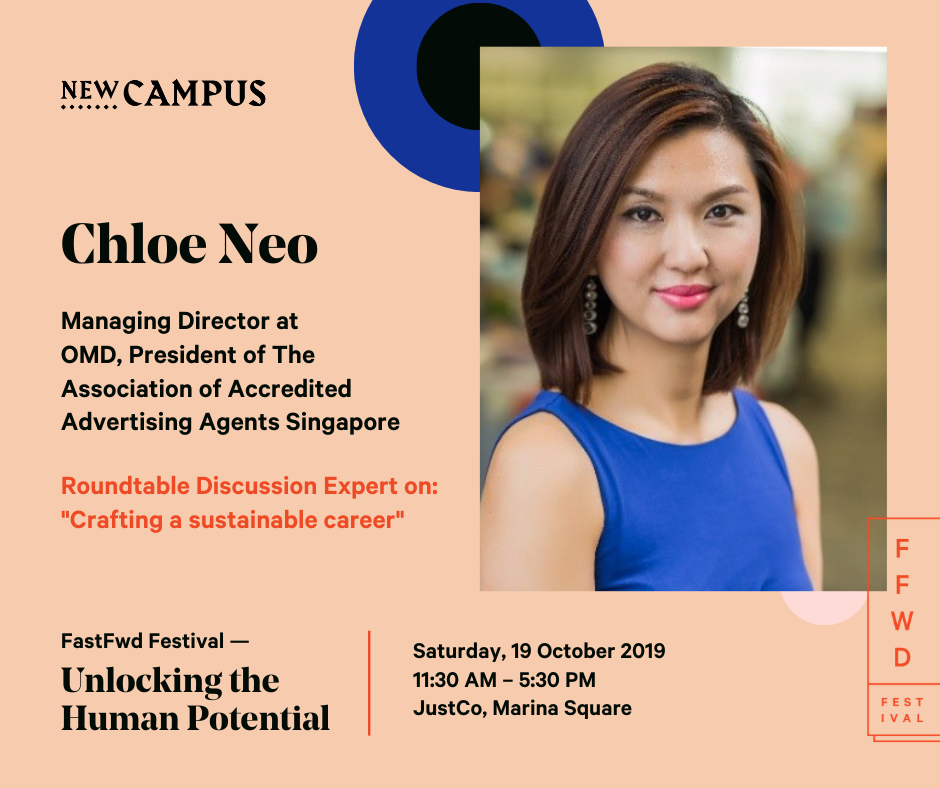 Aik Phong Ng: MD at Fave & Leading CEO winner for Singapore HR Awards on "Building strong leadership and cultivating talent"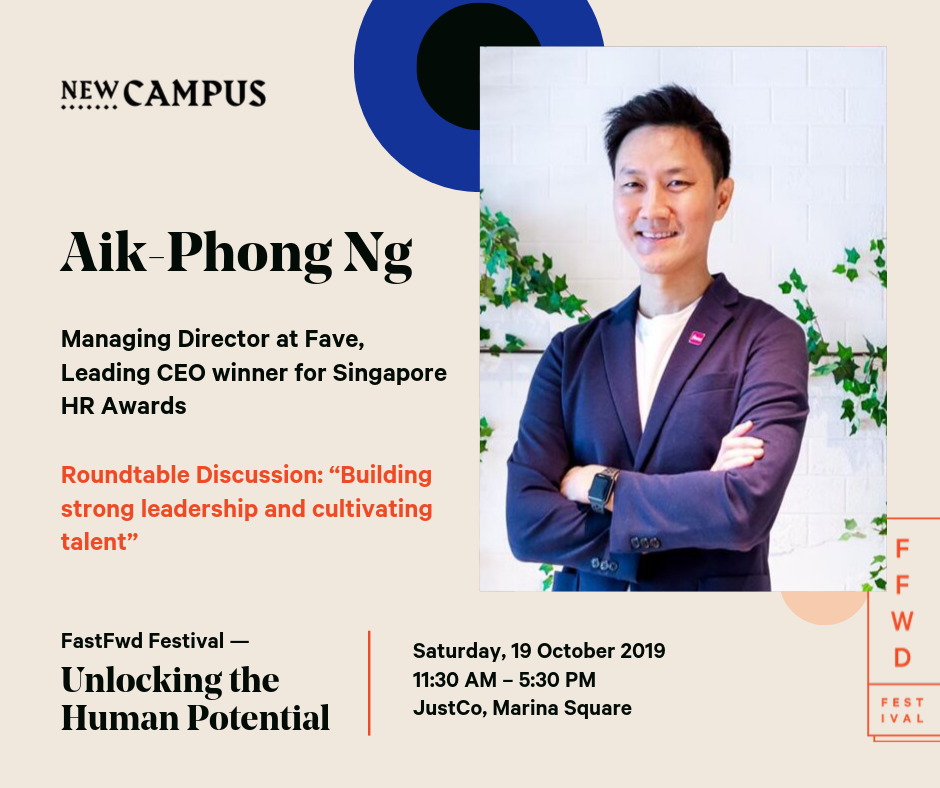 Leanne Robers: Co-founder at She Loves Tech, Organisational Psychology & Angel investor on "Creating an inclusive ecosystem around technology, entrepreneurship, and innovation."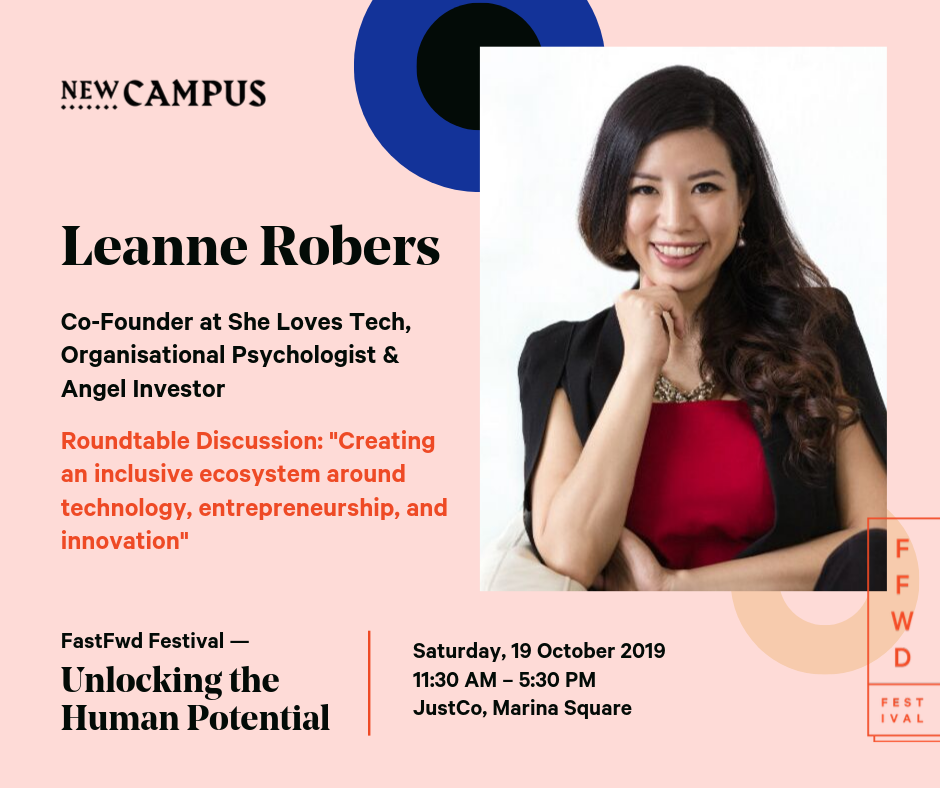 Alex Loh: former General Manager at Core Collective, former Singaporean National athlete in Asian Games, Commonwealth Games & SEA Games on "Melding interest with impact, how to build meaningful communities"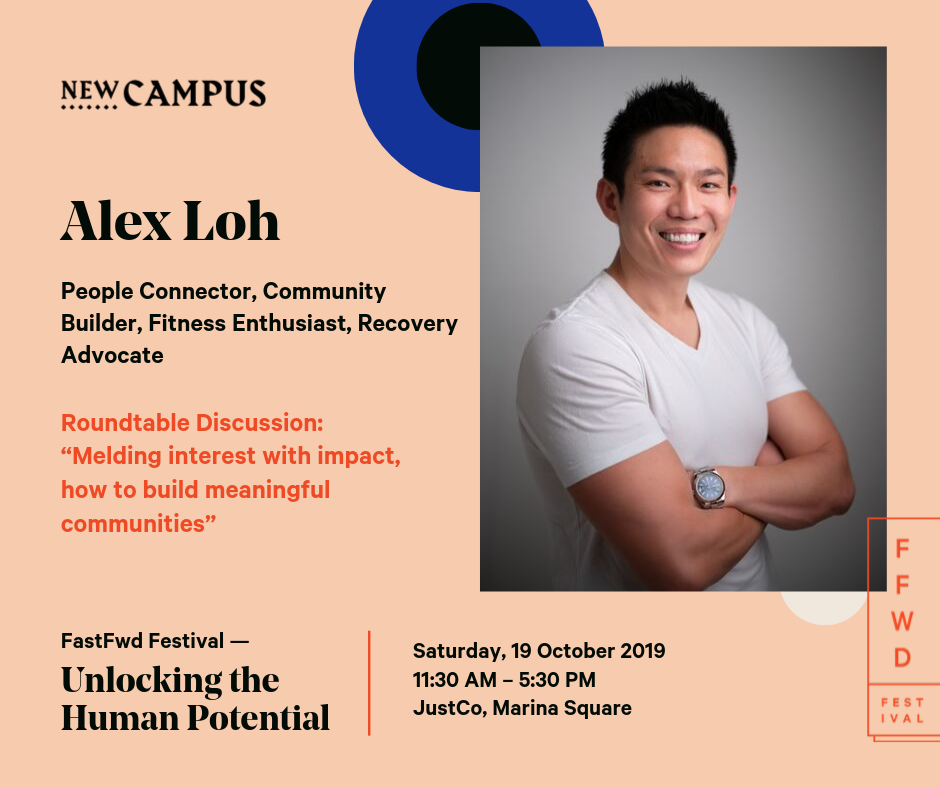 -----
Section 4: 2 x Closing Keynote Speeches (17:00-17:40)
3rd Keynote:

Bidushi Bhattacharya: Former NASA scientist and CEO of Astropreneurs Hub on "The future of space exploration: To infinity and beyond"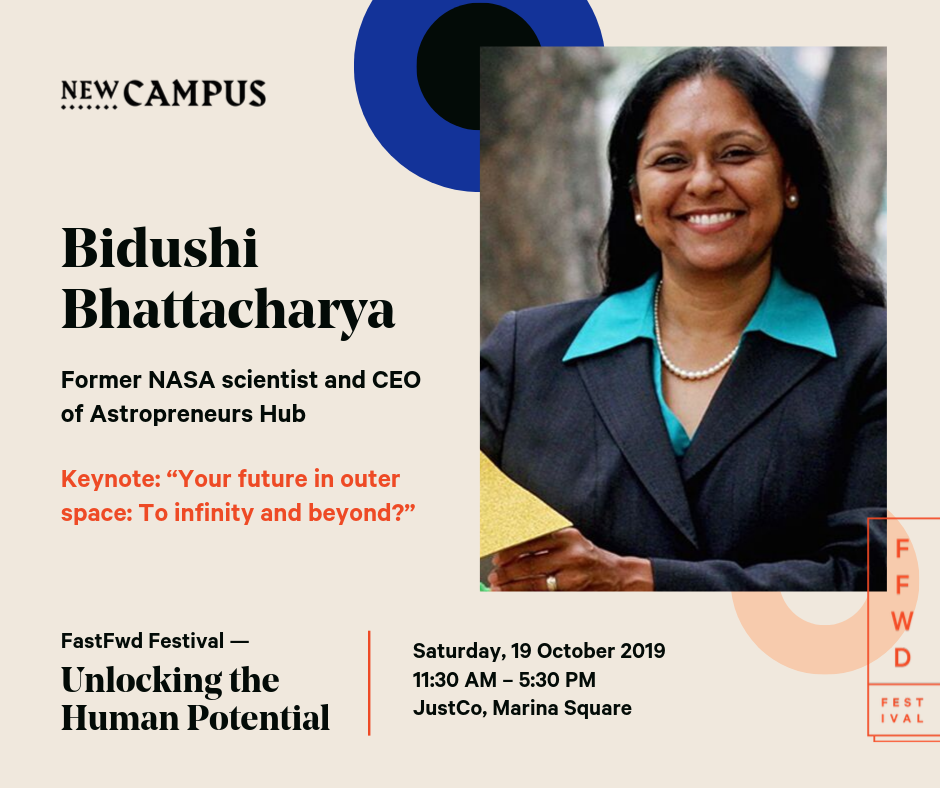 4th Keynote:
Greg Nance: Education entrepreneur recognised by President Obama as 'Champion of Change', Ultra marathon runner & mountaineer on "Taking the leap: Lessons from running 7 marathons in 7 days on 7 continents"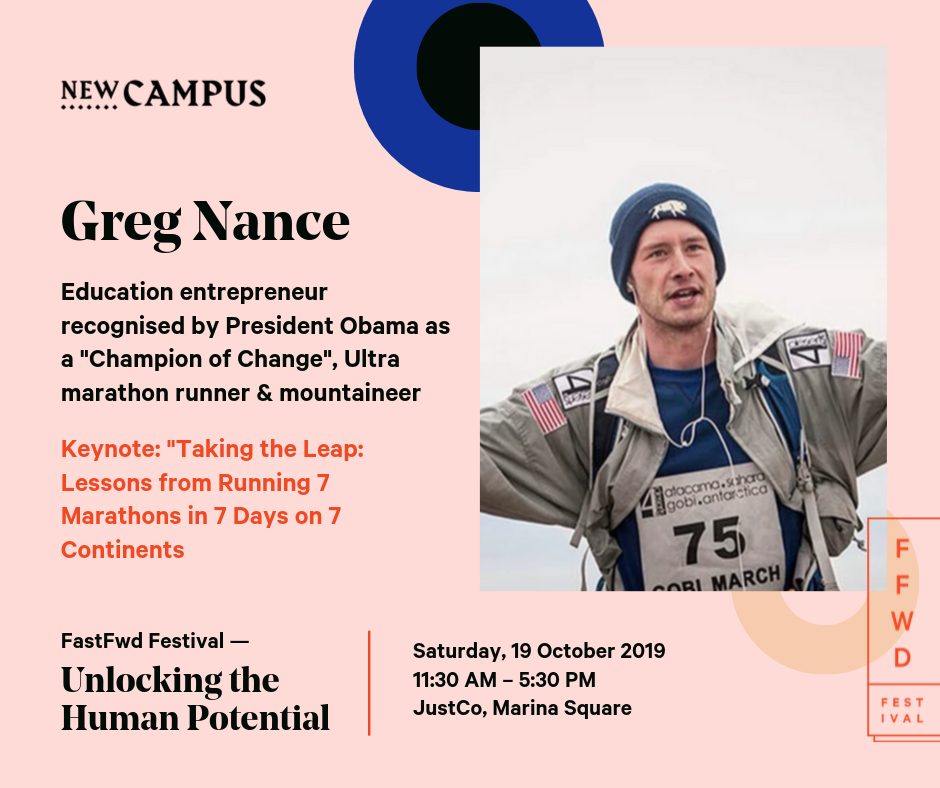 Open Networking: (17:40 - 18:00)
----
Check out our last FastFwd Festival: Creating a Sustainable Future
Are you a lifelong learner? Join us on Saturday October 19th 2019.
About JustCo:
Founded in 2011 and headquartered in Singapore, JustCo is Asia's leading premium flexible workspace provider. We continually disrupt the status quo and redefine collaborative working.

In our communities, we connect dynamic entrepreneurs, start-ups and large corporations. People are at the heart of what we do, as we create networking events and strategic partnerships for our members and partners to gain insights, collaborate, and help each other. Our passion for customer satisfaction ensures our members find comfort and peace of mind – the same JustCo hospitality, no matter where you are.

We make work better by revolutionizing how people work, empowering our ever-growing community with exceptional flexibility, opportunities and experiences.
Come and experience JustCo with our 1-day free trial!
Singapore:
6 Raffles Quay | 20 Collyer Quay | 120 Robinson Road | Asia Square | AXA Tower
China Square Central | Manulife Tower | MacDonald House | Marina One
Marina Square | Samsung Hub | UIC Building | Westgate Tower
Australia | China | Indonesia | South Korea | Taiwan | Thailand
More about JustCo: Website | Facebook | Instagram | YouTube