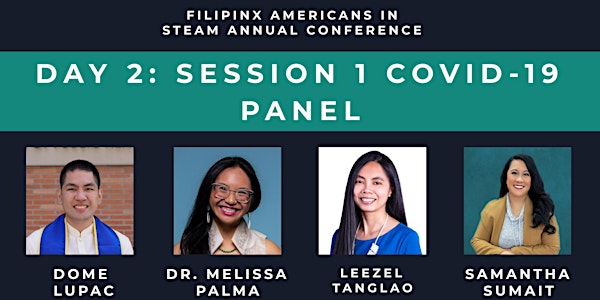 FASTERCON22 - Day 2 - Filipinx Americans Fight COVID-19 Panel
This panel features Filipinx American leaders FYLPRO and CYFAM's Filipinx COVID-19 Vaccine Survey and preliminary data collected in 2022.
Refund Policy
Contact the organizer to request a refund.
Eventbrite's fee is nonrefundable.
About this event
FASTERCON Day 2 - FASTER Community Day
Saturday, October 1st
9:00AM-10:00AM PST
*Filipinx American Fighting COVID19 ft. Filipino Young Leaders Program (FYLPRO) and Council of Young Filipino Americans in Medicine (CYFAM) - Panel
*Featured Presentations on Tayo (tech platform)
*FYLPRO President, COVID19 Task Force Chair, Tayo Spokesperson, FASTER Adviser, Leezel Tanglao
*Council of Young Filipinx Americans in Medicine (CYFAM) Research Committee mentor, Tayo Medical Advisor, Dr. Melissa Palma
*Preliminary Data Presentation by Samantha Sumait, Tayo Research Team
Moderator: Dome Lupac, MPH, CHES
About Dr. Melissa Palma
Melissa Palma, MD, MPH (she/her/siya) is an Iowa-raised daughter of Filipino immigrants. She graduated from the University of Iowa Carver College of Medicine and began her career dedicated to immigrant and refugee health. Dr. Palma trained in Preventive Medicine and Family Medicine at Cook County Health and received her Masters of Public Health at Northwestern University in Chicago, IL. She currently serves as medical advisor to TayoHelp.com, a culturally tailored resource providing trustworthy COVID-19 information in English and Tagalog, sponsored by the Filipino Young Leaders Program (FYLPRO). Dr. Palma enjoys building kapwa by mentoring the next generation of health advocates through the Council of Young Filipinx Americans in Medicine (CYFAM).
About Leezel Tanglao
Leezel Tanglao is a bridge journalist at the intersection of editorial, product, business development and sales. She has worked at several media companies including The Points Guy HuffPost, Associated Press, CNN, CBSNews.com, VICE News, NowThis, ABCNews.com, KCBS/KCAL and Press-Enterprise. She is currently the Senior Digital Director for The Dallas Morning News. She is the Filipino Young Leaders Program (FYLPRO) President and is the Chair of the FYLPRO COVID19 task force. She's the project director and spokesperson for the Tayo help desk for the Filipino community for COVID19.
About Samantha Sumait
Samantha Sumait, MSN, RN is a 2nd generation Filipina American. The Chicago native is a proud daughter to two Filipino nurses. She is currently a NICU nurse, a doctoral Family Nurse Practitioner student, and works closely with FYLPRO's Tayo Research Team. What inspires her to do this work are the thousands of Filipinx nurses who have been and are currently working on the frontlines of this pandemic. She is honored to be able to use her time and talents to combat misinformation to uplift and empower our community to take action with their own health.
About Dome Lupac - Moderator
Dome recently graduated with his Master of Public Health from the UCLA Fielding School of Public Health. He received his BA in Public Health and Social Welfare from UC Berkeley. Now, he is a Presidential Management Fellow working at USDA Food and Nutrition Service, where he supports the implementation, management, and evaluation of School Nutrition Programs in the Western region of the US. Previously, he was a CDC Public Health Associate in tuberculosis prevention and control efforts in San Francisco. His passion for public health stems from addressing the health inequities that disproportionately affect immigrant children and families. For hobbies, Dome enjoys going on hikes, traveling, cooking, dancing, staying physically active, and learning more about personal finance.