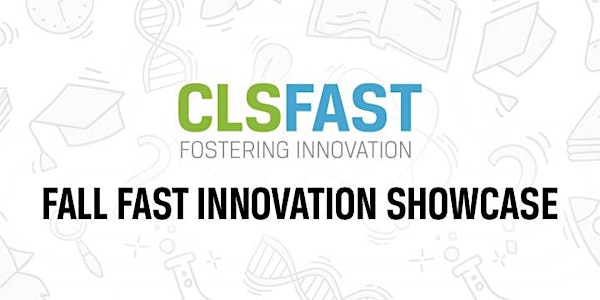 FAST Fall Innovation Showcase Kansai
CLS is excited to presents the 2022 Fall FAST Kansai Graduates!
About this event
Discover and connect with the most innovative emerging biotech, device, diagnostic, and digital health startups. Meet and build relationships with investors and potential collaboration partners. Network with a community of peers that support bringing new bioscience discoveries to market.
Program
5:00-5:30pm | Registration + Welcome Reception
5:30-5:45pm | Welcome Remarks + Keynote by this year's Pantheon "Emerging Innovator" winner, FAST 2019 alum and funding success story, Ashley Zehnder, Fauna Bio
5:45-7:45pm | Company Presentations and Investor Q&A
7:45-8:30pm | Closing Reception
CLS is proud to showcase our 2022 Fall FAST cohort:
FAST California
Therapeutic Category
Angeles Therapeutics: CEO, Preet Chaudhary, Next generation cell therapy company CARs in solid tumors.
Acelot: CEO Katie Planey, Small molecule inhibitors of toxic proteins associated with neurodegenerative diseases.
Biomark Onology: CEO, Kate Edson, Developing a platform to further the use of response biomarkers in clinical trials.
Weatherwax Biotechnologies: CEO, Armand Cognetta, Next generation of induced-proximity medicines or molecular glues, unlocking the ability to go after high-value oncology targets.
f5 Therapeutics: CEO, Gary Choy, Developing "First-in-Class" small molecule degraders for oncology and immunology. [Servier Discovery Awardee]
Diagnostics & Translational Markers Category
Tab Diagnostic: CEO, Troy Barring, First portable saliva-based, diabetic monitoring system.
FAST International | Kansai
Cell & Gene Therapy Category
CellFiber: CEO Yu Yanagisawa, Cell encapsulation culture technology enabling highly efficient cell manufacturing processes.
miiBio: CEO, Kensho Hayamizu, "Optical switch protein" to enable on-off switching of gene expression activity.
Digital Health Category
Aikomi: CEO Nick Hird, Digital therapy that utilizes AI to realize "person-centered care" that supports people with dementia.
Therapeutics Q&A Panel:
• KDT Ventures - Patrick Malone, M.D., Ph.D., Principal
• Remiges Ventures - Stuart Hwang, Ph.D., Venture Partner
• Servier - Irene Blat, Ph.D., Senior Director Search & Evaluation, Oncology
• Tonic Bioventures - Regina Leung, General Partner
• Coast BioVentures - David Crean, Venture Investor
Diagnostics & Digital Health Q&A Panel:
Diagnostics & Digital Health Q&A Panel:
• Roche Diagnostics - Cristin Hubbard, Global Head Partnering
• Venture Partner - Sunil Maulik, Ph.D.
• Venture Partner - Nandini Tandon, Ph.D.
Thank you to our sponsors and partners:


The FAST Program provides select entrepreneurs with intensive team review and coaching to perfect their business model, product development plans, and to build a compelling commercialization strategy. To date, the program has supported 96 graduate companies who have gone on to raise >$2.4B in funding, secured 36 series A investments, and created ~1,000 jobs. To learn more about the FAST Program and how you can get involved, click here.