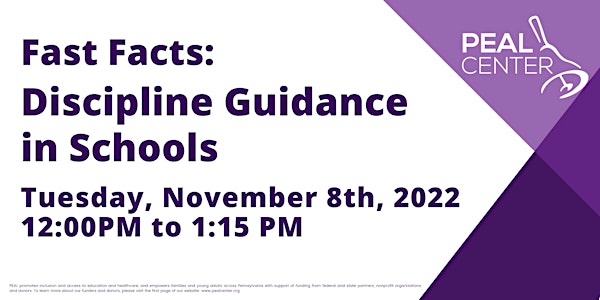 Fast Facts: Discipline Guidance in Schools
If you need any assistance registering, please call the PEAL Center at 1-866-950-1040. Si necesita ayuda registrandose, llame al Centro PEAL
About this event
The Parent Education & Advocacy Leadership (PEAL) Center invites you to a virtual session to learn practical and fast facts about the new federal guidance on discipline in schools. On July 2022, the U.S. Department of Education announced the release of new guidance from its Office for Civil Rights (OCR) and Office of Special Education and Rehabilitative Services (OSERS) to help public elementary and secondary schools fulfill their responsibilities to meet the needs of students with disabilities and avoid the discriminatory use of student discipline.
Join us to discuss topics such as:
What does the Individuals with Disabilities Education Act (IDEA) say about disciplining a child with an IEPs or a 504 Plans?
How do I advocate for appropriate practices regarding disciplining my student with disability?
Can my child be disciplined if her behavior is a result of her disability?
My child does not have an IEP, but has been having behavior trouble in school lately, can he be evaluated by the school?
Once you register, you will receive an email from Eventbrite, containing the link to join the training. If you do not receive this email or have any other questions regarding registration, please reach out to training@pealcenter.org.
PEAL promotes inclusion and access to education and healthcare, and empowers families and young adults across Pennsylvania with support of funding from federal and state partners, nonprofit organizations and donors. To learn more about our funders and donors, please visit the first page of our website: www.pealcenter.org.