Description
SAVE THE DATE + REGISTER NOW
TUESDAY APRIL 15 | Join #FashionUnfold APRIL Edition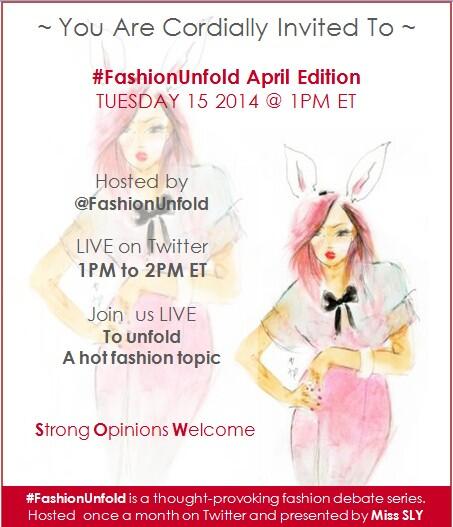 Your favorite fashion debates series now in its fourth year, is back for another highly anticipated live unfolding. The APRIL 2014 edition is set to take place next Tuesday 15th @ 1pm ET live on Twitter hosted by @FashionUnfold. The perfect opportunity to network and exchange with other fashion insiders from around the world, inclding bloggers, writers, startups, designers, PR and more.
WARNING: #FashionUnfold debates are addictive.
March topic "Are Bloggers Contributing to Fashion or Polluting the Web?" was so heated that we literally crashed Twitter. April promises to be just as intense, so make sure to join us LIVE Tuesday April 15th @ 1pm ET to unfold another hot topic. Hint: Your fingers will require a massage.
Register now and have your say. Hot topic revealed LIVE
TUESDAY APRIL 15 @ 1PM ET #FashionUnfold
@FashionUnfold xox