FASHION+TECHSF Presents: Publicity, Social Commerce & PR 101 for your Business

Thursday, December 15, 2011 from 5:30 PM to 9:00 PM (PST)
Event Details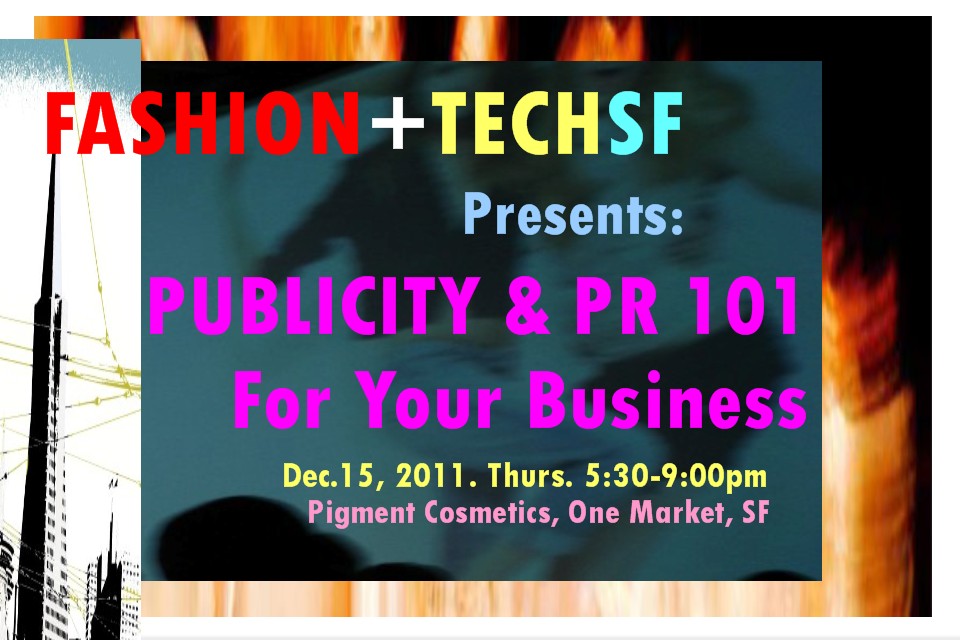 TOPIC: Public Relations, Social Commerce & Publicity for your Business
How do you build a) interest b) awareness and c) credibility?

 

How have you built your brand in using public relations? How do you optimize press releases to drive sales, traffic? 

 

How do you reinforce your brand (client's brand)?  How do you maintain relationships, your image or interests with your client?

 

What media channels do you use the most and why? Have you built strong relations with other media? ie: Bloggers, Social Media outlets, Online or Affiliate Marketers? Explain.

Who is your product's or client's target market? What are the demographics? How or where you get information about your target marget.

How do you provide information? Newsletters, articles, blogging, website, social media? What is the most effective?

How do you integrate social media in your marketing plan? In what ways do you use Twitter, LinkedIn, Facebook Pages, Digg, Stumble Upon, Foursquare, etc's. 

How do you measure your efforts in delivering consistent message? Are you making an impact? How to gauge your success in marketing and branding?

When to hire professional PR help? How to get most bang for your buck ROI analysis. For limited budgets. 
WHO SHOULD ATTEND?

Public Relations Practitioners, 

Press & Bloggers, 

Startup Companies, Small Business Owners, Media Consultants, Brand Managers, Marketing Professionals, Non-Profits, Students 
SPEAKERS:
 thebookr
strives to provide all the tools and information a client needs to arrange castings and bookings easily and instantly. Clients can see talents' availability calendars, rates, recent polaroids, videos and snapshots right on their profile page and book them directly online. The job board features allows client members to share portfolios of their picks to nonmembers for easy online review. By putting the casting and booking process online, thebookr allows full transparency in communication and booking between clients and talent. Clients can conduct their own talent search, compare them and send lightboxes to colleagues instantly.  They have direct access to all talent information when they need it. Every talent and client must apply to be a member. We look for models who have a sellable look and talent who have a working book. And just as importantly, we invite talent who have the right attitude, are professional and enjoy managing their own careers.

Rodan + Fields is launching in San Francisco! We are looking for dynamic people to partner with the doctors who created Proactiv on their new company. What they did for acne, they're now doing for aging skin with the first real over-the-counter solution to the $2.5 billion U.S. anti-aging skincare market. The combination of their solid reputation and clinically proven products provides uncompromising credibility for your personal business success. As a member of the fastest-growing team in the company, I want to help entrepreneurs replicate our success and earn great money, Lexus cars, luxury trips and, for the month of October you can earn a free iPad2!  Contact me for an interview and tour of our Maiden Lane headquarters, Stephanie Wong

.

talkTECH Communications is a group of smart, savvy, business-minded individuals who have taken the downfall of big business and the lessons of "Recession 2.0″ to heart and created a company to serve the start-up community and business middle-class: a class that invariably constitutes the backbone of our economy, and whose innovations will lead us into the mobile future. We also understand the four basic laws of supply and demand and how those pesky, little laws impact your business. We know that you don't exist in a vacuum, and it's not enough to simply get you a "hit" on the evening news. Our goal is to use the discipline of communications as it applies to your business, while leveraging innovative technologies to develop a creative strategy for distributing your news and information; and then giving you data and statistics that will tell you exactly how our efforts translate into real-time, relevant, meaningful tools for growing your brand.

Owen Geronimo serves as the founder of 
San Francisco Fashion Week
 ™ and 
San Francisco Fashion And Merchants Alliance, Inc.
, a California non-profit corporation and social development network that champions in various sustainable projects in support of the thriving local fashion industry in the San Francisco Bay Area.   He facilitates the monthly educational seminar  'Fashion Mash-Up,' a  platform to discuss the business of fashion and arts through an open forum utilizing current business models and technologies. Owen Geronimo won the coveted 'Best Fashion Event Producer of 2010 and 2011,' award at the San Francisco Fashion Awards ™.
TESTIMONIALS
FROM PREVIOUS SPEAKERS:
"I've only known
Owen Geronimo
for a short time, but am impressed at the effort he puts into
SFFAMA
. Owen gets to the point and does his best to help entrepreneurs in the local fashion industry understand they have to think about themselves as more than just designers, but business people. He continues to look for ways to blend technology with fashion and is working tirelessly to rejuvenate the fashion industry in San Francisco."
~  JAKE GASAWAY, Stitch Labs
Thank you so much for inviting us to be a part of Fashion+TECHSF Seminar. We didn't know quite what to expect and not being from the "fashion world" we thought we might be out of place. We couldn't have been more wrong! Owen Geronimo and everyone involved created a space for us to fit right into. Not only were we well received but the ideas, concepts and solutions discussed were fresh new takes on issues that pertain directly to the challenges that our business is dealing with as well.Thanks again. ~ Troy Rutt @ True Power Inc 
Thank you SFFAMA! It was a pleasure to present our product at FashionTechSF. The feedback and encouragement we have gained from the experience is invaluable. Our team is more inspired than ever, and eager to serve the needs of local fashion merchants and designers in San Francisco… and the world! The FashionTechSF was our initial product presentation (www.omgiluv.it) and we were very happy with the results. 
SFFAMA
is one of the best resources for anyone in the Bay Area interested in networking with remarkable entrepreneurs in fashion and design. The community SFFAMA is creating in San Francisco is second-to-none, a truly diverse and positive group of fashion savvy doers. I've learned so much from attending the 
FashionTechSF
 from the incredible speakers who provide invaluable insight on how to effectively navigate the trials and tribulations facing the go-getters of the Bay Area. I've also garnered wonderful friendships and colleagues who continue to inform and inspire.
~ Michael Lesniak @OMGiluv.it
SPONSORED BY:
Pigment Cosmetics is fashioned by professional make up artists and stylist who work at the pinnacle of the hair and make up industry. Our background working in educational institutions and salons is extensive. Pigment Cosmetics is endorsed by fashion designers who see what it can do on their runway and photographers who see how it looks behind the lens and in print. Pigment Cosmetics is endorsed by top make up artists who will not settle for anything less than the best.
ABOUT FASHION+TECHSF:
 FASHION + TECH SF (formerly known as Fashion Mash-Up) is San Francisco's longest running workshop combining 'business of fashion' and 'fashion and technology' formats. From it's inception in February 2010, Fashion+Tech SF's mission has been to provide an open dialogue that serves as a forum on how to develop innovative solutions to become better business entrepreneurs.
This workshop was developed as a platform to discuss the business of fashion and arts through the utilization of current business models and technologies. As a thriving epicenter of independent talents, 'FASHION+TECH SF" features local entrepreneurs, fashion designers, bloggers, retailers, startups & techies in an effort to brainstorm and share new business solutions to create an exchange network amongst peers in San Francisco's fashion and creative community.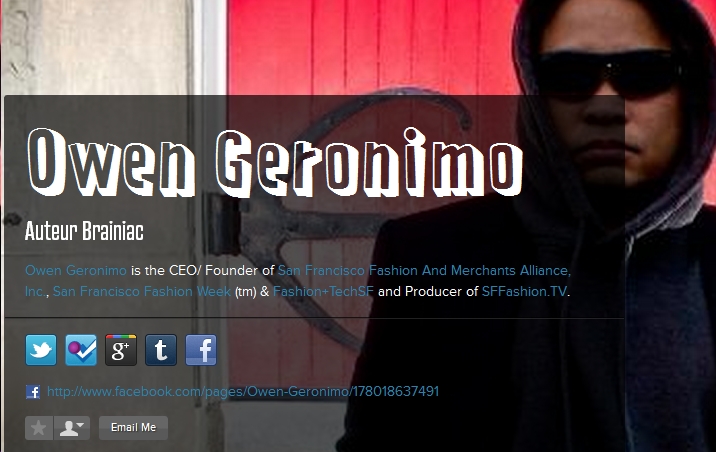 Have questions about FASHION+TECHSF Presents: Publicity, Social Commerce & PR 101 for your Business?
Contact FASHION+TECHSF
When & Where

(FIDM) Fashion Institute of Design & Merchandising
55 Stockton Street
5th Floor, Conference Room
San Francisco, CA 94108


Thursday, December 15, 2011 from 5:30 PM to 9:00 PM (PST)
Add to my calendar
Organizer
FASHION+TECHSF is the popular original monthly workshop and event series focused on building, promoting, educating and funding the enthusiastic communities of fashion and technology entrepreneurs who share our vision of a world-class fashion and technology industry that is innovative, disruptive and uniquely San Francisco. Launched in 2009,
FASHION+TECHSF has become the leading network for all things fashion and technology in the SF Bay Area. FASHION+TECHSF is produced by Fashion Tech Media LLC and San Francisco Fashion And Merchants Alliance, Inc. [SFFAMA].
For marketing inquiries, media relations, publicity, product promotions, sponsorship opportunities and booking info...please email your inquiry to: info@fashiontechpr.com or visit: FashionTechPR.