FASHION+TECHSF Presents: Mentors & Apprentices

Tuesday, February 21, 2012 from 5:30 PM to 8:30 PM (PST)
Event Details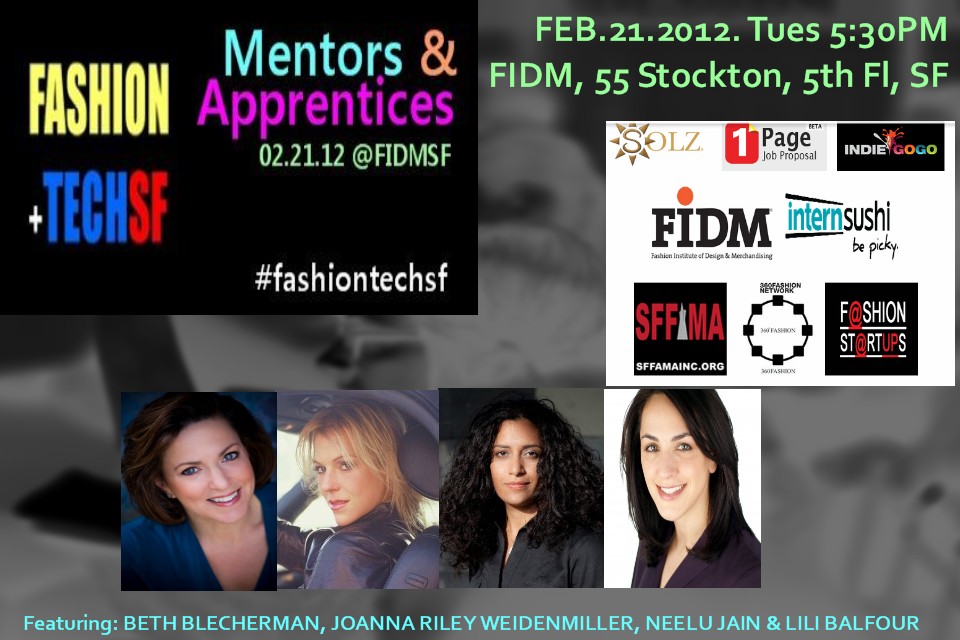 SFFAMA Career Catalyst: Internship Insider

FASHION+TECHSF Presents: Mentors & Apprentices.

Mentors and Apprentices is a career workshop and a networking event for the fashion, technology and creative industries in the SF Bay Area. Business owners who work in fashion, marketing, technology, art and design related professions will introduce their businesses and/or products, explain what they do, discuss their industry challenges and the nature of their internship opportunity, followed by a Q&A session. Mentors will then be available to meet and interact with participants and for additional informational interviewing.

Students, entrepreneurs and those interested in additional career options are highly encouraged to attend. Internship opportunity and requirements are determined by each mentor and will vary. Resumes recommended. 
What:

MENTORS & APPRENTICES

Where: FIDM, 

55 Stockton Street, 5th Floor, Conference Room

When:

February 21, 2012, Tues, 5:30-8:30pm, pls arrive early

RSVP: Buy Tix, $10 General Admission, Free Admission with Student ID (All Schools)
FEATURED SPEAKERS:
Techmamas Founder/Editor & Chief Technology Mom
Beth Blecherman is the Chief Technologist of Cool Mom Tech, the intersection between tech, parenting and style.  She left her position as a Senior Manager at Deloitte for Family Management then decided to blog as a career 2.0. Her personal blog is TechMamas.com (@TechMama ), a platform,to discuss technology, social media and her obsession with consumer electronics.In 2006 she joined on as one of the Co-Founders to Silicon Valley Moms Group (a mom blog network that covered over 11 regions). In 2010 Silicon Valley Moms Group was sold to Technorati. In 2009 she was chosen as one of the Nielson Power Mom 50 influencers. In 2010 a Parents Magazine Power Mom, Forbes 100 Best Websites for Women for 2010 & 2011 and  @ForbesWoman Best Branded Women on Twitter. Just recently, she was included in the PC Mag Top 100 on Twitter and the Time 140 Best Twitter Feeds. In Sept 2011 Beth was listed on the Working Mother's list of Most Powerful Moms in Social Media. Beth is a host of MommytoMommy.tv, a new online show for moms.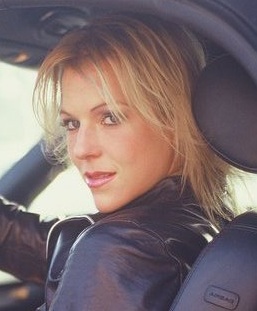 JOANNA RILEY WEIDENMILLER
is the co-founder and CEO of
The One Page Company
, a communications company that specializes in utilizing the next generation of user interface applications to create OnePage Proposals and delivering them across all platforms. The company is based in San Francisco, CA and its technology partner, We@link is based in Shanghai, China. She is partner of
360fashion
a global network enabling the leading web and mobile applications for high level fashion professionals to build their brand image. Joanna is CEO of EventPod China, a new technology streaming live photos from networked cameras instantly on TV/display screens. EventPod is based in the USA and has successfully partnered with the leading event and photography companies in China.Joanna sits on the international board for WildAid advocating to end illegal wildlife trade. Prior, Joanna was CEO and founder of Performance Advertising Associates in New York and Chicago, a outsourced company specializing in business to business marketing for Fortune 500 companies. Joanna was born and raised in San Francisco, CA and was a full scholarship rower at The University of Virginia, where she received her BA in Foreign Affairs.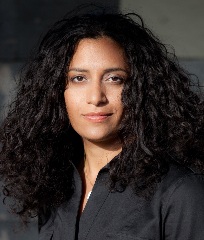 Neelu Jain's background is varied including professional services, technology, entrepreneurship, leadership development and progressive social change. She is currently a recruiter for The Creative Group, placing professionals in the interactive, design and marketing fields throughout the San Francisco Bay Area. Prior to that, she was a strategy consultant for start-ups and non-profits working with 75+ clients around the United States. She helped organizations develop launch strategies and tactical operational and marketing plans for their next phase of business. Neelu has also worked at Goldman Sachs, was a Product Marketing Manager at eGain Communications, ran a yoga company growing revenue from $500K to $2M (www.poweryoga.com) and started and sold an online company (www.allergyhaven.com). She received her MBA from the Anderson School at UCLA in entrepreneurship, where she ran its nationally known business plan competition and served as a teaching assistant and advisor for multiple entrepreneurial courses and programs. She earned her BA from Dartmouth College with high honors.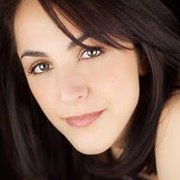 Atelier Advisors was founded by Lili Balfour in 2007 to provide strategic and financial advisory services to early-stage companies committed to changing the world. Over the past five years, Atelier has worked with over 100 companies, ranging from technology (Visual IQ, Sustainable Minds, Alpha Theory and Firescope) to consumer goods (Peeled Snacks, Duchess Marden, and PeaceKeeper Causemetics). Atelier's motto is 'Rethink Investment Banking.' The firm was built on the belief that all companies, regardless of stage, should benefit from high level investment banking services.
Lili brings 20 years of investment industry experience -- ranging from technology M&A to early-stage private placements – to early-stage client engagements. She believes that knowledge is power and arms her clients with the tools they need to win. Lili was listed in Femmenomics' 50 Women to Watch in Tech List  and serves as a pro bono advisor to Inner City Advisors and Entrepreneurs' Roundtable. You can read Atelier's thoughts on raising capital, building a profitable company and exiting with a win here www.atelieradvisors.com/think
VIA is Denmark's third largest institution and largest university college with 2,100 employees and 17,000 students centered on the 7 campus cities. Institution basis Institutional Basis (pdf) is a description of the organization and how it manages the task as the largest university college. Here you can read VIA's overall strategy and find both long and short term milestones for the institution. Development and renewal , we have an organization's ambition to renew the way envisaged education and training on. Modernization of existing programs and developing new programs are pivotal to this work. We want our students have a daily life, where theory and practice of working together across disciplines.

BRAD CARRICK is the owner and founder of SOLZ and business developer for SFFAMA.  SOLZ is a San Francisco brand founded in 2010 to provide uniquely fashionable products that actually enhance the enjoyment of, an active, leisurely lifestyle.  We call this "functional fashion."  SOLZ shoes are ultra-lightweight, flexible casual shoes. They can be bent, folded, and rolled up, and are designed to move naturally with your feet as you walk. They are weather and water friendly and are all machine washable. Each pair comes with a matching ballistic nylon clip-on "capsule" bag.  Brad graduated from Colgate University with B.A. in International Relations, Economics and Asian Studies. He also holds a JD from Harvard Law School and an MBA from IE Business School in Spain.
MODERATOR/ PR & PUBLICITY:
"San Francisco is a very small fashion market with a lot of fabulous creative talent and very limited venues for networking; Owen Geronimo changed this by creating San Francisco Fashion and Merchants Alliance, Inc (SFFAMA). Owen is a take-charge person who has been able to present creative ideas and communicate the benefits of SFFAMA by offering real information to the fashion community. I recommend that the San Francisco's creative industry connect with Owen and become a part of the amazing network he has created." 
PRODUCT PRESENTATIONS BY:
The resume is dead! The premise is: In the new millennium (The Digital Revolution), a resume is not enough anymore. Resumes lack connection. Electronic resumes are flooding employers because one person of no distinction can send out a resume to 5,000 companies tying up substantial resources and slowing the process of finding the right candidate. You have to deliver your message in a form that presents your individual proposition for working for the targeted company and presents your credentials in 1-Page. Resumes are being drowned-out by a hiring climate flooded by tons of meaningless resumes distributed to faceless coThe resume is dead! The premise is: In the new millennium (The Digital Revolution), a resume is not enough anymore. 
INTERN SUSHI
 is a new way for interns to land internships and companies to hire interns.
Our world is full of young, creative individuals ripe with ambition, fresh ideas and unseen talents. But, they lack a stage to present themselves. Intern Sushi gives interns and companies a multimedia platform to tell their stories. Through one minute videos and digital profiles, interns and employers alike are put into the spotlight. Literally. After all, human history is a series of stories well told and the key to unlocking one's career potential is the ability to create, shape and communicate his or her story. Intern Sushi leverages technology and the social dynamics of the web to connect the brightest and most talented interns with the best companies. Intern Sushi aims to maximize human potential.
RAFFLE PRIZE BY:
SPONSORED BY:
When & Where

(FIDM) Fashion Institute of Design & Merchandising
55 Stockton Street
5th Floor, Conference Room
San Francisco, CA 94108


Tuesday, February 21, 2012 from 5:30 PM to 8:30 PM (PST)
Add to my calendar
Organizer
FASHION+TECHSF is the popular original monthly workshop and event series focused on building, promoting, educating and funding the enthusiastic communities of fashion and technology entrepreneurs who share our vision of a world-class fashion and technology industry that is innovative, disruptive and uniquely San Francisco. Launched in 2009,
FASHION+TECHSF has become the leading network for all things fashion and technology in the SF Bay Area. FASHION+TECHSF is produced by Fashion Tech Media LLC and San Francisco Fashion And Merchants Alliance, Inc. [SFFAMA].
For marketing inquiries, media relations, publicity, product promotions, sponsorship opportunities and booking info...please email your inquiry to: info@fashiontechpr.com or visit: FashionTechPR. 
FASHION+TECHSF Presents: Mentors & Apprentices