FASHION+TECHSF: Applying Mobile Tech Strategies To Your (Fashion) Business

Thursday, January 19, 2012 from 5:30 PM to 8:30 PM (PST)
Event Details
ONLINE TICKETS ARE NO LONGER AVAILABLE
PLEASE PAY AT THE DOOR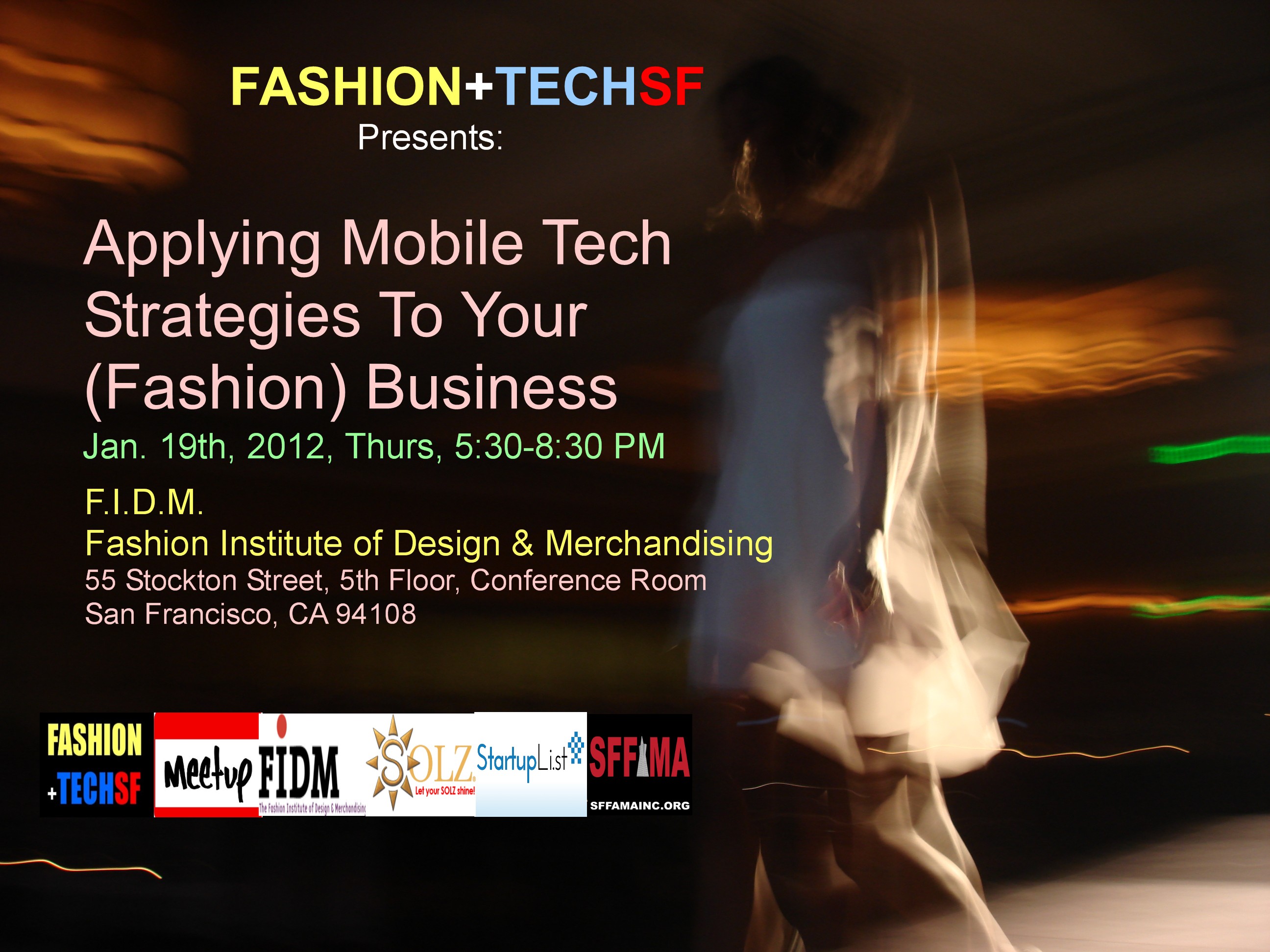 FASHION+TECHSF Presents:
Topic: APPLYING MOBILE TECH STRATEGIES TO YOUR (FASHION) BUSINESS
On The Panel

KAREN SONG, co-founder of Stylematic. Stylematic is the brainchild of eight fashion forward innovators from Start Up Weekend San Francisco.
YUAN ZHANG, co-founder of ShopNear.me. is the single best direct marketing platform for local fashion retailers and brands to drive foot traffic and create and keep a loyal customer base.
KEN JOHNSON, co-founder of Manpacks. Manpacks is developing a shoppping experience to help guys buy things they hate to shop for in a simple, fast, and fun way.
PRODUCT PRESENTATION BY: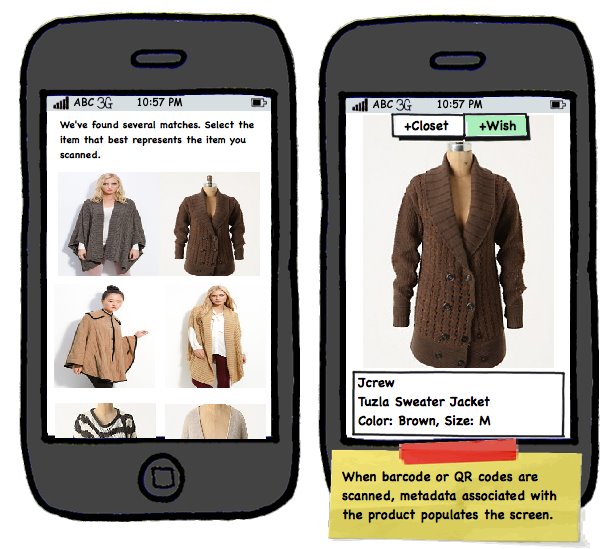 Stylematic is the brainchild of eight fashion forward innovators from Start Up Weekend San Francisco.  Have you ever stared at your closet and felt like you had nothing to wear? Do you hate shopping because you don't know what to buy? What if you had a virtual stylist who kept track of your closet, delivered recommendations and deals, and helped you review your choices with friends. This is the idea behind Stylematic, an app that helps you shop smarter. Scan the bar code of an item and Stylematic compares the item to existing pieces in your virtual wardrobe. Knowing your style and color preferences, Stylematic delivers recommendations and deals for other items, as well as comparable deals from nearby stores. Stylematic makes outfit selection is easy and social. Integrate with your online profile and browse friends' closets, consult style mavens, and receive feedback on her purchases.
Q & A:
What is the main goal for a businesses in adopting or implementing mobile technology? How did you develop a mobile technology for your business? 
Why implementing mobile technologies can gain you a competitive advantage, increase productivity and efficiency? What is your strategy?

How does an organization increase employee productivity by utilizing mobile technology? How do you manage a mobile workforce?

What are the benefits for a client or the consumer utilizing mobile technology?

How can mobile apps drive views, downloads and checkins? How do you focus on user experience? 

How does your brand monitor your own mobile app? 

What is the best approach for mobile marketing? How do you conduct your marketing campaigns? Do you process payments? 

What ideal steps to take now to prepare your company for an increasingly mobile future?
"I've only known Owen Geronimo for a short time, but am impressed at the effort he puts into 
SFFAMA
. Owen gets to the point and does his best to help entrepreneurs in the local fashion industry understand they have to think about themselves as more than just designers, but business people. He continues to look for ways to blend technology with fashion and is working tirelessly to rejuvenate the fashion industry in San Francisco."
Thank you so much for inviting us to be a part of Fashion+TECHSF Seminar. We didn't know quite what to expect and not being from the "fashion world" we thought we might be out of place. We couldn't have been more wrong! Owen Geronimo and everyone involved created a space for us to fit right into. Not only were we well received but the ideas, concepts and solutions discussed were fresh new takes on issues that pertain directly to the challenges that our business is dealing with as well.Thanks again. 
~ Troy Rutt @ True Power Inc 
Thank you SFFAMA! It was a pleasure to present our product at FashionTechSF. The feedback and encouragement we have gained from the experience is invaluable. Our team is more inspired than ever, and eager to serve the needs of local fashion merchants and designers in San Francisco… and the world! The FashionTechSF was our initial product presentation (www.omgiluv.it) and we were very happy with the results. 
SFFAMA
 is one of the best resources for anyone in the Bay Area interested in networking with remarkable entrepreneurs in fashion and design. The community SFFAMA is creating in San Francisco is second-to-none, a truly diverse and positive group of fashion savvy doers. I've learned so much from attending the 
FashionTechSF
 from the incredible speakers who provide invaluable insight on how to effectively navigate the trials and tribulations facing the go-getters of the Bay Area. I've also garnered wonderful friendships and colleagues who continue to inform and inspire. 
SPONSORED BY:
Venture Capitalist, 

PR/ Publicists, 

Press & Bloggers, 

Startup Companies, 

Small Business Owners, 

Media Consultants, Brand Managers, 

Marketing Professionals, 

Non-Profits, Students
Have questions about FASHION+TECHSF: Applying Mobile Tech Strategies To Your (Fashion) Business?
Contact FASHION+TECHSF
When & Where

(FIDM) Fashion Institute of Design & Merchandising
55 Stockton Street
5th Floor, Conference Room
San Francisco, CA 94108


Thursday, January 19, 2012 from 5:30 PM to 8:30 PM (PST)
Add to my calendar
Organizer
FASHION+TECHSF is the popular original monthly workshop and event series focused on building, promoting, educating and funding the enthusiastic communities of fashion and technology entrepreneurs who share our vision of a world-class fashion and technology industry that is innovative, disruptive and uniquely San Francisco. Launched in 2009,
FASHION+TECHSF has become the leading network for all things fashion and technology in the SF Bay Area. FASHION+TECHSF is produced by Fashion Tech Media LLC and San Francisco Fashion And Merchants Alliance, Inc. [SFFAMA].
For marketing inquiries, media relations, publicity, product promotions, sponsorship opportunities and booking info...please email your inquiry to: info@fashiontechpr.com or visit: FashionTechPR.