Attention! Attention! A Clarion Call has been Answered! The Fashioned for The Kingdom Women's Healing and Deliverance Conference 2022
About this event
Attention! Attention! A Clarion Call has been Answered!  The Fashioned for The Kingdom Women's Healing and Deliverance Conference 2022 will be Happening on Friday, April 22nd & Saturday, April 23rd in Richmond, VA at the Westin!!!  
This gathering will be like none other!
      'Fashioned for the Kingdom…for the Interests of God' exemplifies how we have been formed and shaped (fashioned) by the hands of God for a Kingdom purpose and assignment. Fashion doesn't manifest overnight but is developed daily as we "Seek the Kingdom of God and His Righteousness"
Psalm 119:73 "Thy hands have made me and formed me: give me understanding, that I may learn thy commandments" Isaiah 49:5a "And now, saith the Lord that formed me from the womb to be his servant…"
        Our goal is for our delegates 
to experience the presence of God, and embrace their Kingdom assignments in the Earth, and receive spiritual impartation that last a lifetime.
For additional information, call Shawana King @ (804) 499-8006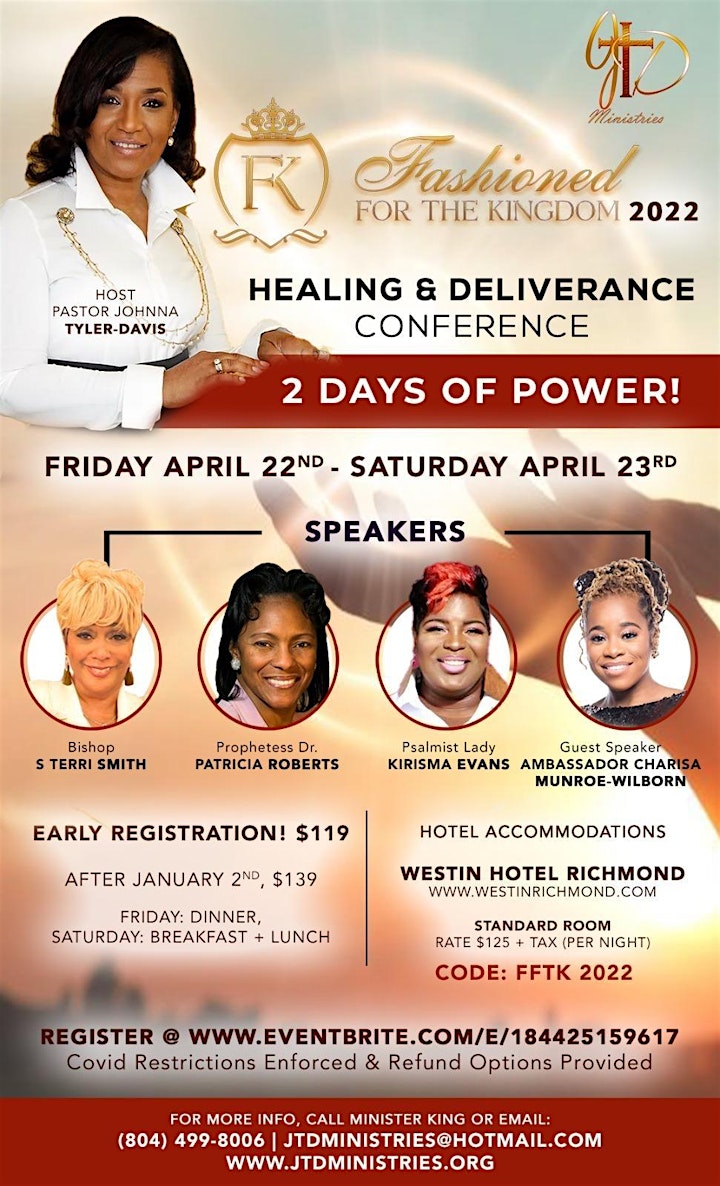 Organizer of "Fashioned for the Kingdom" Women's Healing and Deliverance Conference 2022
 Johnna Tyler Davis and JTD Ministries mission is to encourage those that are distressed and oppressed through the Word of God and Power of Prayer.  This humble servant carries a burden for the sick, with an unwavering passion to pray and intercede for believers and non-believers that are afflicted and need healing.
The ministries' desire is for all to experience the promises of God through faith and prayer.  The ministry will help those in despair to realize that there is no situation that cannot be conquered through Jesus Christ. Prayer answers all things...
Be careful for nothing; but in every thing by prayer and supplication with thanksgiving let your requests be made known unto God.