A Conference for Women who want to walk in their KINGDOM AUTHORITY in their dreams, calling, purpose, family, marriage, business, jobs, etc
About this event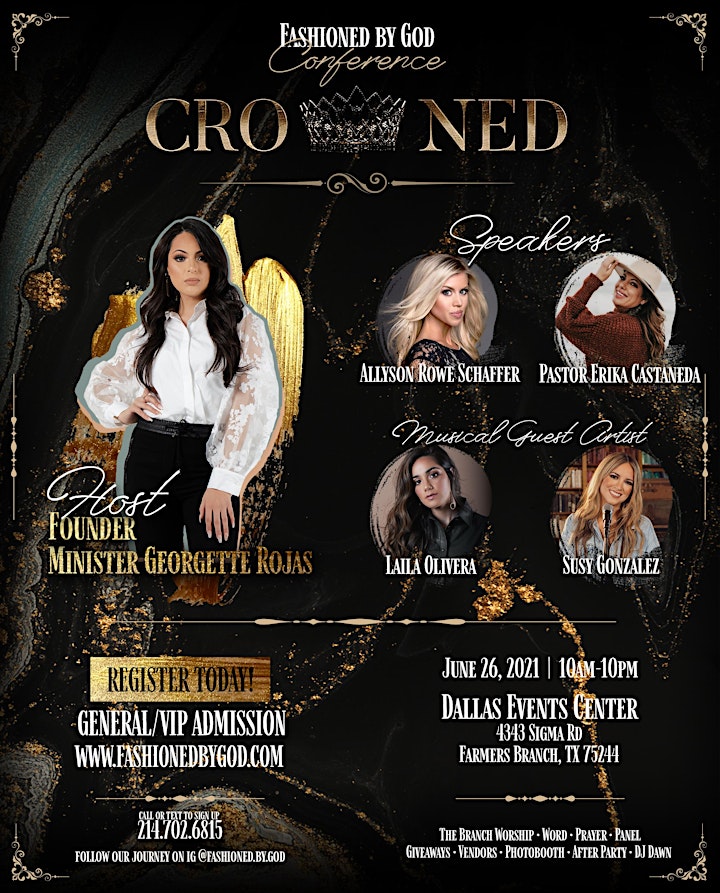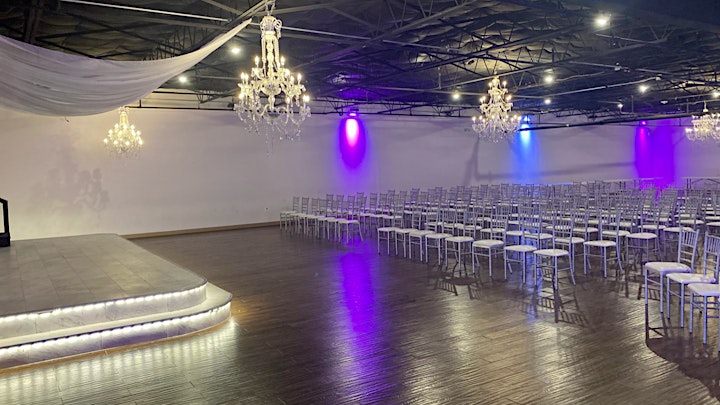 LIMITED SEATING!
**TICKETS ARE NON REFUNDABLE**
Conference will be in English only
JUNE 26, 2021 | 10AM-10PM
ABOUT THIS EVENT
"YOU HAVE COME TO A ROYAL POSTION FOR SUCH A TIME AS THIS" ESTHER 4:14
Host and Founder, Minister Georgette Rojas is hosting her 3rd Annual Fashioned By God Conference. Her heart is to see women walk in the fullnes of their calling, purpose, and dreams. She desires to see women transformed and renewed by the power of the Holy Spirit, and believes that this conference will activate vision, power, authority , identity, and restoration among every single woman who attends.
WHAT OT EXPECT:
*Powerful Worship By The Band Worship, Minister Georgette Rojas, and Laila Olivera
* Encouraging and life changing messages by Seasoned Speakers; Minister Georgette Rojas, Allyson Rowe Schaffer, and Pastor Erika Castaneda
*Guest Panel Q&A with Minister Georgette Rojas, Allyson Rowe, Pastor Erika Castenda, Laila Olivera, Susy Gonzalez, Pastor Josselyn Pena, and Tammy Dean
*Prayer-Laying hands; alter call
*Vendors- A vaierty of faith based businesses to shop from
*Giveaways!
Make sure to stop by the Fashioned By God Co. Store to shop for Conference Merch and Product!
*Photobooths- Photobooth location opportunites to take photos with your friends and with the new friends you will meet at this conference!
@LEGACYBOOTH photobooth will be there! You will be able to take home PRINTED photobooth photos! (This Photobooth will open throughout the event)
*After Party-Celebrating all of what God has done in and through you! Meet and Greet Minister Georgette and Special Guest, Shop, take more photos, and enjoy music by DJ DAWN!
FOR WOMEN OF ALL AGES (12&UP): Please, no children
SPEAKERS
MINISTER GEOEGETTE ROJAS
Minister Georgette Rojas is a faith filled woman of God with vision. Her passion is to reach a generation and inspire others to live out God's purpose. Georgette graduated from Texas Bible Institute, Christ for the Nations, and The Kings' University at Gateway with an Associates of Worship Leadership; where she served as the student body President. Georgette is a licensed minister who travels internationally and across the United States leading worship and ministering to people. She released her first album "Heart of A Worshipper" in 2013, and it has reached 65 nations on all digital platforms.
In November of 2018, Georgette started her monthly Fashioned by God Bible Studies with the purpose of transforming women and instilling identity if Christ into women. Above all that, she has a heart to worship and is passionate about leading people into the presence of God and seeing lives changed through the Word of God.
INSTAGRAM: @GEORGETTEROJAS
ALLYSON ROWE SCHAFFER
Allyson Rowe-Schaffer holds the title of Miss Washington, USA 2014.
She is a powerful speaker, worship leader, mentor, and entrepreneur.
Allyson grew up in Eastern Washington State and is head over heals in love with her husband, Matt, and their newborn baby boy. She is classically trained pianist as well as a worship leader and song writer. Allyson is passionate about pouring into the lives of women and empowering them to be women of purity, holiness, grace, and confidence. Out of this passion birthed the Single and Empowered Mentorship Program- which is dedicated to coaching, mentoring, and equipping women through online platforms and webinars.
She is the founder of GlowGetter Inc., a platform whose mission is to encourage women to pursue God's call on their life with boldness. AGlowGetter is a spirit-filled woman in pursuit of God's best for her life.
In a season of 3-month isolation, The Holy Spirit spoke to Allyson and gave her the word, "Put the King on the Throne."  Since that time, she has stepped out boldly and dedicates her life to placing Jesus Christ above all else and proclaiming the truth of the gospel.
Along with speaking and coaching all over the country, Allyson also partners with a number of organizations in efforts to rescue victims of human trafficking and has helped pass Bills in Washington State to tackle this global issue.
Allyson is also married and has a beautiful baby boy.
INSTAGRAM: @ALLYSONROWESHAFFER
PASTOR ERIKA CASTANEDA
Erika Castañeda, former Miss Lubbock 2005, is a native Texan. She is the founder of "Her Legacy," a non-profit organization that exists to make Christ's Name Known through Love and Action. Through her organization she advocates and brings awareness for abandoned, abused, neglected, orphan and foster children. Her organization provides local missions in serving foster children, foster teens, the elderly in nursing homes, sick children in the hospital and single mothers and their children. In addition, through her organization she provides monetary and non-monetary items to 3 different orphanages locally and globally. Erika an ordained minister and life-learner is a graduate of Oral Roberts University with a degree in Psychology and Pastoral Care Ministries.
A passion for discipleship and a heart for women to be seen, heard and known inspires Erika's persistent involvement in mentoring, volunteerism and fund-raising. Her calling to live a life that is poured out and always be about the Father's business is what compels her initiative as a community leader who makes a profound difference in the lives of others. She is the host of Coffee and Tea with E where she teaches women to be students of the Word of God and alter the culture among women to a cultivated sisterhood that celebrates women and champions them to become all that God has created them to be. Together, Erika and her husband Javier, have launched Right Now Church and are determined to be a place of local impact with regional influence. As Lead Pastors they lead people to the truth that Heaven's best is in them right now and that changes everything. Erika is the proud mother and bonus mom to Galena, Javi Jr, Jahaziel, Faith and Mia. Of all of her accomplishments she believes being a friend, wife and mother tops them all.
INSTAGRAM: @ERIKAPCASTANEDA
MUSICAL GUEST ARTIST
LAILA OLIVERA
Singer, Worship Artist
From the time that Lailia was in her mothers womb Laila was called to be a Jeremiah of this generation and from her worship comes the prophetic voice of God. Being born and raised in New Jersey, God has used her to stir revival and impact the lives of individuals within the surrounding states. From a young age God has spoken the prophetic word over her life that she would go out and minister to nations through the calling over her life for the five-fold ministry. Growing up in a household where the love of God is extremely evident through her parents and younger sister it set her apart and established her as a beacon of light within her community. This same passion and love for God is not only reflected through her worship but even within her University. Not only does Laila follow the calling that God has placed over her life for ministry but she is a full-time college student that is pursuing a career in Speech Language Pathology. Her calling to work with special needs children is another one of the callings that God has made clear over her life. Giving special needs children a voice in a world where they are silenced and labeled as disabled is something that she wants to bring change to. This same passion to give a voice to those who are silenced is what she wants to give to each follower of Christ. God has not only used her to speak into the lives of men and women within church settings but she has seen God manifest himself through her even in her University.
Laila is firm in her identity that comes through Christ and her genuine heart to please God through every worship moment is what she wants to ignite in the lives of others. Giving God His place to move the way He desires while igniting a fire for others to walk in the calling God has placed in their lives is what her goal is.
INSTAGRAM: @LAILAOLIVERA_
SUSY GONZALEZ
Singer, Christian Artist
Not everyone can say that they have found their passion during their childhood.
Susy González is fortunate because from the age of nine she discovered her love for music. It was her father, from whom she inherited her innate musical talent from her, her number one cheerleader and who recognized in her daughter not only her ability but her passion to sing.He taught her everything she knows about music today.
In Lamesa, the same Texas city that saw her born and raised, she practiced Susy every night after dinner alongside her father without fail to hone her natural dexterity.This training of hers created a discipline that has accompanied her to this day and has given her the courage to pursue her dream of music.
Before beginning her musical career, she met and married the love of her life at age 22.She claims that the journey of marriage changed her life in the best possible way and led her to mature. This prepared her to welcome her three male children and form a family with God at the center.
Susy she composes Christian music in the Latin pop genre. Her songs are based on her faith in Christ, and the joy, peace, and love she has found in her salvation.
In 1998, she released the first production of hers entitled "Un Milagro", followed by "I Don't Want Anyone Else" in 2000, "No Me Forget" in 2004, her first production in English.
"He Is My Everything" in 2010, and finally, in 2014 she released "Por Toda la Vida."
With the new production of her, Susy declares that Jesus saves and that he also heals.The topic of healing is particularly important to Susy.She suffered from a health condition that doctors were unable to diagnose, andhe experienced healing after doing her own research and finding the solution in healthy meals.Nutrition is another subject she is passionate about and is part of her testimony of healing and restoration.
In 2019, Susy launches her new album with the first single entitled «Only in You», a song that invites us to reflect on the great love of Jesus towards us when we are going through difficult times and to remember that only in Him are there words of lifetime.
INSTAGRAM: @SUSYGONZALEZMUSIC
BIO OF ALL SPECIAL GUEST AT THIS EVENT WILL BE POSTED ON OUR WEBSITE SOON!
REGISTRATION INFO & PRICING
Tickets go ON SALE on Sunday, March 7th 12PM CT (LIMITED SEATING)
GENERAL ADMISSION: $65+TICKET FEE
Includes all acess to the event, no lunch or dinner provided**
VIP ADMISSION: **LIMITED TICKETS $150+TICKET FEE
Includes: Meet and Greet Minister Georgette Rojas and Special Guest, All Event VIP LOUNGE ROOM access (Side Door Entrance), Morning Refreshments, Lunch Provided (MENU TBH), (No Dinner) Refreshments provided before the night session, VIP Seating, VIP Photobooth, Conference T-Shirt, and goodies (Doors Open at 8:45am)
**email your first and last name and T-Shirt Size: fashionedbygodconf@yahoo.com
Keep in mind there is limited seating, first come first served ticket buyers
Conference Schedule
Doors Open | 9:00am
First Session | 10am-12:00PM
Lunch Break | 12:00PM-1:30PM
(Vendors Open Shops at 1PM)
Second Session| 1:30PM-5:00PM
(Break) Times will be provided during this session
Dinner Break | 5:00PM-7:00PM
Doors Open at 6:15PM
Third Session | 7PM-9:15PM
After Party |9:15PM-10PM
Dallas Event Center
4343 Sigma Rd Suite
Farmers Branch, TX 75244
FREE PARKING AT THIS EVENT
Hotel and Reservations
Recommend Hotel (FBG CONF Discounted Deal) Limited Rooms Available
Includes Free Parking
Sheraton Dallas Hotel by the Galleria
4801 Lyndon B Johnson Fwy, Dallas, TX 75244
RSVP: Call 1.800.325.3535 (Fashioned By God Conference Discount)
HOTEL INFO (TBH) | Location area (Farmers Branch, Tx)
Food Locations Nearby (TBH)
Dallas Galleria Mall (one exit away)
13350 Dallas Pkwy, Dallas, TX 75240
Airports
Dallas/Fort Worth Intrenational Airport
Dallas Love Field Airport
CONTACT US:
fashionedbygodconf@yahoo.com
(214) 702-6815 (call or text us)
Follow us for updates: Facebook: Fashioned By God | Instgram: @fashioned.by.god
IMPORTANT
By purchasing this ticket you agree that we not responsible for any injuries, sickness, or anything that happens to you at this event.
SPONSORSHIPS :If you have a business and would like to Sponsor this event or donate towards this event please email: fashionedbygodconf@yahoo to recieve more info. All sponorships will recieve a tax deductible receipt for thier donation.
WATCH BELOW TO SEE THE RECAP OF OUR
FIRST ANNUAL FASHIONED BY GOD CONFERENCE!
Organizer of Fashioned By God Conference