Fashionably Pink Breast Cancer Survivor Fashion Show
About this Event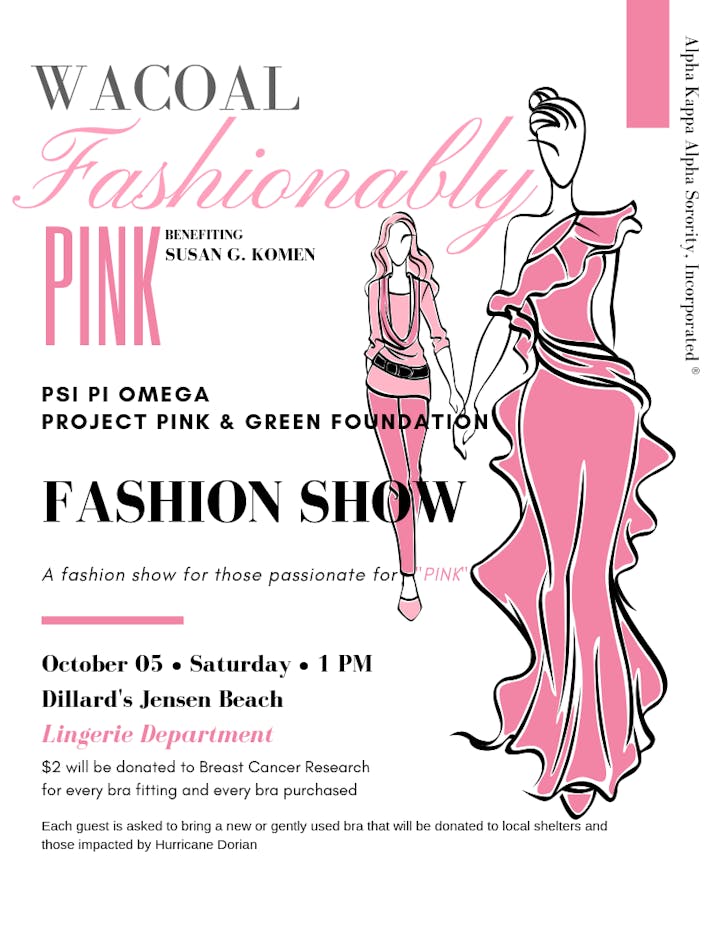 During National Breast Cancer Awareness month Psi Pi Omega and the Project Pink and Green Foundation seeks to Passionately raise community awareness of this critical health issue impacting women, specifically on early detection, through self breast exams and mammograms to improve the survival rate of women diagnosed with breast cancer.
Breast cancer survivors from the surrounding communities will model the latest Pink Fashions all while taking a well deserved celebratory catwalk of their recovery.
Fashionably Pink Fashion Show:
Date: October 5, 2019
Time: 1pm
Location: Dillard's Department Store, Jensen Beach ~ Lingerie Department
Cost: FREE EVENT, guest are asked to please register via Eventbrite
Presenting Sponsor: WACOAL
Event Promotion: $2 for every Bra fitting and $2 for every Bra purchased. All proceeds from the event's promotion will go to the Susan G. Komen Foundation. In addition there will be a gift with purchase, if you spend $90 or more with WACOAL.