Description
Purchase a Front Row VIP Seat OR General Seat or Standing Room Only Ticket for a Designer Showcase which will allow the guest to view 4 to 8 Fashion Design Brands for "One Seat Price".
We Feature International and USA Domestic Fashion Design Brands.
Each Fashion Week season only 20-40 position opportunities will be available for emerging and seasoned Fashion Designer brand collections to apply to be featured in the PLITZS New York City Fashion Week "Designer Showcase Presentation".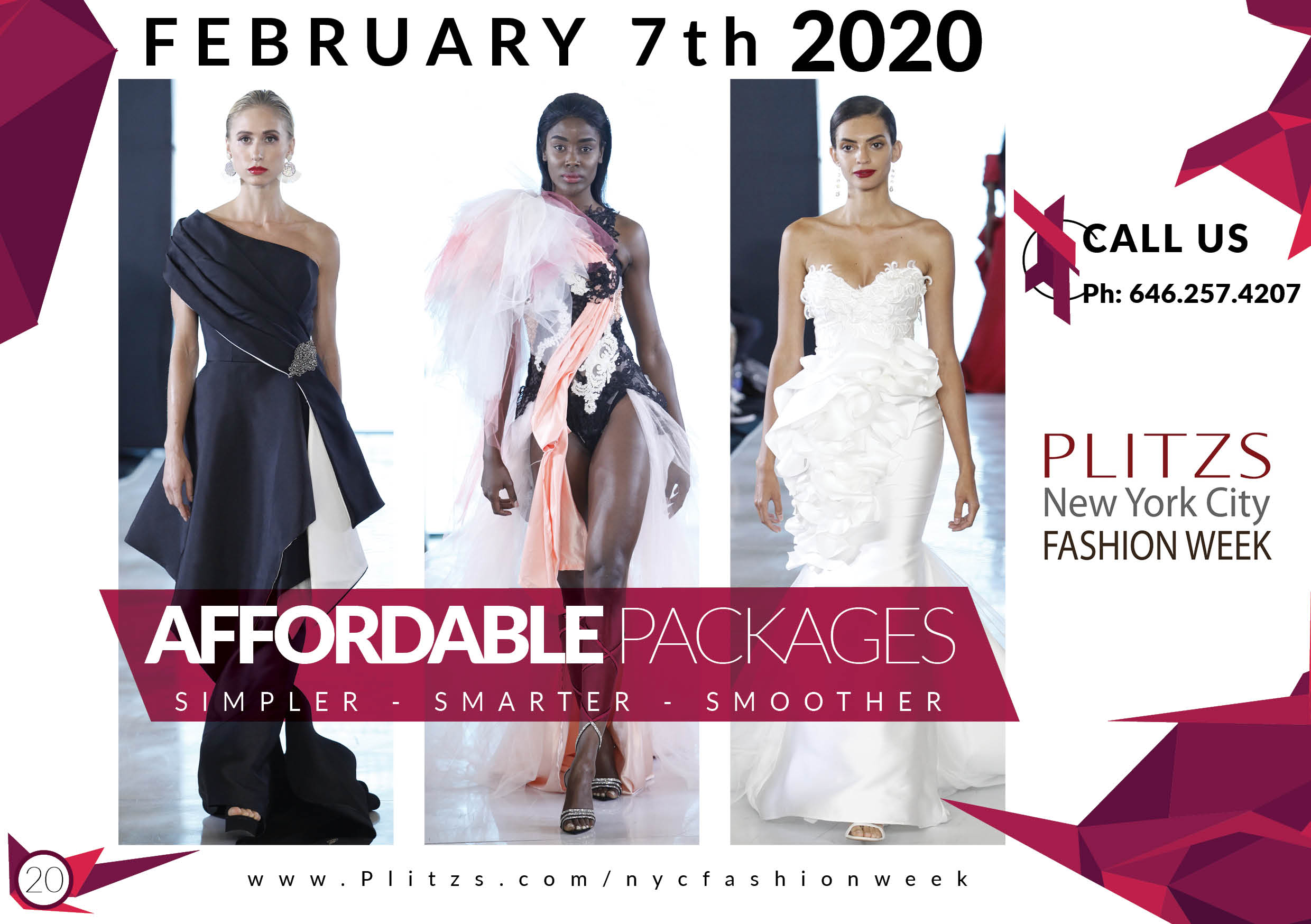 PLEASE NOTE: DRESS CODE ATTIRE FOR ALL GUEST - FASHION WEEK FASHIONABLE & STYLISH *WE RESERVE THE RIGHT TO BE SELECTIVE*
SHOW SCHEDULE FOR PNYCFW - FRIDAY - FEBRUARY 7, 2020
==============================
Designer Showcase #1
(Guest Check in 11:30AM)
SHOW TIME: 12:00NOON
Designer Showcase #2
(Guest Check in 1PM)
SHOW TIME: 1:30PM
Designer Showcase #3
(Guest Check in 2:30PM)
SHOW TIME: 3PM
Designer Showcase #4
(Guest Check in 4PM)
SHOW TIME: 4:30PM
PLITZS New York City Fashion Week
Our Featured Designers from both international and domestic USA locations.
Our Designer Showcases will take place in the heart of Midtown Manhattan during the Fashion Week seasons in New York City. Fashion Designers can capitalize on their one-day presentation which will afford them the opportunity to present their brand collection to potential clients, retail fashion store/boutique owners, buyers, general managers, potential investors, trade organizations, editors, bloggers, public, media and press. Designers will talk to audience attendees first hand directly after their showcase via our media/press junket – Fashion Designers should get ready to showcase and invest in their fashion brand and show why they're a hot Emerging fashion brand.
Our mission is to continue to maintain PLITZS New York City Fashion Week "Designer Showcase Presentation" as the premier fashion event in New York City that offers designers an opportunity to broaden their fan base through multi-channel marketing and exposure to consumers, the general public, retailers, buyers, and the media.
PLITZS New York City Fashion Week "Designer Showcase Presentation" offers a select few talented emerging designers an opportunity to affordably showcase their collections in a professionally produced presentation during the week of New York Fashion Week without breaking their annual budget.