Description
Fall/Winter 2014 "Be Bold, Be Strong" the Runway Collection
The Fashion Week Brooklyn Fall/Winter 2014 collection show will showcase the leading
emerging designers in the fashion industry.
FWB will feature eco-friendly, ready-to-wear,
bridal, accessory and couture collections by local, national and international designers.
Show Schedule: http://fashionweekbrooklyn.com/schedule
http://www.fashionweekbrooklyn.com
THE AUCTION
• Build A Better Planet (BABP), a non-profit organization promoting sustainability,
will partner with FWB to curate the eco-friendly opening night on March 13, 2014
(www.buildabetterplanet.org). The evening will focus on promoting awareness about
protecting the environment through fashion and raise funding for supporting
charities of FWB. ›
• Guests can participate in a silent auction. Previous auctioned items include a trip for two
to unique eco-destinations: The Clifton South Beach Hotel (located in Miami), the Estacion
Biologica Laguna de Apoyo (Nature Reserve) located in Nicaragua.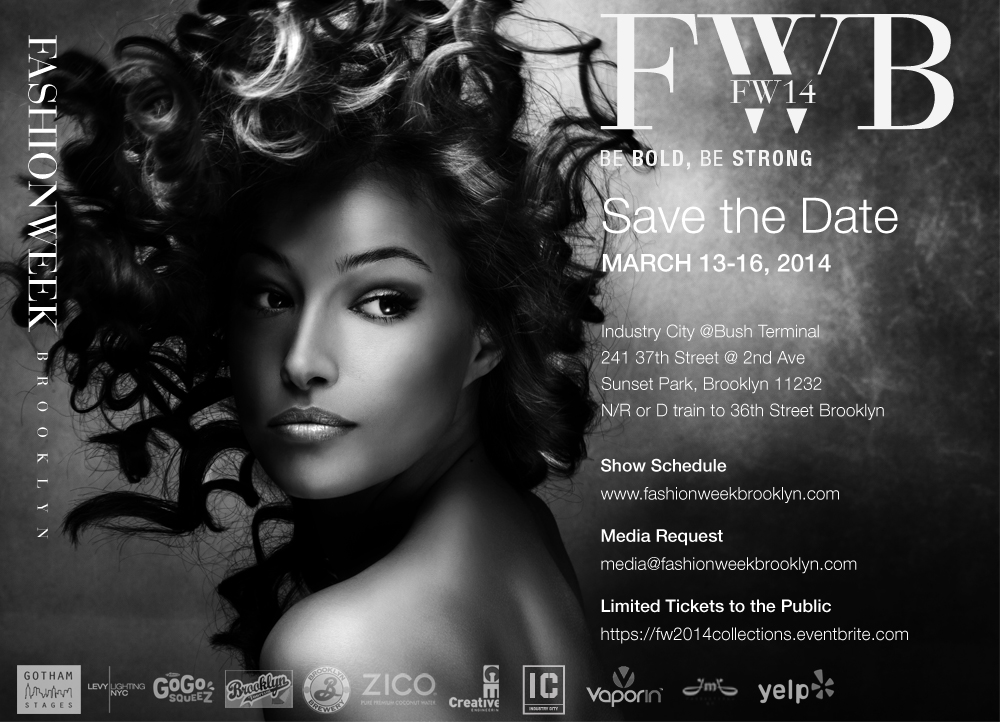 Organizer of Fashion Week Brooklyn Fall/Winter Collections 2014
BK Style Foundation @bkstylefoundation
BK Style Foundation (BKSF) was founded in 2004 as a platform to support creative talent. BK Style Foundation (BK|SF) lends a voice to social causes like human rights and civil liberties, HIV/AIDS awareness, poverty and community development by partnering with organizations like Denim Day NYC, which raises awareness for sexual assault and domestic violence. Art in Motion Show, Beauty for Freedom, Soles4Souls Foundation, MTV's Staying Alive Foundation, Colel Chabad and other nonprofit Organizations
Guiding Principles: We will be inclusive in everything we do and represent a diverse community
Inclusive in terms of embracing our differences- all talents are strong spokespeople who champion diversity while
bridging the community
BK Style presents - FASHION WEEK BROOKLYN (FWBK) May 2006 to Present - FWBK is a Spring/Summer and Fall/Winter designers' collection event, showcasing the collections of emerging and established designers from around the world. FASHION WEEK BROOKLYN is a full-service production to market and promote design talents. FWBK follows the fashion industry calendar and presents its Spring/Summer and Fall/Winter after NY Fashion Week to the press/media, buyers, and celebrities.

View highlights from the past season at:
http://www.fashionweekbrooklyn.com 
For more information about FASHION WEEK BROOKLYN: info@bkstylefoundation.org