Description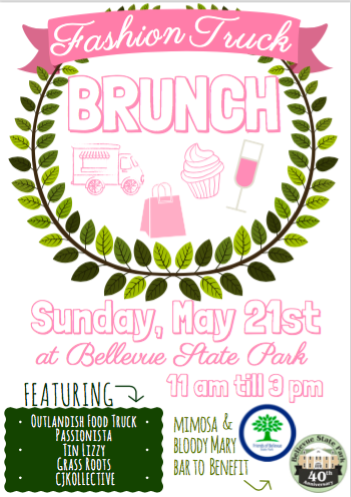 Fashion Truck Brunch is the Ultimate Girls Day Out featuring a delicious brunch menu, boutique shopping, and ample opportunity to socialize in beautiful Bellevue State Park. Fashion Truck Brunch will give local shoppers a chance to patron five different local businesses that are harnessing the power of the mobile business model.
The event is being co-hosted by mobile businesses local to the Wilmington Metropolitan area. Brunch will be provided by Outlandish Food Truck whose menu items will include house cured salmon benedict and french toast with fresh cannoli cream and rum soaked berries. A bloody mary, bellini and mimosa bar will be on site to benefit Friends of Bellevue, a non-profit dedicated to maintaining and enhancing the scenic, historic and wildlife values of Bellevue State Park.
The participating mobile retailers include Passionista Fashion Truck, Tin Lizzy Mobile Boutique, GrassRoots Mobile Boutique and CJKollective Boutique. Each mobile retailer brings a unique product assortment that caters to a range of women's styles and sizes.
Admission to Fashion Truck Brunch is free. By RSVPing to the event you will be entered into a raffle to win a gift certificate bundle to all participating businesses