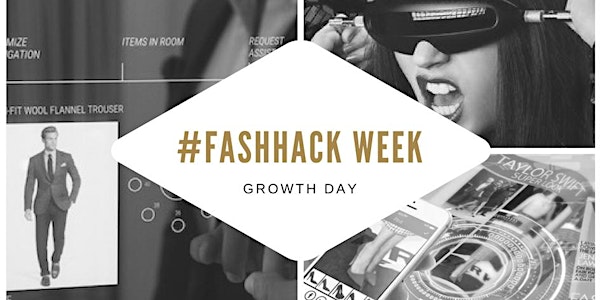 Fashion Tech Bootcamp // GROWTH DAY
When and where
Location
Cocoon Networks London 4 Christopher Street London EC2A 2BS United Kingdom
Description
The FashHack Week is a 1-week programme of day workshops and evening events, taking place from 23. October to 26.October. It is aimed at fashion & retail tech startup founders to accelerate their companies.
In just one week you will learn from the leading fashion tech mentors, founders and investors. With the best tools and approaches at your disposal, you'll take giant leaps toward growing your fashion tech business.
23.10 - Fashion Tech Bootcamp // Growth Day
"There is no higher God in Silicon Valley than growth". Fashion Tech startups have to grow fast. Being newly founded does not in itself make your startup a company, nor is it necessary for you to work on technology, or take venture funding, or have some sort of "exit strategy". The only essential thing in the early stage is growth. The good news is, if you get growth, everything else tends to fall into place. On 23. October we will concentrate on the aspects of growth for your fashion tech startup. Some of the sessions on the day:
11.00am 'Hyperscale and Microcare: Secret Ingredients for Success' by Nick Boucart, Senior Advisor for Software, Product and Growth at Sirris.

You can wonder how companies like Zappos or Asos manage to operate at a global scale, yet seem to give every single customer exactly the service she needs? In this talk, we'll discuss Hyperscale and Microcare, two seemingly incompatible strategies that you will have to combine to become truly successful in today's digital world.
12.00pm 'Digital Marketing Tools and Techniques' by Francesco Federico, Digital Director at JLL.

This is a pragmatic session showcasing the portfolio of marketing tools that make sense for startups today to start thinking and executing their marketing strategy mostly on their own. It will include: SEO, SEM (PPC), Display, Retargeting, Programmatic, Affiliation, Newsletters.
2.30pm 'Lean Pricing Strategies for Startups' by Nick Boucart, Senior Advisor for Software, Product and Growth at Sirris.

Pricing is hard: set your price too high, and nobody will buy from you. Set it too low, and you won't cover the costs to service your customers. Startups need to "discover" their ideal price, a process few founders are comfortable with. In this session, you'll learn about the economics of pricing, you'll be presented with 11 different pricing methods, we'll discuss freemium vs. premium and give you tons of practical pricing advice for your startup.
4.00pm 'Legal Issues and Traps for Fashion Tech' by Guy Wilmot, Partner at Russell Cooke
This workshop will include a 'legal audit' section teaching entrepreneurs how to do a legal healthcheck; case studies (where things go wrong!); and a Q&A to discuss any issues attendees want to raise. You will learn: - How to evaluate legal risks and run through all the legal aspects of running a startup; - Shareholders agreements and articles of association; - About legal aspects of raising finance; - How to protect intellectual property; - How to protect your business from liability.
6.30pm Evening Event: The Future of Retail - Startup Driven Innovation
Ever wanted to meet the innovators building the future? Now's your chance. During this event we will be bringing together industry experts, leaders, founders, entrepreneurs and investors. It is your unique opportunity to hear from speakers at the forefront of the disruptive fashion tech revolution. Please sign up here. The entry is free for all the #FashHack Week ticket holders.