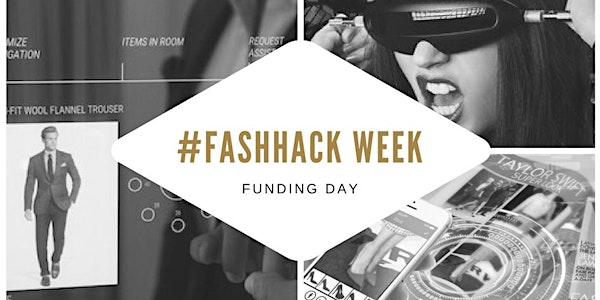 Fashion Tech Bootcamp // FUNDING DAY
When and where
Location
Futurice Ltd. 26-28 Underwood Street London N1 7JQ United Kingdom
Description
The FashHack Week is a 1-week programme of day workshops and evening events, taking place from 23. October to 26.October. It is aimed at fashion & retail tech startup founders to accelerate their companies.
In just one week you will learn from the leading fashion tech mentors, founders and investors. With the best tools and approaches at your disposal, you'll take giant leaps toward growing your fashion tech business.
26.10. Funding Day
Fashion's rapid and dramatic transformation continues to create new winners and losers and investors are constantly looking for the disruptive concepts that are here to stay: AR/VR/AI, 3D printing, wearables, outsourcing, insourcing, ethical sourcing, accelerating trend turnover, fit solutions, visual search, customization, personalization, contextual commerce, sustainability, fast fashion, and of course, data.
On the 26th of October we will have a full day of sessions to introduce the key concepts on raising capital, starting with where to find investors and finishing with how to pitch to them.
The session will include:
1.00pm Investment Fundamentals for Fashion Tech by Campbell Unsworth, Director at General Standards.
This workshop will demystify key concepts on raising capital and will help you to get started. Whether you are raising through VCs or angel investors, by the end of the workshop you'll have a better understanding of this process.
2.30pm How To Pitch Like A Rockstar by Emma Zangs, Communicaton Coach & Co-Founder of MetaSpeech
The 45min workshop is an AMA type of session that will focus on the main problems that people have while pitching: how to co-ordinate hand gestures, eye contact, posture, voice and stance to become assertive and effectively "own the room". We will go on a journey through non-verbal communication through practical and dynamic exercises. You will learn how to focus on embodying who you are, by defining the attitude and energy you want to share. Finally, we will involve presenting to the group and receiving tailored feedback from the course leader.
3.30pm Five tell tale signs your pitch isn't working by Nick Ruston and James Church, Founders at Robot Mascot
Robot Mascot specialise in helping tech start-ups develop distinctive branding and messaging. They provide a range of services that help start-ups at every stage of their journey – from gaining investment to launching a brand to market. During this talk you will: • Discover the most common reasons pitch decks fail and investors switch off • Be able to identify area's where you can improve your deck and key messages • Get the low down on Deck Do's and Don'ts.
4.00pm Key Legal Points for Investment Readiness by Jacqueline Watts, Solicitor at A City Law Firm
6.30pm Evening Event: Fashion Tech Funding Forum (Location : LABS, 136 High Holborn London WC1V 6PX)
#FashHack Funding Forum is organised mainly for entrepreneurs and investors, but also for groups and organizations involved in or interested in the development and transformation of fashion through technology, innovation and entrepreneurship:

- Discover the next big names in fashion tech and the investors who drive their innovation;
- Learn about how fashion tech works now and where it's going;
- Network with the leading fashion tech entrepreneurs and investors!