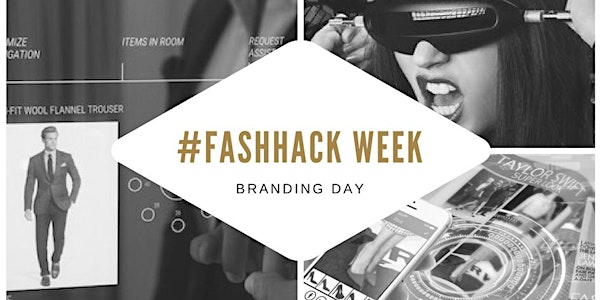 Fashion Tech Bootcamp // BRANDING DAY
When and where
Location
Futurice Ltd. 26-28 Underwood Street London N1 7JQ United Kingdom
Description
The FashHack Week is a 1-week programme of day workshops and evening events, taking place from 23. October to 26.October. It is aimed at fashion & retail tech startup founders to accelerate their companies.
In just one week you will learn from the leading fashion tech mentors, founders and investors. With the best tools and approaches at your disposal, you'll take giant leaps toward growing your fashion tech business.
25.10 Branding Day
It is particulary important to have branding at the forefront of thinking for a fashion tech startup. Even if your team is small and your product is not yet strong enough to go to market and frankly you need investment in order for the product to go ahead and grow, then branding and branding strategy, even at a basic level will show that you have thought about actual business affairs and the value and growth of your company. That is a much more significant prospect for investors and accelerators to invest in company. On 25.10 . will have a whole day of workshops and presentations about how to build your brand, that include:
1.00pm 'Tell Your Story Right: Narratives & Branding for Fashion Tech' by Denis Maksimov, Co-Founder at FA.BU.TEC
Storytelling is one of the most powerful ways to breathe life into your brand. A brand is a matter of perception. A brand story is a cohesive narrative that encompasses the facts and feelings that are created by your brand (or business, if you prefer). Unlike traditional advertising, which is about showing and telling about your brand, a story must inspire an emotional reaction. Denis Maksimov will speak about how myths and logics are intertwined in perception of value behind the products & services and give practical tips about telling your story right for customers, investors and general public.
2.00pm Branding Workshop by Nathalie Pannequin, Marketing Consultant, Director at SmOutCom
This workshop will aim to help you pin down your true brand identity and personality. Your brand is where everything starts so you need to make sure you are happy and aligned with the way it looks and feels from the get go. This workshop will enable you to have a clear idea of who your brand is at its core and how it should address its audience in the most honest and true-to-itself ways. The more your brand stays true to its core identity, the more it will speak to the right audience and in the most impactful way.
3.30pm 'Using DeepTech to Tell Fashion Stories' by Daniel Cheetham, Chief Interactive Officer at Happy Finish Global
Case Studies and overview of use of VR, AR, MR and AI in fashion communications to show the possibilities for discovering, exploring and selling all sorts of fashion products. The session will include a demo and trials at Happy Finish Immersive Tech Studio.