Event Information
Location
Twelve Atlantic Station: Midtown Atlanta
361 17th St.
Atlanta, GA 30363
Description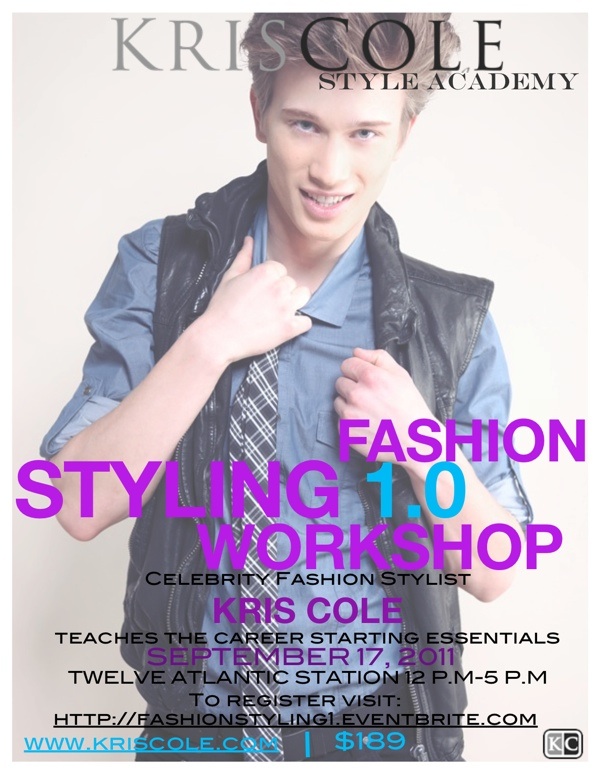 Fashion Styling 1.0 Workshop:
Atlanta
-The essentials to building a successful career in the fashion industry-
Fashion Stylist Beginner Training Course
Saturday, September 17, 2011
Twelve Hotel Atlantic Station
Course will cover:
Introduction To Fashion Styling as a career
Goal setting and moving forward with a plan
Testing with photographers, make up artist, hair stylist, models
Working with celebrities: Confidentiality, etiquette, do's and don'ts
Assisting Key Stylist, Getting on the assist list, Internships, Mentors
Creating a stylist kit: What goes in it?
Building your portfolio: Organization, flow, content, size, quality
Working on set and in studio, do's and don'ts
Organization tools: How to keep it all together
Social Media and it's importance in building your brand
Participants can take home:
30 page Fashion Stylist Handbook
Certificate Of Completion from Kris Cole Style Academy
2 hour ongoing coaching session from the Kris Cole team
Course participants may also purchase a beginner Stylist Kit
Spaces Are Limited Act NOW!
Get a 2-3 year head start on your competition!
Discover new and creative ways to build success in the fashion industry!
For Details
Dial: 404-271-3812
Email: courses@kriscole.com
Web: www.kriscole.com
Date and Time
Location
Twelve Atlantic Station: Midtown Atlanta
361 17th St.
Atlanta, GA 30363