| | |
| --- | --- |
| Fashion Show Benefit 2012 | |
Event Details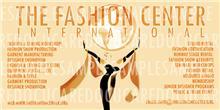 Fashion Center

International
Fashion Apparel Sewing Technology Center
Seeking Emerging/Student & New Fashion Designer to showcase their Collections at
Eastern University Multicultural Fashion Show 
Proceeds Benefits
Big Brother Big Sister of Southeastern PA.

The show will be held on April 21st, 2012 at Eastern University.
 Fashion Center International is seeking upcoming, new, student fashion designer to showcase their designs in an upcoming fashion event at
Eastern University on April 21,2012 .
 
TO BE INCLUDED SUBMIT YOUR NAME AND BRIEF SCRIPT OF YOUR DESIGNS OR SEND A LINK OVER TO YOUR SITE.
 We are interested in Designers with clothing consisting of the following categories:
 Style wise - Anything Urban, Chic, Retro, Bohemian or Futuristic. (Lots of colors... Neon, Pastels, monochromatic). Different is GOOD!
 
*Shabby Chic
*Swimwear
*Lounge/Casual
*Dress
*After 5
*Evening ,*Couture,*Urban Wear
 Fashion Center is always looking for talented professionals in the fashion apparel sewing industry. Candidates interested in participating with Fashion Center events should submit your resumes to FashionCenterPa@gmail.com. Please only send resume specific to the opportunity posting. All resume and letters of interest are kept confidential and on file for thirty days. Resumes that are of interest to The Fashion Center Employment Opportunities will be contacted via email.
Designers will receive pay compensation for participation in the fashion show.
For  more information .Please email your info to the above address:
Send a pic of your garment and why you would be interested in participating. Serious Replies Only!!!!!
Email:FashionCenterPa@gmail.com
Contact Fashion Center 215-285-7080 for more info
Designers will be asked to sign a fashion show waiver upon acceptance into the event. We look forward to participation.

Best,
Fashion Center International
 
Organizer
Fashion Center International
Fashion Center International is a Fashion Design and sewing  business located in Philadelphia.