Description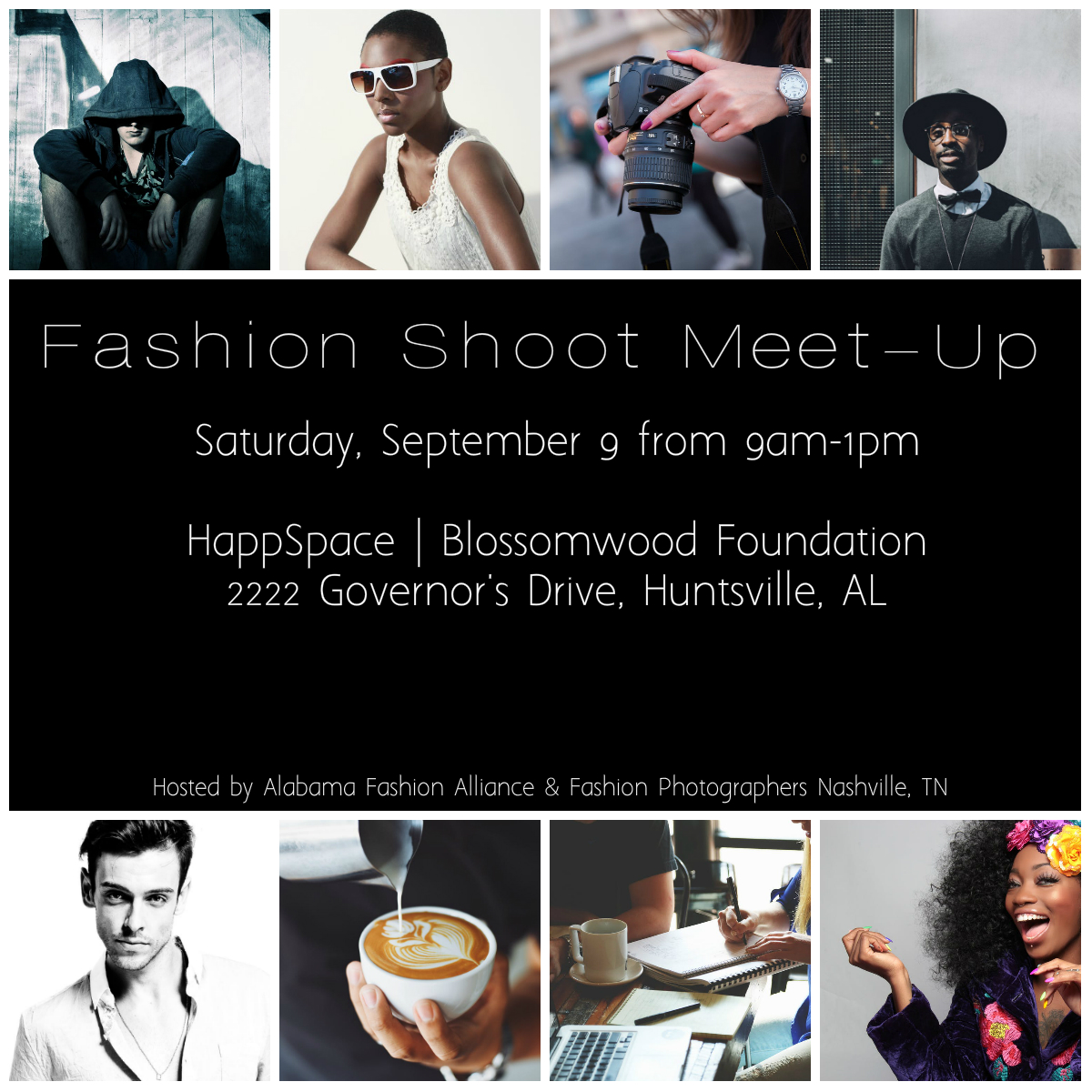 Fashion Shoot Meet-Up - Saturday, September 9 from 9am-1pm
HappSpace | Blossomwood Foundation - 2222 Governor's Drive, Huntsville, AL
Hosted by Alabama Fashion Alliance & Fashion Photographers Nashville, TN
REGISTRATION
Registration includes a special presentation on Success & Happiness by the owner of HappSpace, Jenny Juceviciute. Registration closes Sept. 3; Late Registration: Add $20 to regular registration fee, if registering after Sept. 3 - No refunds at any time.
FOOD
Morning Refreshments: Pastries, water, coffee
Noon: Sandwiches/Wraps, Chips, Beverage
MODELS
Models should bring at least 2 complete looks for photo shoot meet-up, however additional looks from retailers and designers will be available to choose from on a first-come, first-serve basis, size permitting.
HAIR/MAKE-UP
Models should come hair and make-up ready, bringing tools for on-site styling and touch-ups.
Hair and Make-up Services also available by On-Site Glam Team: $10 - Eyes - $20 - Eyes & Lips - $45 - Full Make-up - $45 - Full Hair - $20 - Hair Touch-ups.
SUGGESTED ITEMS FOR MODEL BAG-FEMALES
2 Complete Fashion Looks for Shoot. Please bring hair and make-up tools, strapless bra, shapers, black and neutral camis, black leggings, black or dark denim jeans, robe, lotion, sunglasses, important medications or special dietary foods/drinks. While we may have some shoes available, please bring fashionable shoes/strappy sandals (high heels mostly and flats) in neutrals and colors.
Please bring any hair and make-up tools. Bring black and white tee, under-shirt, robe, at least 3 pair of shoes to include casual, dressy-casual and/or dressy, important medications or special dietary foods/drinks. Feel free to bring accessories such as belts, sunglasses and watches/bracelets.
NOTE: NON-STREAK DEODORANTS | NO HEAVY COLOGNES
About
Blossomwood Foundation
Blossomwood Foundation was created in 2014 by Vito Pukis MD and Dzene (Jenny) Juceviciute, with the goal of providing the Nepalese people located in remote areas with basic healthcare needs, as well as access to food, clean water, and education. http://blossomwoodfoundation.org
ALABAMA FASHION ALLIANCE
Established in 2012 after the success of the first Fashion Week Alabama in 2011, Alabama founder/fashion designer LeJeune launched the Alabama Fashion Alliance (AFA), an all-volunteer group of passionate professionals, community leaders, and business owners that has been formed to work together for the common goal of uniting and advancing the fashion and fashion art industries - - locally, statewide, and nationally. Based out of the city of Huntsville, AFA organizes style-focused networking mixers and Huntsville's premier events, Fashion Week Alabama, Fashion WeekEND/Alabama & Fashion Forward Awards. http://www.alabamafashionalliance.com

Fashion Photographers Nashville, TN
Mission - Help others - Learning about our business and Networking. The group is for... Hair and Makeup Artist - Model's - Fashion Designers - Lighting Technicians - Photographers - Video Photographers. http://www.fashionphotographersnashvilletn.com/
Contact
Alabama Fashion Alliance - alabamafashionalliance@gmail.com
Fashion Photographers Nashville, TN - kenneth@kennethpurdom.com