Description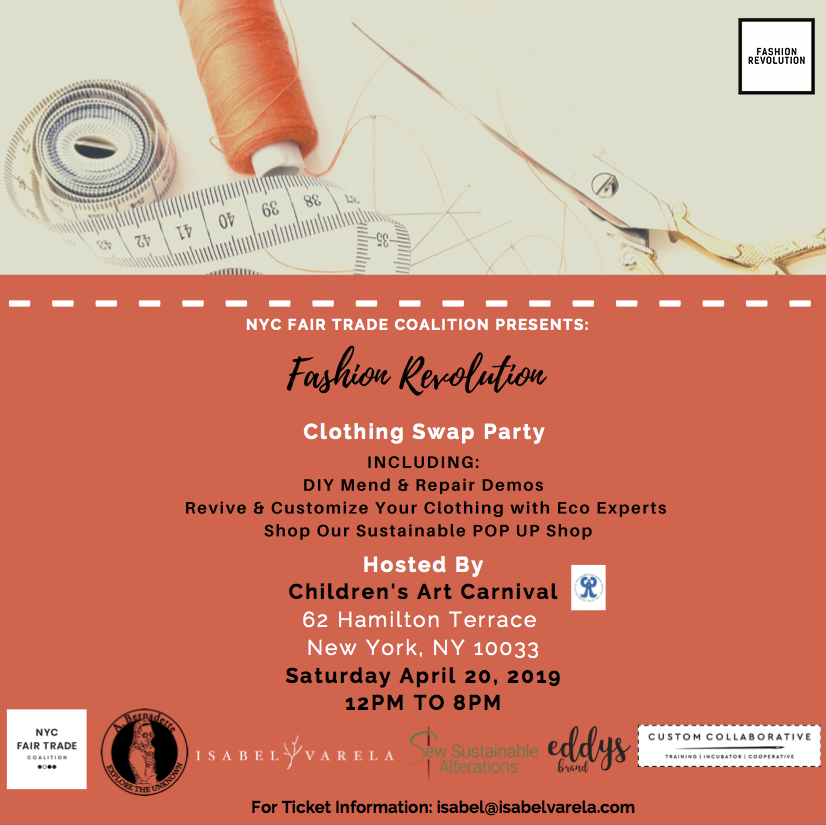 NYC Fair Trade Coalition Presents : Clothing Swap Party x REPAIR + REVIVE


We're kicking off Fashion Revolution Week with "swap and pop".
Join us on Saturday, April 20th from 12pm - 8pm as we gather with our expert makers and menders.
Marie Kondo your closets and meet us in Harlem!
Bring your gently used clothing; Women's, Children's, Men's + Accessories. Swap them for items that are "new to you" or repair + revive your own items with help from our members.
#ClothesArentTrash
-------------------------
Lost a button? Popped a stitch? Want to Upcycle that Old shirt into a bag?
Isabel Varela will be giving D.I.Y. demos all day and can help you upcycle your goodies!
#BuyLessSustainMore #SewingSustains
Need those old trousers to be shortened or maybe a little nip and tuck in the waist?
SewSustainable Alterations will keep your clothes longer by making alterations easy and convenient.
Have an old flame that needs re-kindling?
Custom Collaborative will have a menu of customization, personalization, and costs for your pieces in need of some love.
You'll have to temporarily part with these as the CC team works their magic…
---
In the market for new Fair Trade and Sustainable products?
We will have a few of our own NYC Fair Trade Coalition members at the Pop-Up selling products and some with lucky giveaways!
A Bernadette | Uganda-Made Bags |
Isabel Varela | Eco Fashion Disruptor | zero-waste bags|
eddys brand tiny sweaters | big impact
___
Oh, one more thing…there will be sweets, treats, and drinks!
___
The Fashion Revolution Manifesto:
"We are Fashion Revolution. We are designers, producers, makers, workers and consumers. We are academics, writers, business leaders, brands, retailers, trade unions and policymakers. We are the industry and the public. We are world citizens. We are a movement and a community. We are you.
We love fashion. But we don't want our clothes to exploit people or destroy our planet. We demand radical, revolutionary change. This is our dream…"
WHO IS NYC Fair Trade Coalition?
Join the NYC Fair Trade Coalition every 3rd Monday of the month for an evening of planning, organizing, and collaboration.

Learn how to get involved and push the sustainable fashion movement forward!

$8 to listen and learn.

$40 to join.
For more information please email :
Info@nycfairtradecoalition.org