Calling all models photographers make up artist designers hairstylist fashion entrepreneurs to join THE FASHION RETREATS !!! TULUM
About this event
Calling all models, photographers, make-up artist, designers, hairstylist, fashion entrepreneurs to join THE FASHION RETREATS !!!
This trip will  take place in TULUM, MEXICO  
please select flight to Cancun, A shuttle to and from the airport is included in your package upon arrival and departure
Flights are not included in any of our packages
Passport required
Departure dates
May-24-28, 2021
INCLUDES:
Exotic shoot locations 
Networking mixer and power-shoot 
Digital portfolio with 10 edit pictures 
Special group events 
Sponsored swim suits from international designer Beauty n The box
MODEL BAGS INCLUDING:
AGENCY T-SHIRT
AGENCY DIRECTORY 
AGENCY NOTEBOOK
PHOTOS FEATURED ON AGENCY SITE FOR BOOKINGS 
WHO'S INVITED? 
Models
photographers
Hair Sylist
Make-up Artist 
Accommodations (Double Occupancy)
Workshops, Excursions,
The Fashion Retreats Giving you the lifestyle you deserve
Do you have a friend, spouse or family member that would like to go with you? Discounted Guest Passes, and Parent/Guardian Passes also available. 
Model Mafia staff including runway coaches and pose instructors will be on site 24/7 
Select  photos will be published
Meet shoot and network with like minded models hair stylist make up artist photographers and designers world wide
WHAT YOU WILL LEARN IN THE FASHION WORKSHOP
Walking a Runway Powerfully and Confidently
Perfecting Posture and Undeniable Poise
Compiling Incredible Portfolio Pictures
Controlling Facial Expressions to Convey Tone
Conquering Castings with Confidence
Succeeding in Modeling Using Instagram
How to get paid
THE FASHION RETREATS ARE DESIGNED TO HELP YOU GAIN A SKILL SET, GAIN VALUABLE INSIGHT INTO THE WORLD OF FASHION , AND GIVE YOU A SOLID BASE IN WHICH TO BUILD A LONG LASTING CAREER.
Registration is now open. Payment plans available with no interest and no additional charges. Deadline and all balances due in full, 2 weeks prior to retreat start date.
For more details 800.539.6474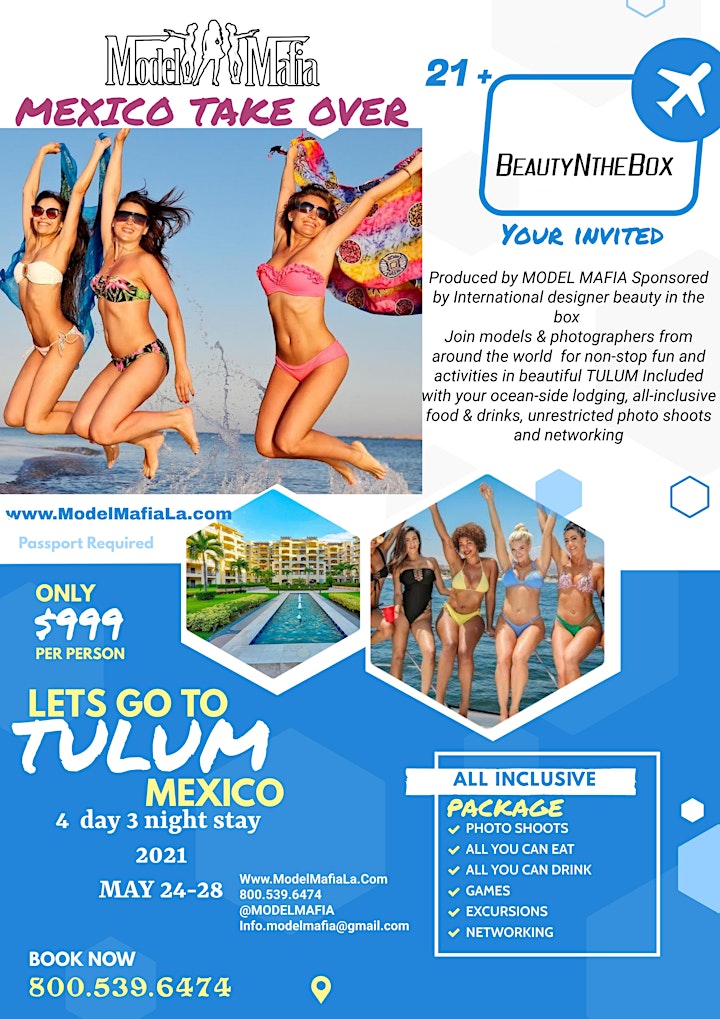 Date and time
Location
Refund policy