We're Back for our Fashion Industry Networking Mixer! Please join us as we safely reconnect in person. Please have proof of vaccination.
About this event
Bring plenty of your business cards and your best elevator pitch and join Black Accessory Designers Alliance for a fine evening of mixing and connecting with entrepreneurs in the fashion industry. If you're in design, digital marketing, graphic arts, finance, brand strategy, advertising, photography, blogging, fashion styling, etc. we want to see you in the backyard patio at Counter & Bodega at Seventh Avenue between 22nd & 23rd Streets. Appetizers will be passed around for a limited time. Drinks are available for purchase. Proof of COVID vaccination is REQUIRED. We look forward to meeting you!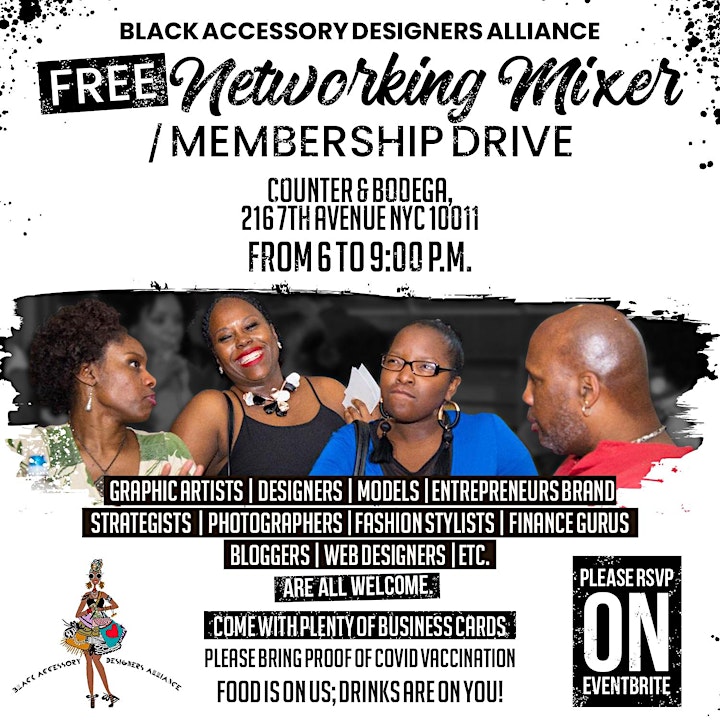 Organizer of Fashion Industry Networking Mixer
Black Accessory Designers Alliance, established in 2015, addresses a crippling divide in the fashion industry caused by a lack of meaningful opportunities for minority designers. We seek to elevate and increase the visibility of accessory businesses owned by designers of color by increasing opportunities for them to network with industry leaders and others. Our five main initiatives are:
 The Bi-Annual New York Fashion Week Pop-Up Soiree
During NY Fashion Week, we present the work of emerging and established accessory designers of color and invite fashion industry leaders, traditional press, bloggers, and the public to become acquainted with them and their designs. The event and participating designers have been featured in respected publications, both online and print.
 Panel Discussions and Networking Mixers
We host panel discussions and mixers throughout the year featuring up-and-coming designers and trailblazers who promote community development, collaboration, and cultivate networking opportunities. Handbag designer Monica Botkier, vintage style guru Jonathan Bodrick, celebrity wardrobe stylist Wouri Vice, and many others who are well-regarded in fashion have participated.
 Internships and Mentoring
Because of the importance of demonstrating to young designers the viability of their art as a career, we offer internships to NYC-area high school and college students. We have fostered relationships with the High School of Fashion Industries, Harvey Milk School, Harlem School of the Arts, and Henry Street Settlement.
 The Database of Accessory Designers of Color
As members of the community we serve, we often hear from potential consumers that they don't know how to find products by designers of color. We are creating an online directory of designers in all accessory disciplines—including bags, contemporary jewelry, and millinery—that will be featured on our website www.badaunite.org.
 The Store & E-Commerce Site
Items created by participating designers are sold at Vedazzling Accessories Boutique and on www.vedazzlingaccessories.com.