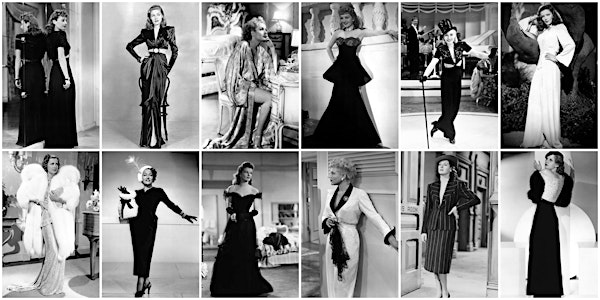 FASHION IN FILM OF TCMFF 2019 w/ host Kimberly Truhler
When and where
Location
THE WOMAN'S CLUB OF HOLLYWOOD 1749 N La Brea Ave Los Angeles, CA 90046
Description
The theme of the 2019 TCM Classic Film Festival (TCMFF) is Follow Your Heart: Love at the Movies, and the movies chosen for the 10th anniversary of the festival will celebrate love in all of its forms.
There's no question that costume design contributes to the ongoing legacy of classic cinema so, in what is now an annual talk, historian Kimberly Truhler will take a look at the FASHION IN FILM OF TCMFF 2019.
Truhler will select about ten films from this year's festival programming and delve into the stories behind their style. The presentation will include movie stills and images from today's fashion accompanied by a conversation about film history, costume and fashion designers, and fascinating backstories of the stars.
Past films that have been featured in these talks are shown in the collage and include STAGE DOOR, LEAVE HER TO HEAVEN, RED-HEADED WOMAN, HIS GIRL FRIDAY, THE PALM BEACH STORY, WOMAN OF THE YEAR, and THE LADY EVE.
As most know, costume design is integral to plot lines and helps establish character. Many of the leading ladies were also close with their costume designers, so you can get great insights into their lives and see the evolution of their own style. You'll also discover how much these costumes continue to influence fashion today.
The talk will be held once again at The Woman's Club of Hollywood, which has its own rich history. Names associated with the place include Gloria Swanson, Charlie Chaplin, Jean Harlow, and Edith Head. The Club will be open for tours as of 5:00 pm leading up to the 6:30 pm start time of the talk. Refreshments will be served.
Details:
Date: Tuesday, April 9
Time: 6:30 pm to 8:00 pm (tours as of 5:00 pm)
Ticket prices: $10 on Eventbrite / $15 at the door
Learn more about historian Kimberly Truhler at: www.GlamAmor.com
*This event is not affiliated with the TCM Classic Film Festival