Description
Peek into the Fashion World through the Art of Fashion Illustration
Do you or someone you know love fashion and want to learn how to draw like a designer? Join this workshop to start expressing yourself! Spend an afternoon learning, drawing, and designing with fashion illustrator Velvet Kat

Reserve your Spot Today! Only 7 In Person and 24 Online openings per workshop
You can also take advantage of these discount codes with friends and family!
2 people get 20%OFF, use code DOUBLES

3 people get 30%OFF, use code TRIO
---
WORKSHOP DETAILS
This 4 hr workshop is perfect to get you started with illustration! So that you don't feel nervous about your drawing skills. You will study the human body structure and learn to draw the front, back, side, and angle poses, along with face, hair, light and shadows, and how to use paint. This will be a very focused session to get your drawings popping out of the paper!
Basic supplies will be available at the workshop, such as magazines, paint, brushes, pens, and pencils. All you need to bring is:

9x12 or 11x15 Watercolor Paper Pad and Tracing Paper Pad (Available at WalMart, Michael's, Target, Blick's, and all art supply stores)
BONUS 1:
The class will include a fun homework assignment at the end of our session and an individual 30-minute Follow Up Skype call, where we will go over your artwork and you can ask any questions you might have :)
BONUS 2:
FREE Access to the VK Business & Fashion Network for 2 months! A subscription-based inspiring and educational resource with video tutorials, articles, and downlable content.
BONUS 3:
25%OFF more One-on-One Lessons on advanced illustration, digital illustration, fashion design, and business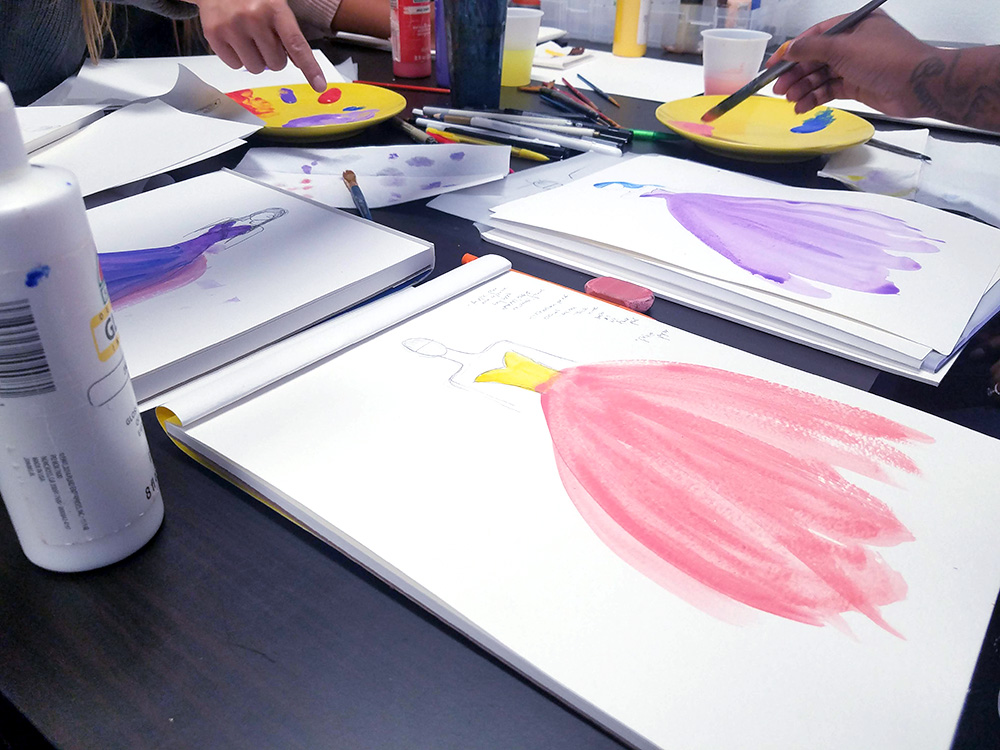 ---
CHECK OUT WHAT PAST STUDENTS HAVE SAID!

"Angelica is passionate about her work and the passion shows in her teaching. She is extremely patient and creates an engaging environment for beginners like myself to explore our creativity. I have learned more in a single session with Angelica than I have with previous instructors at professional art studios" - Cynthia

"Angelica's fashion illustration class was amazing! Right from the start we took pencil to paper and had the basics we used to build upon. We left with three drawings, one of which we used a watercolor technique, along with tips of drawing wardrobe, faces, and hair. Angelica's clear instruction and kind encouragement instilled confidence and was much appreciated. Even if you have no backgroung in art, you can positively take this class and be amazed that you can draw too!" - Sunny

"Learning fashion illustration from Angelica was so much fun! I learned a lot from her, and in just a few short hours could sketch a full figure! I definitely recommend taking her workshop, wether you're a beginner or already know the basics, it's a great workshop to take" - Lauren
"Angelica was amazing!!! I went into the illustration class for beginners with very little knowledge on where to begin- and left feeling at ease! She was patient with the class and super knowledgeable! The class was hands on & Angelica was kind enough to check every detail with every student to ensure we were learning. What I love is, she didn't overwhelm the class and was able to give attention to each of us as we learned, and she transitioned us to water color seamlessly. I'm looking forward to the next step in the 3-day illustration class!" - Trishton

---
>>> Check out my Other Workshops! <<<
FAQs
Are there ID or minimum age requirements to enter the event?
This workshop is for teens 11-17 years of age and parents. Bring your ID's. There will be a sign in sheet and name tags.
What can I expect with the Watch LIVE ticket?
A smartphone or tablet or laptop or desktop with webcam would all work great for watching the workshop LIVE. Have Skype installed. Immediately after purchasing ticket, send me a Request to Username fashionacademynet, so that I can add you into the proper workshop group. 5 minutes before the workshop starts, I'll video call your group, and you'll be able to type in questions :)
Is there anything I should know about the day of?
Please arrive between 11:30am till noon. I'll be downstairs at the entrance letting everyone in. After that, I don't want to interrup the lesson with everyone that's arrived on time, for those that don't. Make sure to use your BEST contact email and phone number, so I can easily text you or answer your call :)

What are my transportation/parking options for getting to and from the event?
Public transportation is all around, with the closest Metro station being 7th/Metro, which is where Red, Purple, Expo, and Blue Line connect. Unfortunately, this office doesn't have parking, but there are lots of parking lots around for a fee.

Can I bring guests?
Tickets are per person only. There is limited space in my office, so no extras allowed. Parents can come up with students, but then they have to leave the building if they didn't purchase a ticket. There are lots of restaurants and cafe's around for them to wait comfortably.
What if tickets are sold out?

PLEASE DO NOT SHOW UP WITHOUT HAVING RESERVED A PAID TICKET. Choose the Waitlist ticket or check out my other workshop dates! :)

How can I contact the organizer with any questions?
You can email angelica@velvetkat.com , text 323-380-8688 , or send a message to Facebook page Velvet Kat Art

What's the refund policy?
You can cancel a week before workshop date for full refund. After that, only 50% refund will be available, even if you don't show up.

See you soon!