FASHION FOR FIGHTERS☆Embassy of New Zealand☆Red Carpet Gala
Event Information
Location
Embassy of New Zealand
37 Observatory Circle Northwest
Washington, DC 20008
Description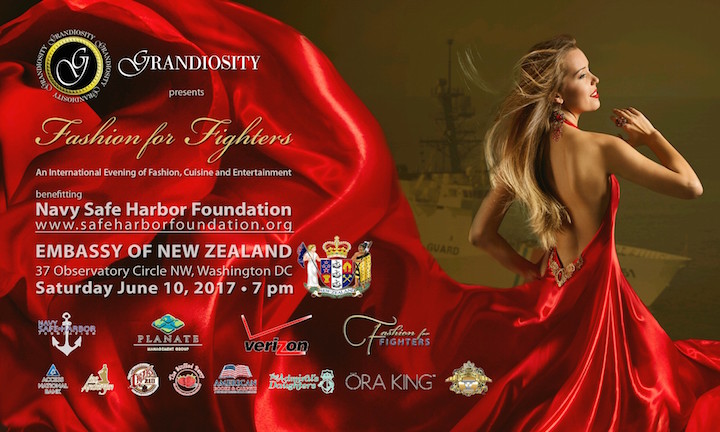 AN INTERNATIONAL EVENING~RED CARPET GALA. A Grandiosity Events production
Fashion for FIGHTERS is presenting its 3rd annual FASHION SHOW at The EMBASSY OF NEW ZEALAND, SATURDAY, JUNE 10th 2017 benefitting http://www.SafeHarborfoundation.org
This will be the GRANDEST RED CARPET GALA featuring an International fashion show•Fancy hors d'oeuvres with succulent New Zealand lamb chops•chef prepared salmon dishes sponsored by Ora king salmon• premium cocktails •red and white wine exclusively from NZ • a cigar tent • silent auction featuring a private yacht for 4 hours/ 8 guests tour along the Potomac River(starting bid $2000)• sports memorabilia and more• live auction featuring a 6500 sq.ft Private villa in COSTA RICA for 5days/5nights as featured on HGTV HOUSE HUNTERS INTERNATIONAL(starting bid $5000)• gift bag giveaways from UNILEVER,•DOVE •LUXOTTICA Designer frames& ICEBREAKER•Live Jazz entertainment by Dr. Phils Sunset band•DJ•and VIP guests in attendance from around the globe!!
ELECTRIFYING VEHICLES will be on site!
▪▪▪▪▪▪▪▪▪▪▪▪▪▪▪▪▪▪▪▪▪▪▪▪▪▪▪
~~~~~~~~~~~~~~LIQUOR SPONSORS~~~~~~~~~~~~~
Macallan 12 Scotch•Titos handmade Vodka •Redemption RYE WHISKEY •Brugal Rum•Hennesy VSOP privilege
~~~~~~~~~~~W I N E◇S P O N S O R S~~~~~~~~~~~
TEN SISTERS & Artisans and Vines FROM NEW ZEALAND
▪Complimentary valet ▪Cuisine▪Fashion Show•Cash bar ▪Live Entertainment ●Dress To Impress•Cocktail/Black tie attire/military uniform (active & retired) highly suggested!
The Graham Hotel▪Georgetown▪ DC▪will be the host hotel for Fashion for Fighters guests
1075 Thomas Jefferson st NW Washington DC
EMBASSY special rate $259 w code: EMBNEW
www.Thegrahamgeorgetown.com [Book Today]
☆☆☆☆☆☆VIP guest speakers☆☆☆☆☆☆
♢Ambassador of New Zealand...Tim Groser
♢Navy Safe Harbor foundation President, RADM (retired) Chris Cole
♢Navy Safe Harbor foundation founder, Commander (retired) Chris Decker
◇Navy Safe Harbor Foundation, Admiral Jim Amerault
◇Access National Bank, Chief Banking Officer Bob Shoemaker
☆Emcee Media Personality Fox5DC/#HeyFrasePodcast SARAH FRASER☆
☆UNILEVER executive Toby L. Tyler
☆☆☆☆☆▪▪VIP Guests☆☆☆☆☆
Ms. Grand Venezeula (2014) Alix Sousa
Md state Delegate, The honorable Dr. Jay Jalisi
Councilman William "Pete" Welch (Balt,9th dist)
Shomari Stone, NBC DC 4 news reporter
Corey Parker Robinson (HBO The wire)
Dr. Ron Layton (Deputy Secret Service )
Sirius XM Motivational Speaker, Dr. Willey Jolley
Professional sports athletes from the Washington Redskins and The Washington Nationals
Titled pageant holders
THANK YOU TO OUR SPONSORS ON DECK !
UNILEVER■Access National Bank■ORA KING New Zealand Salmon■ Verizon■KENDRA SCOTT JEWELRY■Planate Management■American HealthcareLLC■Icebreaker■American Books and Carpets■ The Stuffed Berry ■Keller Williams Excellence■Delmock Technologies■ United Transitions of America■Cigars210■Mila Fashion■Josies Faces■Sondra Lewis Beauty■ Robert Lewis Salon■AlexandriaDianna■Fortune 5 water■Lee Anderson Designs & ManneqArt■Island Quizine■Luxottica gifting designer frames ■Thomas Jay
THANK you TIFFANY&CO TOWSON TOWN CENTRE for your donation of TIFFANY&Co gifts to our GRANDEST sponsors!
Thank you McCormick Spice company for your generous donation of $112,000 to NAVY SAFE HARBOR FOUNDATION!
Inspired by the military community, Navy Safe Harbor foundation was created to efficiently identify and meet the needs of recovering Sailors, Coast guardsmen, merchant marines and their families. NSHF will fill the gaps of current non medical provisions through collaboration with Federal and community resources. NSHF wants to ensure that every service member is given an opportunity for full recovery by providing financial assistance, respite care, special equipment, transportation, recreational opportunities, and other services. The Navy Safe Harbor foundation is dedicated to supporting the recovery of seriously wounded, Ill and injured Sailors, Coast guardsmen, and their families by assisting them with the resources not currently provided by government or community resources.
●TO PAY SPONSORSHIP OR DONATE BY CHECK,PLEASE SEND CHECK TO:
Fashion for Fighters Foundation▪ 3631 Ransom place▪Alexandria▪VA▪22306
*Guest list STRICTLY ENFORCED*
The Navy Safe Harbor foundation is an IRS recognized 501 (c) 3 tax exempt non-profit organization. The NSHF is not affiliated with three United States Navy, Coast Guard or Department of Defense.
Date and Time
Location
Embassy of New Zealand
37 Observatory Circle Northwest
Washington, DC 20008