Description
Inspired by the bohemian vibe of Los Angeles, Stone Savant Jewelry emerges on the fashion scene with an enlightened outlook on ingenuity and style. The budding brand, lead by designer Danielle Hinton, plays hosts to the combination of delicate yet bold stones with a perfectly crafted cadence of hues, weight and luxury. Named after beloved global destinations, the infant brand provides a panorama of sumptuous travel, deeply-rooted culture and opulent energy.
Join us for an evening of fashion, style and ambience as designer Danielle Hinton shares the new collection of Stone Savant Jewelry.
Cocktails and Confections Provided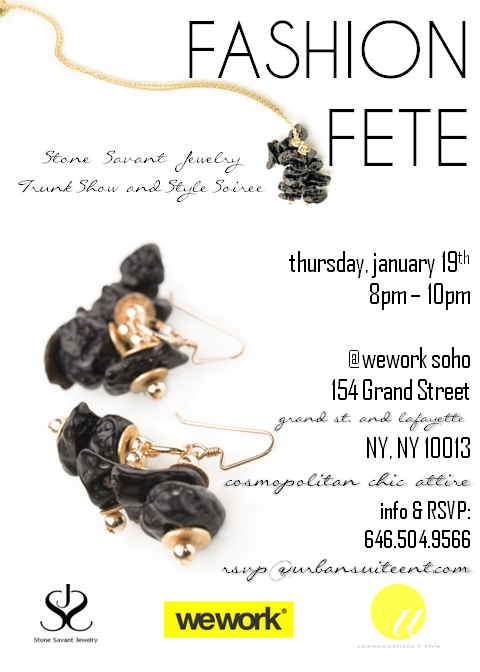 Organizer of Fashion Fete: Stone Savant Jewelry Trunk Show & Style Soiree
Urban Suite Public Relations is a full service Marketing, Public Relations, and Communications firm based in New York City. Since 2005, our firm specializes in Fashion, Beauty, and Lifestyle brands. Whatever our client may dream or fathom, we deliver.
The approach to brand visibility and publicity are changing. At Urban Suite Public Relations we are truly proactive with our initiatives and most importantly, our ideas. This isn't your mother's PR firm. We are a firm that strategically communicates your brand message with a concise and innovative method. Press releases alone no longer meet the status quo. Our firm creates brand messaging that is captivating, current and inventive.
Urban Suite Public Relations is in the business of building and publicizing brands. Through our innovative marketing and PR techniques, we are sure to take your company to the upper echelon of brand visibility, revenue and industry exposure. With our countless contacts and media partners, we will catapult your company exactly where you want it to be.
What do we do? We make your brand GROW, SHINE, and SOAR.