Location
Lower Heights District
2770 Summer Street
(Park near Total Wine)
Houston, TX 77007
Tidbits has teamed up with local, independent brands for a spring Fashion Farmers Market.
About this event
Tidbits is excited to announce the return of the Fashion Farmers Market. Our indoor market includes a stem bar, double ear piercing, build-your-own hat and so much more.
All tickets include a cocktail!
Bring your friends and stroll our vendor stalls to shop gifts, jewelry, apparel, accessories, housewares, art, artisan goodies and more from local brands, including:
Andrea Montgomery // Ann + Reeves Kids // Anvil Cards // Arloom // Bumble & Brim Hat Co. // Carla Valencia // Cheeky Vintage // Christy Lynn // Confettees // Dos Margarita Salsa // DYI // EDIT Goodies // Edith Hour // Flora Cocina // Frankie + Flora // Fraulein Boots // Gather Goods // Golden Thread // Hibiscus Linens // Hunter Bell // Kalos Eidos Wild Blooms // Kimono Zulu // Kind Collective // LeMel // Madame de la Maison // Margarita Mercantile // Meraki Wayuu // Modern Vintage // Naked Natural // Saturday Silks // Semilla Baking Co. // Shop 1988 // Spice Paper Designs // Sweet Elaine's Bakery // The Pink House Design // Transparent Sunglasses ... and more!
You can choose one or all ticket types! Tickets will not be available for purchase at the door.
General Admission tickets are $5 and include a cocktail. General admission shoppers choose from the time slots below.
11 a.m - 1 p.m.
1 p.m. - 3 p.m.
3 p.m. - 5 p.m.
Flower Arranging Workshop tickets are $55 and available for purchase here. Your ticket to the 2 p.m. workshop includes a glass bubble vase, all materials, fresh flowers, live, in-person instruction all-day access and cocktail.
Monogrammed Market Tote tickets are $25 and include a custom-monogrammed 100% cotton tote, pictured below, upon arrival, all-day access and a cocktail. Your custom vinyl-stenciled tote in the color of your choosing is for shopping; you will receive it empty (it is not a goody bag).
Flower Crown tickets are $40 and include a handmade, everlasting dried flower crown (pictured below) upon arrival, all-day access and a cocktail. Does not include gift bag.
VIP tickets are sold out.
Kids under 12 are free.
Want to get your ear pierced on-site? Schedule your appointment, and get all-day access to the market. At the market, you will select your single or pair of earrings for an additional charge.
Interested in becoming a vendor? shop@gotidbits.com
Advanced online tickets are required. No walk-ups allowed. Sorry, no refunds after purchase.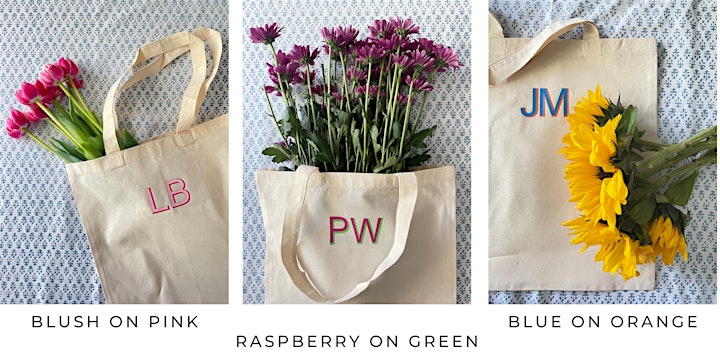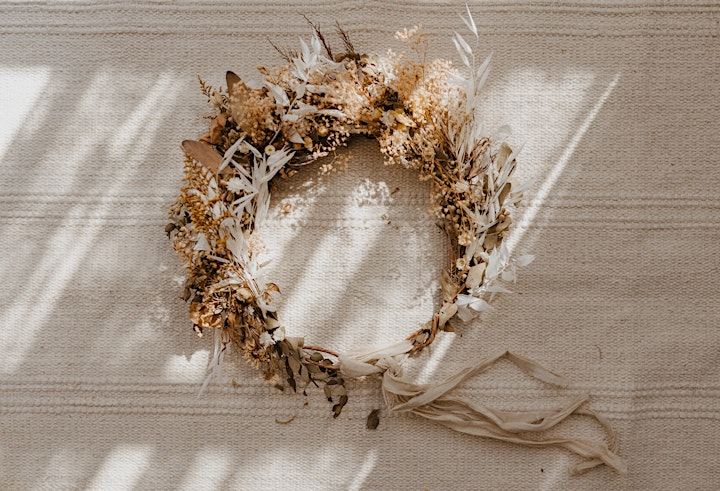 Frequently Asked Questions
1. Where does the event take place? The Fashion Farmers Market will be held in all-new venue, located at 2770 Summer Street. Our 10,000 square foot space shares a parking lot with Total Wine. Look for the balloons!
2. Where do I park? There is plenty of free, surface parking in the Total Wine parking lot.
3. When does the Floral Arranging Class take place? Our bouquet arranging class takes place at 2 p.m. inside the market. Get your ticket here.
4. What is there to do besides shopping? Expect a green carpet arrival, on-site ear piercing, a Stem Bar, a Build Your Own Hat bar, spring-floral photo ops, the chance to drink edible flower cocktails, a Custom Patch Bar and much, much more. Our experiential market allows you to spend time with the women behind our favorite local, independent brands.
5. I want a custom tote. How do I tell you my color choice? Your monogrammed tote will be waiting when you arrive! When you purchase your ticket, enter your two-initial monogram and choose between three color ways: Blue on Orange; Blush Pink on Pink, and Raspberry on Green. The 100% cotton 15"x16" natural tote is custom-vinyl stenciled. Makes a great gift!
6. How do I order more than one tote? Purchase more than one Monogrammed Tote ticket.
7. Where do I get my flower crown? So that you can pose at our floral wall photo op, your handmade, adjustable, everlasting flower crown will be waiting for you at check-in. The beautiful accessories are by local Kalos Eidos, a female-owned vendor you can meet at the market.
8. I'm purchasing a General Admission ticket. Why do I have to choose my time slot? For crowd control purposes, we sell tickets for two-hour shopping slots. If you want to shop longer, please purchase two tickets.
9. I want to get my ear double-pierced at the event. How do I book my appointment? When you book an online appointment with LeMel's registered nurse, your access to the market is complimentary. Reservations required for piercings; no walk-ups. At the event, you will choose your single earring or pair of earrings at an additional cost. Piercing is available for children and adults.