Description
Join Houston Young Professionals and our featured non-progit Sky High!
Our Chair and Co-Chair are:
Brittany Hebert with SKY HIGH and Logan Lester former Miss Houston.
Guest will have the opportunity to visit with both Brittany and Logan and learn more about how they can help bring awareness and fundraise for Sky High while they shop and sip on some sparkling wine complimentary by J. McLaughlin .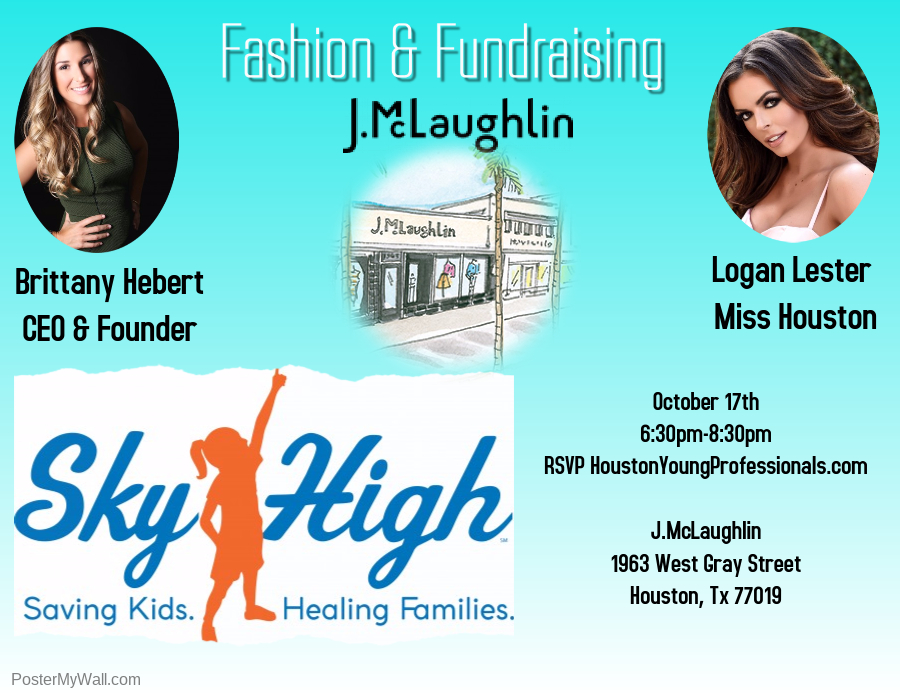 About Sky High:
SKY HIGH BRINGS COMMUNITIES TOGETHER THROUGH FUNDRAISING EVENTS TO PROVIDE COMFORT, FUND RESEARCH, AND SAVE LIVES OF CHILDREN FIGHTING PEDIATRIC CANCER AND OTHER LIFE-THREATENING CONDITIONS.

Sky High, founded by Abbeville, LA native Brittany Hebert, is a 501(c)(3) nonprofit organization comprised of staff, board members and an army of volunteers. Their mission is to bring communities together through fundraising events to provide comfort, fund research and save lives of children fighting pediatric cancer and other life-threatening conditions. Since 2007, Sky High has donated over six million dollars to St. Jude Children's Research Hospital, Texas Children's Cancer Center and the Ronald McDonald House of Memphis amongst others.
Sky High raises funds by hosting a variety of events including concerts, golf tournaments, sporting clay tournaments and more! Our events are some of the best in Texas and Louisiana and include great good, silent/live auctions, prizes, games, music and a balloon release to commemorate the kids who have earned their angel wings.

If you are interested in becoming an active part of Sky High, please visit our donations page, our volunteer form or contact us today to learn more!