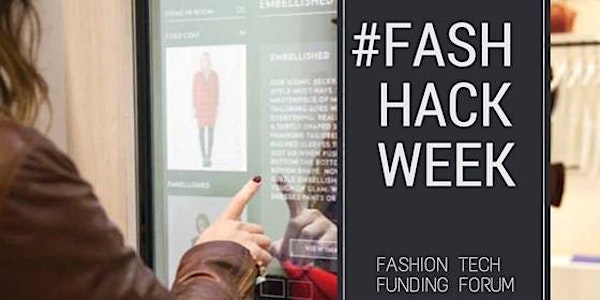 #FASHHACK WEEK // Fashion Tech Funding Forum
When and where
Location
LABS 136 High Holborn London WC1V 6PX United Kingdom
Description
From 3d printing, retail e-commerce, virtual reality, connectivity, wearables and internet of fashionable things, technological disruption (and opportunity) is impacting Fashion industry in diverse and unprecedented ways.

Are you interested in the development and transformation of fashion through technology, innovation and entrepreneurship?

- Discover the next big names in fashion tech and the investors who drive their innovation;
- Learn about how fashion tech works now and where it's going;
- Network with the leading fashion tech entrepreneurs and experts!
Agenda:
6.30pm - Arrival and Networking
7.00pm - Startup Presentations
7.20pm - Panel Discussion
8.00pm - Drinks and Networking
Presenters:
- Benjamin Males is the founder of XO with unique experience in building tech start-ups and creative agencies in the internet of things and wearable technology space. He co-founded XO, an app-connected fashion brand for Gen-Z which has been identified by Forbes as "one to watch" in wearables. Studio XO's work includes a flying dress for Lady Gaga, Wireless DMX controlled LED stage costumes for the Black Eyed Peas, laser garments for an Absolut Nights party and most recently a collaboration with Lady Gaga on her award-winning 58th Grammy's performance for Intel.
- Holly Dunlap started her career working as a fashion stylist & designer, and then launched her own brand HOLLYWOULD, which was distributed worldwide and sold to a large American fashion group. Throughout her career she saw a need for a more centralized way to find and hire talent for fashion shoots & videos, and her new company Stylindex was born from that necessity. Stylindex hosts portfolios of over 7,000 of the industry's top creatives, and will grow to over 15,000 portfolios by the end of this year. It is used by brands like Amazon Fashion, Browns, and Net-a-Porter, and is quickly becoming the digital black book of the global fashion industry.
- Robin Wong is the CEO of CUSTOM, an Influencer Commerce platform powered by AI that makes it easy to discover and shop live trends from across the world of social media. Robin brings 18 years of experience working in the Tech and Creative Industries to the business. Prior to setting up CUSTOM, Robin set up multi award-winning digital production company WEIR+WONG in London, which worked primarily for Google Creative Lab - the innovation hub for Google. He has a long track record of pioneering the use of data and innovative technologies that have captured the attention of millions of people, particularly in the field of social media, where CUSTOM now focuses.
Panellists:
- Tom Fleming is the co-founder of Venrex, which raised its first fund 14 years ago. It has invested in over 60 businesses including Charlotte Tilbury, Orlebar Brown, Notonthehighstreet, Lyst, Skimlinks, OTA Insight, Lovecrafts, Opus energy and Just Eat.
- Hannah Williamson, joined Edge in 2015, her role includes supporting the Investment Team with deal flow generation and assessment, particularly focusing on retail tech and content businesses. Prior to Edge, Hannah worked at the online retailer ASOS for 3 years, within the operational side of the business. Hannah holds a first-class honours degree in Fashion and Textile Management from Nottingham Trent University.
- Charles Canning-Smith, Managing Partner at Ballpark Ventures Charles is a successful entrepreneur and investor, based in Australia these days, having launched mobile start-ups in LATAM, New Zealand, South Africa, Scandinavia and the UK. Charles is also a managing partner at Ballpark Ventures, a boutique venture capital firm with a focus on early-stage technology segments. To date, Ballpark Ventures has invested in over 20 companies covering sectors such as fashion technology, location & behavioural mobile advertising, cognitive mapping and AI. The Ballpark Ventures portfolio include companies such as Unmade, Depop, Appear Here, Blis and Shopological.
Moderator:
Jacqueline Watts is an Associate Company Commercial Solicitor at A City Law Firm. The firm is an innovative specialist practice in the City. She works closely with clients throughout the life of their businesses; from inception, through investment and onto exit. She has developed a strong specialism in emerging and innovative technologies as well as representing many companies when taking on investment. Preparing, advising & assisting companies during their investment rounds, scale up and exits. She has worked with both exciting FashTech and FinTech companies along with numerous other disruptive businesses. A City Law Firm, voted London's Most Innovative Law Firm & winner of the top 100 businesses for the legal sector, is a leading law firm for entrepreneurs, start-up & scale-ups as well as for larger corporate businesses. It is our people who set us apart.
This event is part of The FashHack Week, taking place from 23. October to 26.October and aimed at fashion & retail tech startup founders to accelerate their companies. The entry is free for all the #FashHack Week tickets holders.