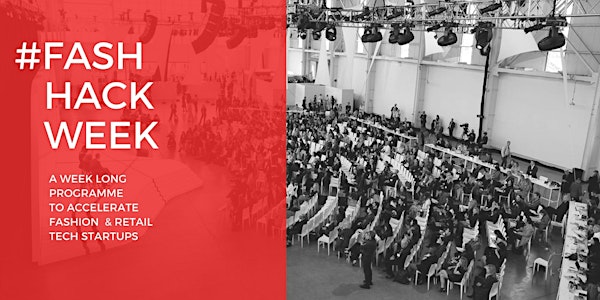 #FASHHACK WEEK - Fashion Tech Bootcamp
When and where
Location
Old Street LONDON United Kingdom
Description
The FashHack Week is a 1-week programme of day workshops and evening events, taking place from 23. October to 26.October. It is aimed at fashion & retail tech startup founders to accelerate their companies.
In just one week you will learn from the leading fashion tech mentors, founders and investors. With the best tools and approaches at your disposal, you'll take giant leaps toward growing your fashion tech business.
- Receive mentorship and collaborate with participating fashion tech companies, investors, and the fashion tech experts.
- Take part in workshops and panel discussions on issues relevant to fashion technology companies, such as growth, marketing and scalability, technology and user experience, branding, and broader industry trends.
The programme concludes with selected founders presenting to fashion and retail executives and investors at the Fashion Tech Funding Forum.
"There is no higher God in Silicon Valley than growth". Fashion Tech startups have to grow fast. Being newly founded does not in itself make your startup a company, nor is it necessary for you to work on technology, or take venture funding, or have some sort of "exit strategy". The only essential thing in the early stage is growth. The good news is, if you get growth, everything else tends to fall into place. During the first day we will concentrate on all the aspects of growth for your fashion tech startup. Location: Cocoon Networks London 4 Christopher Street London EC2A 2BS
11.00 Hyperscale and Microcare: Secret Ingredients for Success
12.00 Digital Marketing Tools and Techniques
14.30 Lean Pricing Strategies for Startups
16.00 Legal Issues and Traps for Fashion Tech
18.30 Evening event - The Future of Retail - Startup Driven Innovation
The MVP (Minimum Viable Product) is great for startups and product teams because it maximises validated learning about customers as quickly as possible. However, it is important to constantly re-evaluate what is the right way to maximise learning while pleasing the customer. While building your fashion tech MVP, your product has to be lovable. People have to want to use or buy it. Products that have less features but are loved, are the most successful. There are many ways to generate love. The current-in-vogue way for fashion tech startups is through great UX and design. On the second day of the bootcamp week we will have talks and workshops on how to build a great product. Location: Futurice Ltd., 26-28 Underwood Street, London N1 7JQ
13.00 TechTalk for Fashion Tech - Dos and Donts for Fashion Tech Product Developement
13.30 Product and Service Design for Fashion Tech Startups
15.00 IP for Fashion Tech Startups
16.30 Case Study 'VIP Fashion Tech // How Technology is Changing Luxury Customer Journey'
It is particulary important to have branding at the forefront of thinking for a fashion tech startup. Even if your team is small and your product is not yet strong enough to go to market and frankly you need investment in order for the product to go ahead and grow, then branding and branding strategy, even at a basic level will show that you have thought about actual business affairs and the value and growth of your company. That is a much more significant prospect for investors and accelerators to invest in company. That is why we will have a whole day of workshops and presentations about how to build your brand. Location: Futurice Ltd., 26-28 Underwood Street, London N1 7JQ
13.00 Tell Your Story Right: Narratives & Branding for Fashion Tech
14.00 Branding Workshop
15.30 Using DeepTech to Tell Fashion Stories
Fashion's rapid and dramatic transformation continues to create new winners and losers and investors are constantly looking for the disruptive concepts that are here to stay: AR/VR/AI, 3D printing, wearables, outsourcing, insourcing, ethical sourcing, accelerating trend turnover, fit solutions, visual search, customization, personalization, contextual commerce, sustainability, fast fashion, and of course, data data data. On the 26th of October we will have a full day of sessions to introduce the key concepts on raising capital, starting with where to find investors and finishing with how to pitch to them. Whether you are raising through VCs or angel investors, by the end of the day you'll have a better understanding of this process. Location: Futurice Ltd., 26-28 Underwood Street, London N1 7JQ
13.00 Investment Workshop for Fashion Tech
14.30 How To Pitch Like A Rockstar
15.30 Five tell tale signs your pitch isn't working
16.00 Key Legal Points for Investment Readiness
18.30 Evening event Fashion Tech Funding Forum .Address: LABS, 136 High Holborn, London, WC1V 6PX