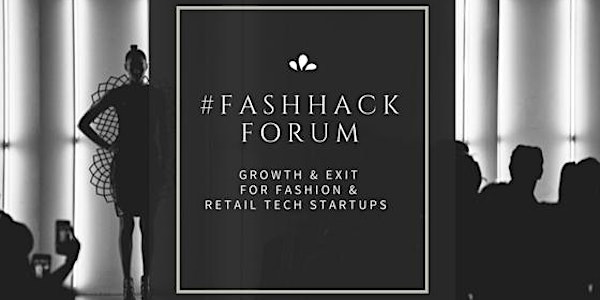 #FASHHACK FORUM - Growth & Exit for Fashion & Retail Tech Startups
When and where
Location
Bird & Bird LLP 12 New Fetter Lane LONDON EC4A 1JP United Kingdom
Description
London is the European capital for exits in the technology sector with more deals involving startups from the city than the next six top cities in Europe combined, including Berlin and Paris.
Fashion & retail tech startups need to build a growth plan and exit path at some point of their life cycle to unlock the value created and to maximize the chances of their founders and investors making financial returns.
During this event we will look into different growth and exit stories by fashion and retail tech startups and investors. This event is both for early stage investors as well as for founders wanting to build a company towards a successful exit.
Agenda:
6.30pm Drinks and Networking
7.00pm Panel Discussion
8.00pm Drinks & Food and Networking
Confirmed Panelists:
Sach Kukadia, the co-founder of SECRETSALES.com. Sach co-founded the company in 2007 with his older brother Nish at the tender age of 23. Having just graduated from university 6 months prior, Sach and Nish identified an opportunity in the UK market and decided to launch the UK's first flash sales platform. The company has raised £18 million from Venture Capitalists and Private Equity firms to aid acceleration and growth with a continued focus on the UK. The company was recently acquired by Exponent Private Equity in Feb 2017.
Sach has been awarded Debrett's 500 Most influential in Great Britain (2015 & 2016) ; Top 100 BAME Leaders in Business 2016; Etail Power List top 50 (2015 & 2016); Entrepreneur of the year 2015; Fashion Entrepreneur of the Year 2014
Heikki Haldre, the Chairman of The Future of Retail Organisation. Heikki is a founder of four companies, his latest - a FashionTech company Fits.me – was acquired by Rakuten, one of the world's largest ecommerce players. Heikki mentors startups on strategy, how to build and finance their ideas to scale, and how to ensure they'll become the commercial success stories. Currently Heikki is Chairman at The Future of Retail Organisation, and is named top 100 most influential names of the digital fashion world by Vogue's "Online Fashion 100".
Michael Tefula, an Associate at Downing Ventures. Michael helps the team source and invest in the best tech startups in the UK. Downing Ventures launched in 2014 and has since made over 30 investments in early and growth stage technology businesses. The fund focuses on early seed (up to £300k) and late seed (up to £1m) investments across a range of sectors that include enterprise software, consumer internet & mobile, e-commerce, fintech, and health tech.
Alina Vaskina, investment banker at Panmure Gordon & Co. She has extensive experience in advising UK small- and mid-cap companies that are at the crossroads of TMT and Consumer sectors. Alina focuses on equity capital markets including primary and secondary fundraisings on the Main Market, AIM and privately. Her wide range of experience includes providing valuation, strategic and regulatory advice. Alina has recently led the execution of IPOs for Focusrite plc, LoopUp Group plc and QUIZ plc. Prior to the City, Alina worked in small cap UK private equity and management consultancy for Fortune 100 companies.
Moderator:
Shing Lo, a partner in the Corporate Group at Bird & Bird. She is recognised as one of the leading venture capital practitioners in the UK, with particular expertise in advising emerging and disruptive technology businesses. (Band 1 ranking in Legal 500, 2017). Shing has extensive experience with start-ups, predominately in the tech space, from advising at the very early stage of seed funding stage all the way through until exit. Clients describe her as 'Commercial, incredibly bright, efficient and hardworking', 'technically brilliant and a safe pair of hands on difficult transactions', particularly in relation to emerging technology businesses.' (Legal 500, 2017)