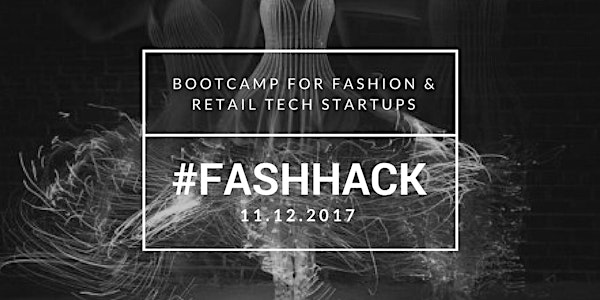 #FASHHACK - FASHION TECH BOOTCAMP
When and where
Location
Futurice Ltd. 26-28 Underwood Street London N1 7JQ United Kingdom
Description
#FASHHACK BOOTCAMP is a whole day programme of workshops and presentations, aimed at fashion & retail tech startup founders to accelerate their companies.
During the day you will learn from the leading fashion tech mentors, founders and investors. With the best tools and approaches at your disposal, you'll take giant leaps toward growing your fashion tech business.
- Receive mentorship and collaborate with participating fashion tech companies, investors, and the fashion tech experts.
- Take part in workshops and listen to presentations on issues, relevant to fashion technology companies, such as growth, marketing and scalability, technology and user experience, branding, and broader industry trends.
Agenda:
11am Financial Fundamentals for Fashion Tech by Johnny Martin
In this 45 minute presentation Johnny Martin, aka the Numbers Coach, will explain:
- Fundamentals fo Equity
- Fundamentals of Gross margin
- Fundamentals of accounting
- Top tips on sales forecasting
Johnny Martin demystifies business numbers for startups, growing businesses and corporate teams. He is a partner at the British Library IP Centre and enterprise coach in residence at the London College of Fashion.
12pm Legal Issues and Traps for Fashion Tech Startups by Guy Wilmot, Partner at Russel Cooke.
This workshop will include a 'legal audit' section teaching entrepreneurs how to do a legal healthcheck; case studies (where things go wrong!); and a Q&A to discuss any issues attendees want to raise.
You will learn:
- How to evaluate legal risks and run through all the legal aspects of running a startup;
- Shareholders agreements and articles of association;
- About legal aspects of raising finance;
- How to protect intellectual property;
- How to protect your business from liability.
1pm Branding and Communication Workshop for Fashion Tech Founders by James and Nick from Robot Mascot
It is particulary important to have branding at the forefront of thinking for a fashion tech startup. Even if your team is small and your product is not yet strong enough to go to market and frankly you need investment in order for the product to go ahead and grow, then branding and branding strategy, even at a basic level will show that you have thought about actual business affairs and the value and growth of your company. That is a much more significant prospect for investors and accelerators to invest in company.
This workshop will help you to better explain your brilliant idea to potential investors. We'll give you the tools you need to develop amazing pitch communication. Through our unique workshop, you will define what makes you great, better understand what investors are looking for and learn how to develop unique pitch messages and positioning statements. Together we will begin to think about how we communicate these within a pitch environment.
Key topics covered:
• Understanding investors needs
• Product/Market Fit
• Unique selling points
• Product/Idea Positioning
• Elevator pitch and key messaging
6.30pm #Fashhack Forum // Growth & Exit For Fashion & Retail Tech Startups (Location: Bird & Bird LLP, 12 New Fetter Lane, LONDON EC4A 1JP)
Fashion & retail tech startups need to build a growth plan and exit path at some point of their life cycle to unlock the value created and to maximize the chances of their founders and investors making financial returns. During this event we will look into different growth and exit stories by fashion and retail tech startups and investors. This event is both for early stage investors as well as for founders wanting to build a company towards a successful exit.