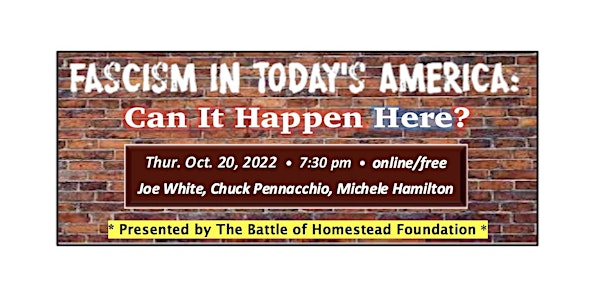 Fascism in Today's America – Can It Happen Here?
Online program discussing the spread of Fascist movements in today's America ... and how they can be defeated
Refund Policy
Contact the organizer to request a refund.
Eventbrite's fee is nonrefundable.
About this event
THURSDAY, Oct. 20, 2022 @ 7:30 p.m. The Battle of Homestead Foundation presents a free Zoom program discussing the spread of Fascist movements in today's America, their threat to working people ... and how these movements can be defeated.
___________________________________
Fascism is in the air these days. Some people think the United States has passed the point of no return — that is, the fascists have already won. Others say not to worry, it can't happen here. Still others talk about the likelihood of the fascism-friendly "Hard Right" gaining power for the indefinite future.
Starting with a brief history of world fascism in the 20th century, the speakers will discuss current U.S. fascist movements and leaders and their threat to working people in the 21st century ... and the means by which homegrown American fascism can be defeated.
-------------
"FASCISM: a political philosophy, movement, or regime that exalts nation and often race above the individual and that stands for a centralized autocratic government headed by a dictatorial leader, severe economic and social regimentation, and forcible suppression of opposition." — Merriam-Webster Dictionary
________________________________________________
SPEAKERS:
* Joe White, Ph.D. taught in the University of Pittsburgh History Department for 39 years on a wide range of subjects including 20th-century European history, British labor history, international working class history, the Harmonist Society and American utopianism.
* Chuck Pennacchio, Ph.D. has spent five decades as an electoral and union organizer and has served as president of the One Payer States network, senior advisor to Healthcare for All Pennsylvania, co-facilitator of Our Revolution PA, founder of the Justice for All Network and producer of the film documentary Fix It: Healthcare at the Tipping Point. He taught history and politics at University of the Arts in Philadelphia, Delaware Valley University, Texas A&M-Corpus Christi, University of Colorado-Boulder and has authored several books, book chapters and articles on U.S. and European history, U.S. healthcare and U.S. politics.
* Michele Hamilton is the daughter of a Jamaican immigrant able to settle in the U.S. following immigration policy changes made possible by the Civil Rights Movement. She is Assistant Director of Shelter Services at the Centre County Women's Resource Center and also serves as the Vice President of Pennsylvania National Organization for Women.
------------------------------------
*** PLEASE NOTE: upon registration participants are given a Zoom link for the event ... scroll down to the bottom of the Eventbrite *confirmation email* for the Zoom link. ***
** WHILE THIS PROGRAM is admission-free, you are welcome to make a monetary donation to offset expenses involved in producing our 2022 Program Series.