Looks like this event has already ended.
Check out upcoming events by this organizer, or organize your very own event.
Faschingslesung mit Heini Almstaetter

Friday, February 15, 2013 from 7:30 PM to 9:30 PM (EST)
Event Details
Faschingslesung mit Muenchner Kabarettist und Mundartdichter
Heini Almstaetter
Auch wenn Heini den Bayern bestimmt nicht verleugnen kann (und will....), ist er doch auch fuer das Nordlicht, Mitteldeutschen oder Oesterreicher unter uns gut verstaendlich.
Heini bringt humorvolle Gedichte, Satire, Sketche und das ein oder andere Lied passend zum Fasching, New York und das Leben generell. Habt Ihr Euch schon mal gefragt wie Sinatra's "New York, New York" auf bayerisch klingen wuerde? - Come and find out!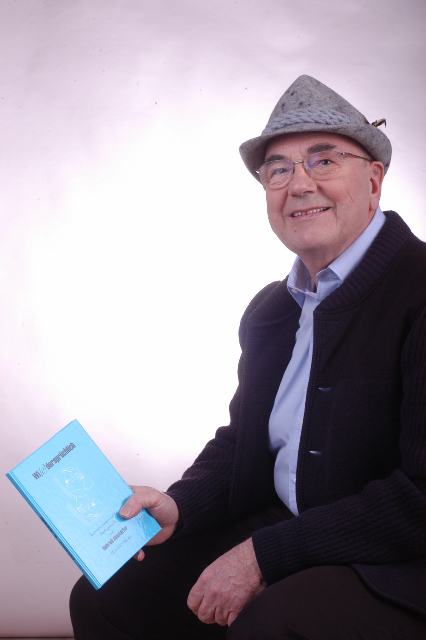 Heini Almstätter, Ingenieur im Unruhestand, geb. 1941 in München, begann als "Spätberufener" Gedichte zu schreiben. Helmut Zöpfl wurde auf ihn aufmerksam und lud ihn zu einer gemeinsamen Lesung ein. Dies gab ihm Auftrieb zu weiteren Taten. Es folgten Lesungen in Volkshochschulen, in Büchereien, bei literarischen und kulturellen Vereinigungen und Vereinen in Oberbayern, Schwaben, Franken und Österreich. Be­liebt sind seine Lesungen und Kleinkunstabende, die er mit wechselnden Mitwirkenden in eigener Regie u.a. im Fürstenfeldbrucker "Fenstergucker" ("Heinis FensterBrettl") und im Kolping Kulturprogramm ver­anstaltet. Neben Mundartgedichten verfaßt er Aphorismen, "Filserbriefe", humoristi­sche und satirische Vorträge, Schlagerparodien und Sketche. Dabei kommt ihm auch seine Er­fahrung als Laiendarsteller zugute. Almstätters Beiträge sind in Bü­chern, Zeitungen und Zeitschriften enthalten. Er ist Mitglied der Münchner Künstlerkrei­se "Kaleidoskop" und "KK 83", der Theatergruppen "Die Spätzünder" und "Historienspiel Fürstenfeldbruck e.V", des Fördervereins Bai­rische Sprache und Dialekte und wurde als "Assel" in die legendäre Schwabinger Künstlervereinigung "Katakombe"aufgenommen. Als Gastleser ist er u.a. bei der Münchner Bürgerzunft "Altmonachia", bei den Turmschreibern, bei bairischen Mundarttagen und im Münchner Mundartkreis aufgetreten. In dem von ihm gegründeten "OIMSCHE VERLAG" wurden Bücher von Helmut Bloid sowie eigene Werke veröffentlicht. Heini Almstätter singt als Chorsänger bei Mano Ezoh's "Voices of Munich".
Eintritt enthaelt Wein, Softdrinks und Snacks.
When & Where

Simple Studios
134 West 29th Street
New York, NY 10001


Friday, February 15, 2013 from 7:30 PM to 9:30 PM (EST)
Add to my calendar
Organizer
CityKinder

CityKinder is an online and offline community platform for German-speaking parents. We offer a wide range of events, groups, classes and seminars for German-speaking families in the New York metro area. Further we are providing expecting parents and young families with comprehensive lists of resources that will help them navigate their new environment as well as parenthood.
Through our offline activities. members of our growing CityKinder community can access a supportive network with other families of a similar cultural background.
Faschingslesung mit Heini Almstaetter