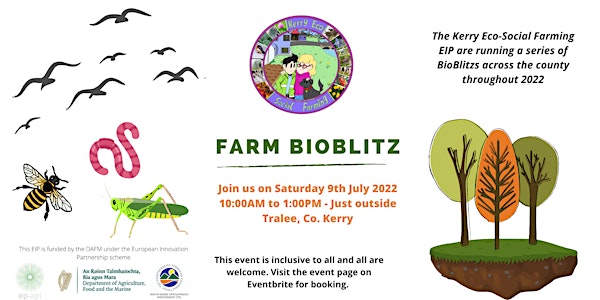 Farmland BioBlitz Series: Tralee
Location
Sears Farm located in the townland of Skahanagh
Brandon Ct
Tralee
Ireland
Join us for a farm BioBlitz in Tralee! We aim to make this event as inclusive as possible and all are welcome!
About this event
What is a BioBlitz:
A BioBlitz is a term used to describe an event where people go to a specific area for a specific period of time and take records of any plants, animals, fungi, insects, mosses, ferns or lichens which they see! These events are very helpful for education and to gather detailed records of what exists on our farms in Kerry!
The event:
Join us on Saturday 9th July from 10:00 AM to 13:00 PM to look around one of Kerry Social Farming's host farms and see what we find! We'll be looking for different wildlife - don't worry if you don't know any of the plants or animals that you might see, our friends from different organisations and institutions will be there to help!
About the project:
The Kerry Eco-Social Farming Project is a sub-project of Kerry Social Farming who links people with additional needs and acquired brain injuries to local farmers in order to assist with skill development, socialising and to combat rural isolation. This community-based project has been in action since 2013 and has since branched out into helping nature on its host farms!
The Kerry Eco-Social Farming Biodiversity project (KESF) is a European Innovation Partnership funded by the Department of Agriculture, Food and the Marine under the European Innovation Partnership Fund and seeks to help farmers in Kerry through payments for nature-based actions.
The KESF project aims to address the issues of biodiversity and habitat loss, invasive species along with inclusion and social isolation through collaborative works with host farmers, social farming participants from disability services, support workers, and disability and mental health service providers in order to enhance biodiversity in communities around Kerry. There is a great need for awareness, education and collaboration between farms, rural communities and local people on projects associated with nature.
This project understands that, and aims to reach a wide cohort of the local community as well as a wide range of farms across Kerry. Though there are biodiversity projects in operation in Kerry, KESF aims to target a large geographical area and a wide cohort of people who will all be engaged on the ground in the delivery of proposed actions, training, events and monitoring on a regular basis.
The project operates across three pillars:
Training
Habitat Management
Monitoring
The expected results from project actions include; increased Biodiversity Managed Areas (BMAs) on participating host farms, ongoing monitoring of biodiversity on farms by the KSF participants and farmers, and a wide cohort of people learning and sharing their knowledge and information about the positive role of biodiversity in farming throughout Kerry. Education on biodiversity is a key indicator of this project to promote sincere understanding of the importance of protecting and enhancing our land and ecosystems to develop a long-term sustainable approach to biodiversity in Kerry farms.
This EIP-AGRI biodiversity project is funded by the Department of Agriculture, Food and the Marine (DAFM) under the European Innovative Project fund.
#KerryEcoSocialFarmingEIP