Sales Have Ended
Registrations are closed
Registration for this event is now closed.
Sales Have Ended
Registrations are closed
Registration for this event is now closed.
Presented by GrowPro in partnership with Discovery Farm.
About this event
Farming with Precision - Celebrating the gains, overcoming the hurdles
November 3, 2021 at 10:00 a.m. CST (SK) 11:00 a.m. CDT (MB)
Register and join us on November 3, 2021 to hear from Garth Donald, Manager of Agronomy, Decisive Farming, Wes Anderson, VP Agronomy Croptimistic Technology Inc. and Chris Morson, Raven Precision Ag Sales specialist. This presentation will be moderated by Blake Weiseth, Applied Research Lead at Glacier FarmMedia Discovery Farm.
Join this panel discussion exploring current issues in precision agriculture. In what areas are we seeing rapid uptake of precision agriculture and where are the barriers that continue to slow the pace of adoption?
FOR ALL YOU CCA'S: This presentation offers 0.5 CEU in Crop Management when you attend live.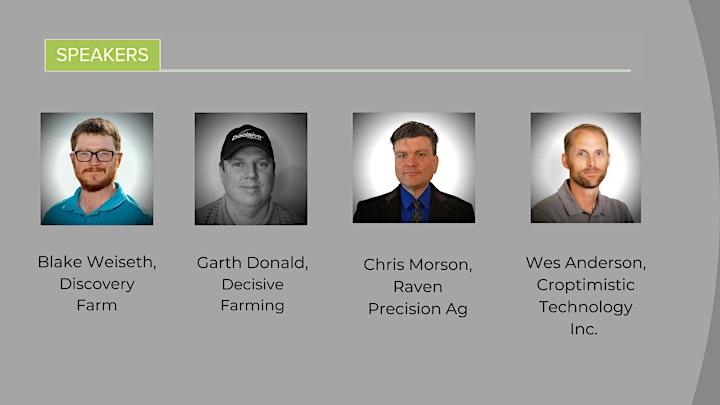 Moderator | Blake Weiseth | Applied Research Lead
Blake Weiseth grew up on a mixed grain and cattle farm in southwest Saskatchewan near Shaunavon. He obtained Bachelor's and Master's degrees in Soil Science from the University of Saskatchewan and is a Professional Agrologist with the Saskatchewan Institute of Agrologists. Currently, he is the Applied Research Lead at the Glacier FarmMedia Discovery Farm and holds an industry-funded Research Chair position with Saskatchewan Polytechnic.
Garth Donald | Manager of Agronomy
Garth Donald is a founder, former director and the Manager of Agronomy at Decisive Farming. Garth has been instrumental to the agronomic development and in the field application of Optimize RX with farmers across Western Canada. He is responsible to ensure that every soil test and agronomic recommendation is provided to the customer at the highest standards. Previously, he spent 14 years at DynAgra where he worked his way up; starting as field man to corporate sales manager to manager of agronomy. Garth was raised on a mixed grains and livestock farm in Manitoba and holds Diploma in Agri Business from Assiniboine Community College. Garth is keen and passionate about his wife, NASCAR, hunting and travel.
Wes Anderson | VP of Agronomy
Wes is the VP of Agronomy for Croptimistic Technology Inc. based in Beaumont, AB. He currently works with farm clients using SWAT MAPS variable rate technology, and supports the rest of the Croptimistic agronomy staff and third-party agronomists around the world that are using the SWAT Ecosystem of products.
Wes grew up on a mixed farm near Theodore, SK and obtained his bachelor's degree in Agriculture from University of Saskatchewan in 2001. Since then he's worked in various agronomy roles in Alberta, Saskatchewan, and more recently in southern NSW, Australia. As a member of the Alberta institute of Agrologists, Wes is passionate about using technology in agriculture to improve the economic viability and environmental sustainability of farms. He has a wife and three kids that keep him busy in his spare time and graciously put up with his infatuation for agronomy.
Chris Morson | Raven Sales Specialist
Chris joined the Raven Precision Ag sales team in 2020, with a direct focus on the Raven Autonomy Platform (RAP) and has since expanded his knowledge in all other Raven agriculture solutions. Chris concentrates his sales efforts on core products to expand market share in Western Canada with a special focus on driving awareness for RAP by sharing the Raven path to Autonomy. Chris has an extensive 15+ year background in Agriculture, with comprehensive experience around seeding, tillage and planting, precision ag solutions, and the full suite of ag data and logistics. What drives Chris's passion in autonomous agriculture is the rewarding opportunity to share the journey to innovation by helping farmers realize, adopt, and utilize the latest farming technology to improve efficiencies and optimize their operations to become more profitable, doing more with less!
Thank you to our partner - Discovery Farm. Click to view their website.
As a hub of agricultural research, demonstration and knowledge outreach initiatives, Discovery Farm aims to discover practical solutions for Canadian farmers. We work with partners to facilitate independent research and learning that matters to Canadian farmers.
In Saskatchewan, Discovery Farm Langham is a 610-acre site and is home of western Canada's premier outdoor farm expo, Ag in Motion. Discovery Farm Woodstock in Ontario is a 375-acre site that showcases farmer-led and industry-partnered research and is home of Canada's Outdoor Farm Show, the largest outdoor farm show in Eastern Canada.