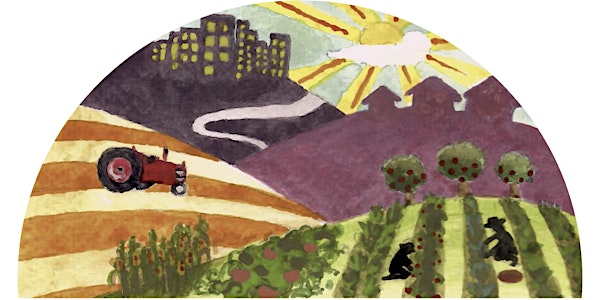 Farming on the Urban Edge Conference
WSU Launches New "Farming on the Urban Edge" Virtual Conference Series. Resources and Networking for Farmers and Stakeholders.
Refund Policy
Contact the organizer to request a refund.
Eventbrite's fee is nonrefundable.
About this event
Washington State University in partnership with Oregon State University announces "Farming on the Urban Edge", a series of online Conferences starting throughout winter 2021 through Spring 20-22 that will launch the new Peri-Urban Agriculture Network. The recordings of these events will be available through summer 2022. The mission of this initiative is for farmers, policy-makers, educators, and food system stakeholders to learn strategies to improve the viability of farming in urbanizing areas, and ways that communities can sustain and enhance the growth of peri-urban farms and food economies.
The "Farming on the Urban Edge" Conference Series is structured as five online interactive events to address different aspects of urbanization and farm viability. All events will be held from 2:30 - 5:30 Pacific Coast Time on the second Friday of the months starting in November. Cost is $15/Conference Session or $50 for access to the whole Conference. Topics to be covered include:
CONFERENCE SESSION 1 Farming Within the Peri-Urban Context: Re-framing What Viable Agriculture Economies Can Look Like in Urbanizing Regions
CONFERENCE SESSION 2 Barriers to Opportunities for Peri-Urban Farm Startups and Expansions: Navigating Access to Land, Capital, and Production Capacity
CONFERENCE SESSION 3 Barriers and Opportunities for Peri-urban Farm Business Evolution and Succession: Diversifying Business Plans and Capitalizing on New Urbanized Markets in order to adapt to Urbanization
CONFERENCE SESSION 4 Navigating Farm Production in Tight Quarters: Crops, Products, and Strategies for Farming on Limited Acreages and Operating Near Residential Communities
CONFERENCE SESSION 5 Navigating Competing Community Interests and Policies: Long-term Sustenance and Collective Support Strategies for Peri-urban Farmers and Agricultural Economies
At the Conference
Farmers will learn strategies from a wide range of other farmers, farm types, and lessons from other regions on how they've worked to adapt to urbanization, including:
- Innovative marketing approaches and business structures
- Navigating relationships with residential neighbors
- Communicating the value of agriculture to communities
- Maintaining sufficient returns from production on small acreages
- Innovative approaches to building farm and food system networks that support and advocate for a wide diversity of farmers
- How to work with policymakers and communities to sustain agricultural economies and facilitate their future growth
- Network with other farmers working to sustain their viability in urbanizing areas
Policy Makers and Influencers will:
- Increase their understanding of the challenges and opportunities of farmers operating in urban areas
- Help farmers gain perspective on the challenges of accommodating the needs of agriculture amongst other competing interests of the community
- Gain a more comprehensive perspective on the value of agriculture to the community
- Learn about policy strategies and initiatives that have been used in other regions to help sustain agricultural economies, and their ability to evolve to realize unmet opportunities
Researchers and Educators will:
- Learn from first-hand experiences of a wider variety of peri-urban farmers, policymakers, and food system stakeholders from different regions
- Hear perspectives from other peri-urban farming regions, and the broader historical context of agriculture near urban areas
- Share research-based information that helps farmers, policymakers, and food systems stakeholders make informed decisions that work for their specific situations
- Network with other researchers and educators to advance the understanding of how to support agriculture in peri-urban regions
Local Food System Stakeholders will:
- Improve your understanding of how to approach working with local peri-urban farmers
- Expand your perspective on mutually-beneficial innovative business partnership options that are unique to farm and food systems near urban areas
- Redefine fine your what can be realistically expected from working with peri-urban farms given their constraints and opportunities
- Communicate what farmers will need in order to successfully work with your local food business or a new urban market opportunity
Find out more at www.periurbanagriculture.org
*Refunds are available through November 10th free of charge, after which we cannot guarantee a refund.